06/03/21
"Whose idea was it to take the sleeping bags down for a wash after a summer of heavy use anyway?" I kicked this blame culture thought straight into touch and looked at what I'd got to get me through the night; not quite the same league as Apollo 13 but staying alive was still the base-line….
The recent lockdown period gave us one of the longest cold snaps Scotland has seen for a few years. Great fun for those of us lucky enough to live here but my mind always worries about the implications for the coming season. Old snowfields make Spring guiding in the Cuillin pretty challenging with crampons often needed into May.
By the start of March, just 2 weeks after climbing roadside ice, mountains in the Highlands had been stripped in all but the deepest gullies and broadest high corries. The crest of the Cuillin Ridge glows red in a sunset and the forecast looks peachy for a few days so I contact some locals with a Traverse as an ambition.
Ruaraidh has been working off-shore pretty much since our snowy jaunt up Bla Bheinn back in January and is keen as mustard. All of a sudden I have to focus sharply on what this challenge entails. It comes down to fitness, hard snow and just 12 hours of daylight; we'll have to be slick if we are to succeed.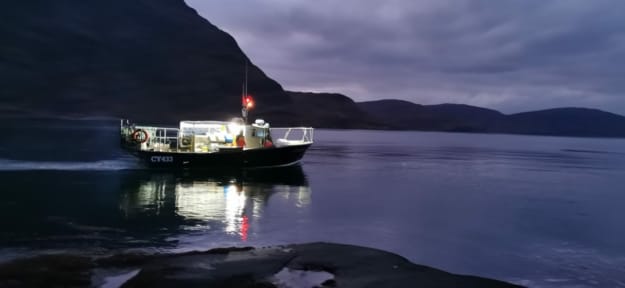 Elgol connections gave us our first break; a 6am lift on a fishing boat so the alarm was set for 4.15. Trusting my directions Craig the skipper guided the bow onto my drop-off rock in the dark as if he'd done it a thousand times before. Cloud cover made the steep ascent a hot and sweaty affair but I was worried about condensation. Sure enough, the rocks began to glisten as we climbed into the murk and my mind wandered onto quite how soon we would have to give up the attempt and how the hell we'd get back home.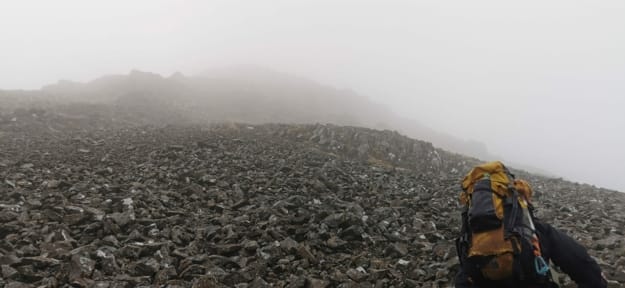 Can't say I approve of bucket lists but a cloud inversion was among those on Ruaraidh's list and the weather-gods nailed this one just as we reached Gars-bheinn, the first summit. It would have been heaven to sit there all day drinking in the magnificence of snowy peaks poking up through the bright white sea of cloud, the waterfalls of mists tumbling over bealachs and the Broken spectres. I was as wowed as I always am but, most significantly, the Traverse was suddenly back on. We had 9 hours of daylight to reach our bivvy kit on Sgurr a' Ghreadaidh…
Progress was good on the rough dry rocks over Sgurr nan Eag but I suggested leaving out the dog-leg to Dubh Mor and leave us margin for error. It was 11.15 as we kitted up with harness, helmet and crampons to traverse the snow necklace beneath Sgurr Alasdair.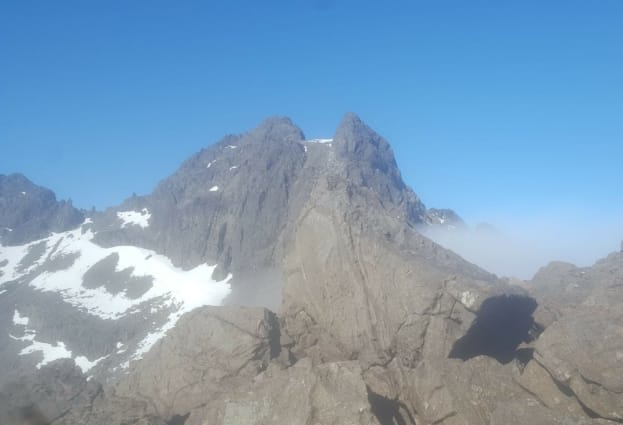 Progress suddenly became stilted as we struggled with the incredible heat of reflected sunlight. Somehow the tiny section to the highest point on Skye had taken us 1.5 hours and we only had 5 hours of daylight left.
Sgurr a' Ghreadaidh is the snowiest looking peak in the centre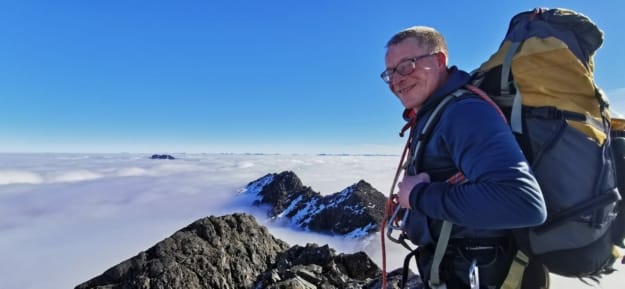 Traversing Thearlaich is one of the major obstacles on the Ridge. With snow sitting on all the easy bypass ledges we were forced to cling to the top edge in some mad positions with testing climbing and ropework for the next 40 minutes but then got lucky with a bone-dry bypass on the Glen Brittle side at the nose. Conditions improved massively from Mhiccoinnich onwards with hours of perfect rock for the rest of the day. Plenty of exciting positions still, but the main challenge was striking a balance between progress and the need for food and water. The Pinn gave us a brief slowing of the pace which was very welcome compared to competing with the heat and blinding sunlight reflecting off the clouds below.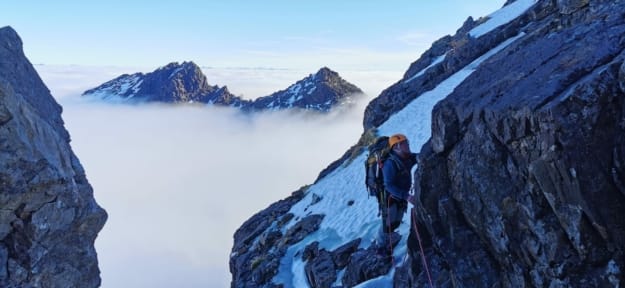 Delicate exposed moving over Sgurr Thearlaich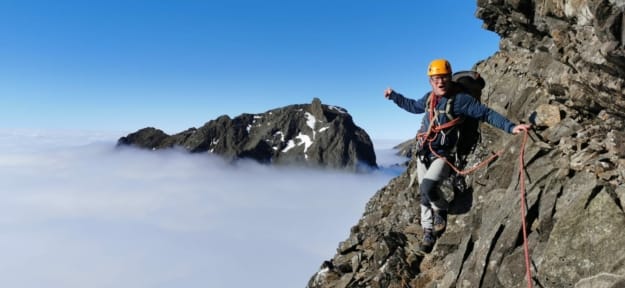 On Collie's Ledge looking across to the Pinn as progress starts to pick up again.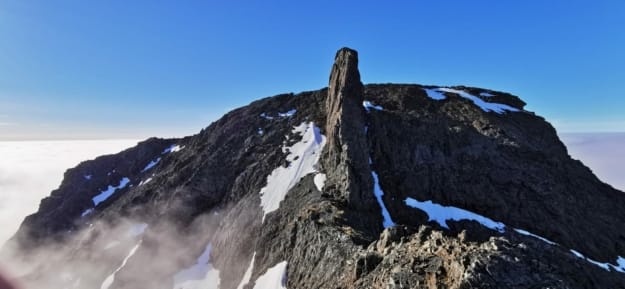 The cloud-base rose as the sun and temperature dipped on the final rise to Ghreadaidh. It dipped just enough for a glimpse of the orange sun as we reached the bivvy but all focus was on getting tucked up before an evening of food, whisky and warmth. I abseiled down to the gear stash and sent the barrel back up. While Ruaraidh dug snow for us to cook with, I set to laying out the bedding and that's when the wheels suddenly seemed to be coming off……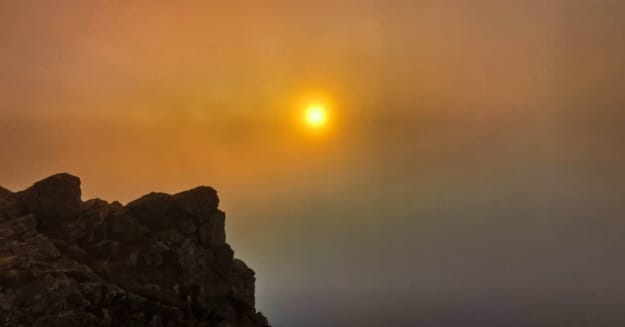 "Whose idea was it to take the sleeping bags down for a wash after a summer of heavy use anyway?" The cache has been in place for years, with 3 sets of kit changed regularly and whenever it gets soaked. It was all my fault; the grey matter had failed to remember asking the posse of strong guides to help during staff training last October and then clean forgot to get it all returned; doh.
Things weren't that bad really. We had a sleeping bag, a bivvy bag, two sleeping-bag liners and half a dozen Karrimats so at least the client wasn't going to suffer. Professional pride kicked in with bailing out not an option; I do love a challenge.
Boots off, into the liners then into the rucksack was first and allowed me to get the brewfest started. Warm food priority, one meal shared, then a big mug of tea. Filling the barrel with loose snow was a first and worked brilliantly to avoid having to move between brewing. Wrapping a Karrimat around the upper torso during inactive periods worked remarkably well at keeping my upper half positively warm and became key to the plan. After another brew Ruaraidh tucked me in and we both fell silent followed by the comforting sound of gentle snoring from the man with the full sleeping lux.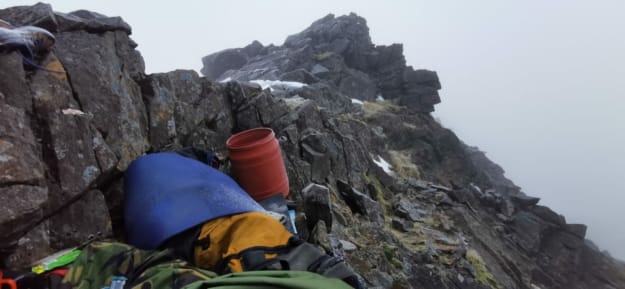 The morning after; snug as a bug and gently snoring
A brew made with melted snow needs to be sterilised with whisky which improved relaxation but, after an hour of decreasing comfort, it was time for another. The cycle of brews continued in surprising comfort with fine tuning of the self-wrap technique. Finally getting horizontal, a handy dehydrated meal wrapped in my spare socks made a comfortable pillow. Warmth hinged on not moving and there was a fine balance to be struck between stiffening limbs and jabby rocks versus the freezing hands and exposed flesh that losing control of my insulating roll would entail.
Nights spent in Alpine huts with loud snoring and heavy clumping all night has taught me never to expect to sleep but, instead, view the period as a bodily rest. Deep breathing helps and Mr Wimhoff certainly came into my thoughts at time. Keeping hands warm was achieved with different pockets dependent on the side I was lying on and, miraculously, the toes stayed warm in a single pair of socks.
At times the wind picked up and snow flurries passed through but the Paramo zipped up past my nose and the torch band kept my forehead warm. By chance I even developed a spiral-wrap technique that left a windbreak for my face, over the shoulder and down round the hips; pure luxury.
Z's kicked in for sure; 7 hours doesn't fly by if you're suffering and Ruaraidh even woke for long enough to catch me snoring. "Best night's sleep for over a month and I'm getting one of these Gortex bags for sure" pleased me that my client was on as good form as one could ever hope for. Teryaki chicken noodle pot tasted amazing for breakfast and slick teamwork had us on the go by 8am.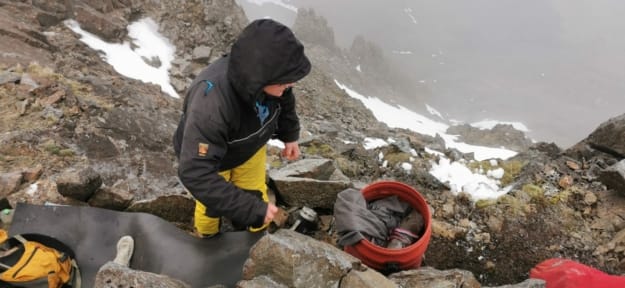 I'd clocked a big snow patch as our first obstacle and the overnight conclusion was that we were going to blend a crampon and a set of micro-spikes each.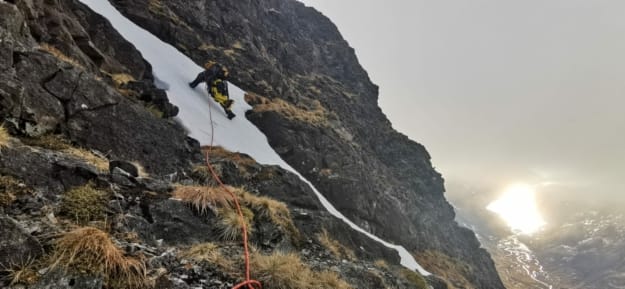 Sgurr a' Mhadaidh's tops.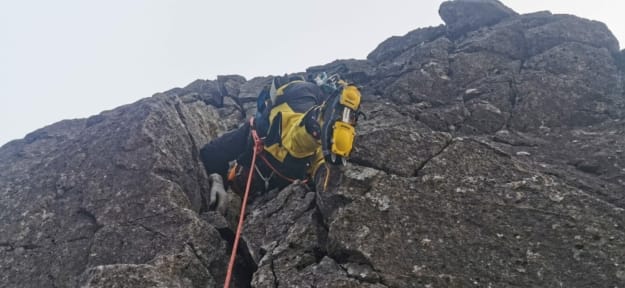 That's how we stayed for the whole of day 2, dictated by the frequency of hoar frost, damp or snow patches. So much about his performance was impressive and Ruaraidh's recognition of that balance being better than whipping crampons on and off says it all; a good man to work with!
We bypassed Bidean both to save time and I was hopeful about finding a spring because we'd only melted just over a litre for the day. Hope didn't spring eternal and we added thirst to the list of obstacles to overcome. Bypassing Am Basteir and getting to Gillean was clearly our best option as we dredged the barrel for strength and concentration.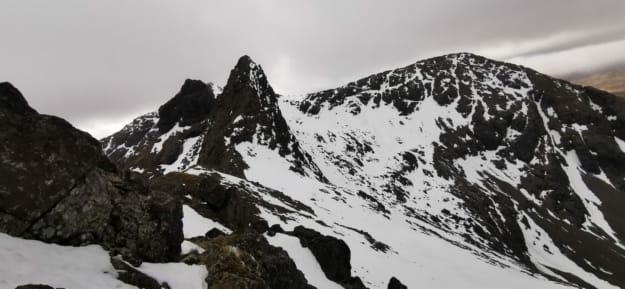 Slap! Steel-hard snow in pre-formed footholds ducking under Am Basteir was, by far, the hairiest part of the whole outing and the decision to descend by the Tourist Route a no-brainer.
My man was so wired to the movement he didn't even get the Glory shot of a selfie with the whole Ridge behind him as the clouds finally lifted fully.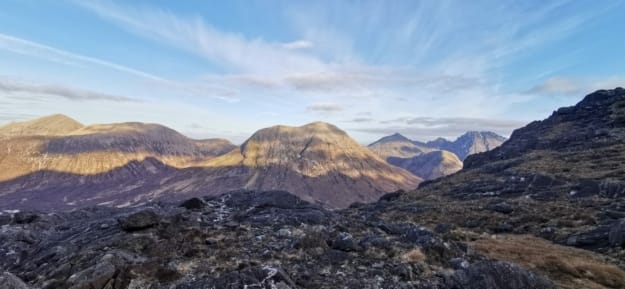 Slept well that night 😉