The Scottish mountain environment can be very extreme and dressing appropriately is an important first step in preparations. If you are unsure of what to bring or are looking for advice on suppliers, models and makes please feel free to contact us. We have a wide variety of kit available for short-term loan or hire.
EQUIPMENT LIST
Basics for all summer walking and climbing outings.
Suitable hill walking clothing made of man-made fibres, not cotton.
Trousers not shorts.
Base layer,
Light fleece,
Spare fleece- Hooded fleeces are particularly good for temperature adjustments.
Good quality walking socks.
Well broken-in, light to medium weight walking boots.
Waterproof jacket and trousers.
30+litre rucksack. Ideally a climbing sack with no side pockets.
2 pairs of gloves. One for emergency warmth but another to protect fingertips. Buy cheap fleece, wool or even gardening gloves.
Head torch in good working order with fresh battery
2 litre water bottle/capacity.
Highly recommended, one per party.
Harvey's map of the Cuillin.
Compass and whistle.
Small personal first aid kit.
TECHNICAL EQUIPMENT
(use of these items is included in your booking fee but you are welcome to use your own)
Climbing Harness and Helmet
Friction belay device
2 Screw-gate karabiners
120cm sewn sling for a cow's tail.
ADDITIONAL EQUIPMENT FOR BIVVYING-
(sleeping equipment can be hired)
Large "EXPED" waterproof bag for lining rucsac and/or stashing gear
2-3-season sleeping bag with man-made filling.
Gortex bivvy bag
Sleeping mat long enough to reach head to hip.
Plastic mug.
Penknife and spoon.
Spare underwear and dry socks.
Toothbrush.
Single Malt Whisky of your choice! Decant into a small plastic bottle.
Toilet roll; not wet-wipes please as they do not biodegrade.
WATER
Carry 2 litres at any one time maximum. Bottles are preferable to hydration packs- sealing problems make these a constant source of frustration.
One extra 3litre foldable "bladder" for collecting overnight water supplies.
FOOD for Ridge Traverse.
A varied supply for 24 hours of exercise- that's equivalent to 3 normal day trips! There will be quite a lot at the start- good motivation to eat lots on the approach but don't get carried away!
Savoury and sweet mix about 50:50. Treat yourself to lightweight luxuries and don't take just 20 cereal bars. A rehydrated meal will be provided by Skye Guides. Stove & fuel is also provided.
For more detail see notes on the website in the Traverse download– http://skyeguides.co.uk/wp-content/uploads/2011/09/2007_Ridge_Download.pdf
Winter
B2 boots (3/4 shank) minimum.
Mittens; Dachstein Mitts are ideal. In fact they are the best bit of kit you will ever buy!!
1 Litre hot drink flask
WATERPROOFS
We get asked more about this than any other single piece of kit and, without being sponsored, we have a pretty definite opinion-
Nikwax Analogy waterproof clothing is, in our experience, the best material for dealing with Scottish weather. In addition to being highly breathable and waterproof the garments are soft and a pleasure to wear. This belies a strength that has coped admirably with the rigours of daily abraision on the sharp Cuillin gabbro rock. Snagging has never been an issue whereas more widely known brands of material have damaged with remarkable ease. With the wear our guides put them through for years on end you can be sure that they will last the average outdoor enthusiast most of a lifetime. See our Links Page for our recommended suppliers
The 180gm freeze-dried meals provided on our Ridge Traverse courses
Harnesses and Helmets are provided for all clients free of charge.
After using their products for more than 5 years we are very pleased to be associated with Be-Well Expedition Food The 180g freeze-dried meal packs are issued to all of our clients undertaking a Ridge Traverse.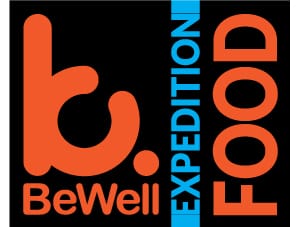 There are a wide variety of really tasty and nutritious main meals with Thai Chicken and Rice the current favourite.