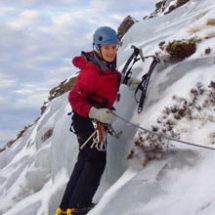 Gillian has worked with Skye Guides for 14 years. Her knowledge of the Ridge, climbing and rope skills and enthusiasm for the Cuillin guarantees a high quality outing every day.
Introduced to the outdoors through skiing as a 3 year-old Gillian has been climbing since the mid-nineties. Starting with a stint at Outward Bound in Wales she has been a successful freelance instructor since 2006.
She most enjoys long mountain rock climbs but also has a soft spot for heading for the sun for some bolt-clipping. She holds her mountain instructors award, is a qualified instructor for sea-kayaking.
In winter Gillian now runs Ski Performance courses in the Scottish Highlands. A must for anyone wanting to improve their ski-mountaineering or downhill techniques- http://www.offpiste.org.uk/courses/ski-performance-scotland/
'Gillian enabled our three women party to conquer The Cioch and Sgurr Alasdair – something we could not have dreamed of without her help and expertise.  Her quiet confidence and experience inspired us and the 'buzz of achievement' on completing the day will live long in the memory and get better with telling.  An epic day out in the Cuillin Mountains.
Thank you, Gillian and SkyeGuides.'
"Hi Mike, could I ask you to pass on to Gillian many thanks from us all for a cracking day out yesterday please?" GC

"A quick note to thank you for organising Gillian to guide us up the In Pinn and around the southern end Munros. We had two great days out and never had to bother about route finding. She also nursed 3 oldies up and down the In Pinn with minimum fuss and maximum enjoyment. We would like you to know that you have got a great guide there. She is very easy-going but professsional, and we couldn't have done what we did without her." CB

"Just wanted to say what a great guide Gillian was – we had a wonderful day!" AS
Climbing Highlights:
Rock: Wen & Concrete Chimney (Gogarth)
Ice: Blue Ribband (Glen Coe)
Cuillin: Vulcan Wall
Favourites:
Drink: Red wine or real ale
Food: Home Baking
TV: Eastenders