Cuillin Ridge – Tips for Success by Mike Lates
This is aimed at aspirants planning to make an unguided attempt. Much of the information is useful for anyone with a Traverse in mind.
The Cuillin Ridge Traverse – Britain's finest mountaineering challenge.Twenty-two peaks lie in a continuous chain stretching over twelve kilometres. They create the Cuillin Ridge Traverse-one of the finest and longest Alpine-style rock-climbing routes in Europe with over 4000 metres (13,000 feet) of ascent and descent.Mike Lates has been a mountain guide on Skye since 1995 and has completed more than fifty Traverses including a Greater Traverse and two in full winter conditions. He sheds light on many of the most frequently made mistakes and suggests dozens of practical solutions.
For further details about Skye Guides Traverse courses
see Summer Activities: The Cuillin Ridge Traverse
The Winter Traverse- Advice by Mike Lates
Completing a Winter Traverse has become known as "The Holy Grail" of British Mountaineering with exceptional conditions needed in order to allow climbers to travel fast enough to succeed.
In good conditions it is probably the greatest single climb to be had in Britain. Good conditions are rare with one period a season possibly above average since it was first achieved. The good news is that frequency does not seem to be decreasing and the internet now gives aspirants unprecedented access to forecast and condition reports. Keep up to date by following our Blog
If conditions do comply this download will help any aspiring team to prepare and route-find on the expedition.
The New Cuillin; CLIMB  magazine January 2012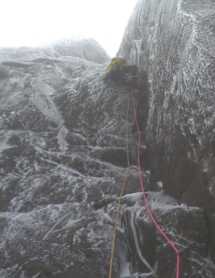 An article on winter climbing in the Cuillin by Mike Lates. Suggestions for routes at all grades from I to VIII. Beta on where to stay, how to get here etc.
Long thought of as an unreliable venue for winter climbing this gives some background on the recent renaissance.