A small selection of what our guests have to say about their experiences with Skye Guides-
Just wanted to pass on my appreciation of the guides that looked after me last week. The weather gods were very kind and I had a truly amazing time. Malcolm, Tom and Iain, were absolute gents and prepared to make decisions based on my ability which made for some exciting extras. Malcolm even indulged me some saltire waving on top of the Inn Pin on the day Scotland beat England 0-0 at the Euros. Brian July 2021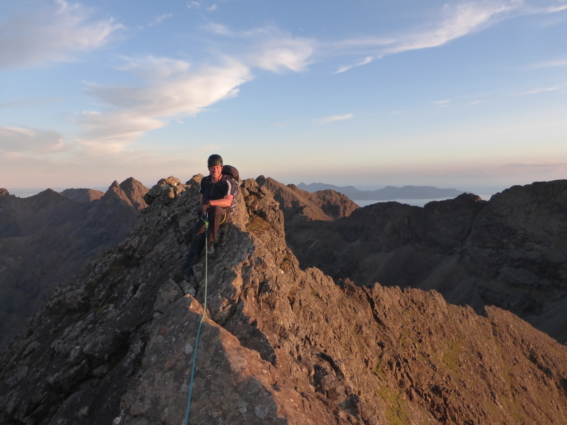 Traverse Yesterday- Hey Mike. Just to let you know we had a brilliant day yesterday, couldn't have asked for a better companion to share it with than Pete Herd. I opened my O-level results sitting in the Sligachan bar in 1979 after my first Cuillin adventure and dreamt of one day doing the Traverse. You guys just made it come true! All the best Graham and Pete June '21.
Just to say we had a couple of fantastic, if challenging days, this week with Dan and Lucy. They both are excellent guides ensuring Aileen, Rory and myself got to our objectives and even enjoyed ourselves! Long days on the hill but welcome pints at the Slig. Aileen was even trying to persuade Lucy she would get plenty of supply teaching work initially if she moved up here. IY
Hi Mike, photo of me, Gail at the finish of traverse, thanks! Had a whirl, GC 2013
I just thought I would let you know about what a great experience we had on the Inaccessible Pinnacle with Mike Mason last week. Mike was very relaxed and instilled a great deal of confidence in two older hill-walkers. The whole day was very enjoyable and Mike's background knowledge was very interesting. Thanks to Mike and also to Skye Guides in general for facilitating this trip. MC
Just a quick e-mail to say thank you very much for organising the trip along the North Cuillin Ridge on Saturday. Tom Lawfield was an excellent guide, did an incredible job and a whose knowledge and enthusiasm for the Cuillin was great. We really could not have asked for more. Seconded- I found Tom particularly calm and reassuring, just the foundation required to make an enjoyable day of the Cuillin.
Thanks for another great day in the hills with Skye Guides. Sam is a great guide, not only because of his technical skills in getting an oldie like me up the TD gap, but because of his brilliant guide soft skills. His pacing was absolutely excellent, his patience and calm reassurance much appreciated and his ability to decide when to leave decisions to the client and when to direct was spot on. AT
Could I ask you to pass on to Gillian many thanks from us all for a cracking day out yesterday please? Everyone had a fantastic time under her guiding made even more enjoyable by the excellent weather she lined up for us. GC 2021
Dear Mike, thank you very much for taking me out on Monday. I thoroughly enjoyed myself and learned far more about climbing/scrambling than on all previous guided walks put together. CW
I did far more than I thought I was capable of, which all vindicated your advice that I should go for solo guiding. Pinnacle ridge on Sgurr nan Gillean will be my personal pinnacle for some time to come! MH

A big thank you Ollie who took myself and my husband up Sgurr Nan Gillean via Pinnacle Ridge yesterday. He was professional, friendly and pitched the level of the route and the pace just right for us. We had a wonderful day, and did something we wouldn't have felt confident to do by ourselves. We even stopped off for a rock pool swim on the way down. An excellent trip, thank you. Katy & Andy Ward
Just wanted to say thank you – Andy Moles was a great guide and handled a 63 year old determined to get her '2 bags' and a daughter who had never attempted anything like the Cuillins before with a calm and easy approach, instilling confidence which enabled my daughter Heather to complete both and thoroughly enjoy the abseil in the middle of it all! MJ
I just wanted to send you a quick email to say that I had an absolutely fantastic few days in the Black Cullins with Dan. He was a great guide – I had complete faith in his guiding abilities and felt completely safe with him throughout the three days. He also kept me entertained and was great company. This trip exceeded even my highest expectations. We achieved so much over the last few days. We climbed a number of the Munros but I also feel like Dan helped me improve my climbing and my confidence when climbing. Honestly, a truly great guide! LD May 2021