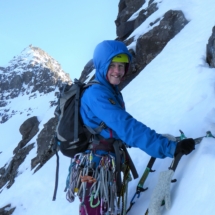 Lucy has been a big part of SG and Basecamp for many years and we are delighted to have her in the Skye Guides team at last. She was a full time primary school teacher but took a sabbatical year to concentrate on passing her Mountain Climbing Instructor award in 2018/19. She has returned to teaching for now but will be joining us for weekends this Spring and for most of her summer holidays. Her Cuillin knowledge and experience, climbing & teaching skills and boundless enthusiasm guarantee a great day out. Will she make the break to full time guiding next year?
Favourites
Rock: Eye of the Storm, Mingulay. Arrow Route, Cioch Slab.
Winter: The Chasm, Sgurr nan Eag. Sunrise from a cold Ridge bivvy.
Abroad: Spitzkoppe, Normal Route, Namibia.
Food: Marmite and McVities dark chocolate digestives; not together!
Drink: Tea ("The Drink of Kings" said Heinrich Harrer)
Book: The Prisoner of Azkaban
TV: The Olympic Games/any David Attenborough
Other blurb – First scramble was curved ridge and first In Pinn with Dad (who was a keen climber in the days of bowline round waist, classic abseil and very minimal gear!)