Prices are listed below.
Making an enquiry.
We receive dozens of enquiries each day. Please help us to give you a swift reply by browsing the information on the website.
Send a brief e-mail outlining your ambitions with preferred dates and number in party to mike@skyeguides.co.uk . Add your phone number if you have an issue you would like to discuss.
This gives us a message that we can respond to at any time of the day. We will then send out booking forms and terms. 
Our INFOCENTRE has a dozen pages and the FAQ page answers many common questions.
Choosing the right course.
Choosing the right option is not always easy and we are happy to direct clients towards the most appropriate ambition. A telephone conversation is often easiest but please browse the website before calling. To discuss your booking please call Mike directly on Whatsapp number 00447769221500 any time between 9am and 9pm BST. If there is no answer please send an email.
Making your booking.
We run a bespoke guiding system so correspondence about availability and the suitability of ambitions is normal.
Once itinerary and availability of a guide have been confirmed we will ask you to return the booking form to us with a deposit. For legal reasons all participants must read our terms and conditions before signing.
---
Summer Activity Prices 2024
Black Cuillin Daily Rates

These prices are for the services of the guide exclusively for your party. All technical equipment is provided and included in the price.
Black Cuillin Prices 2024. These are daily rates for your own PRIVATE guide, not joining as part of an open group.
RATIO/NUMBER OF DAYS
1-day Total
fee
2-day Total
fee
3-day Total
fee
4-day Total
fee
1:1
£300
£590
£880
£1170
1:2
£330
£650
£970
£1280
1:3
£390
£760
£1130
£1500
Harness & helmet use included in prices.
Flexible rest days
We are frequently asked to add some flexibility to the days booked. Common reasons include anticipating the need for a rest day or increasing chances of suitable weather for ambitions. We offer a sliding scale to secure the services of your guide for this extra day at a reduced cost. If you decide at the time to use the guide on the extra day this can be arranged at the last minute and the outstanding balance paid on the day.
| 1 day guiding out of 2 days | 2 days guiding from 3 | 3 days guiding from 4 | 4 days guiding from 5 |
| --- | --- | --- | --- |
| 50% | 25% | 20% | 15% |
| eg. 1:2 = £330 + 50% =£495 | eg. 1:2 = £650 + 25% =£810 | eg. 1:2 = £970 + 20%= £1160 | eg. 1:2 = £1280 + 15% =£1470 |
Cuillin Ridge Traverse
This is our premium product, a highly sought after objective that is only suitable for those with exceptional fitness and good mountaineering abilities. On average it takes 32 hours with a rough overnight bivouac to complete and extra days are spent maximising chances of success. You will be vetted to make sure that you have a realistic chance of success and the capabilities to stay safe.
A successful Traverse is only possible in good (largely dry rock) conditions. Dealing with this is complex but our policy is the fairest that we have come up with. A refund is given if no Traverse attempt is made on 4 or 5-day courses.
RIDGE TRAVERSE COURSE PRICES 2024. Maximum ratio 1:2
Ratios
3-day course**
Total
fee
(no refunds)
4-day course Total
fee
5-day course Total
fee
Refund for no Traverse attempt*
1:1
£1050
£1400
£1750
£20 per day
1:2
£1200
£1580
£1880
£25 per day
Price includes overnight pay for guide on bivouac, technical equipment and evening meal for Traverse. Excludes extra transport costs, often necessary.
* Refunds are for clients unfortunate enough to have no suitable weather window to justify an attempt in their 4 or 5-day course.
** 3-day courses are only available to clients with previous Cuillin experience. No refund is given if an attempt isn't feasible.

Rock Climbing
This covers anything from fun introduction days to intense learn-to-lead  courses. Tailor-made days for families are available suitable for parties that often have a wide variety of ability and fitness. All technical equipment is provided and included in the price.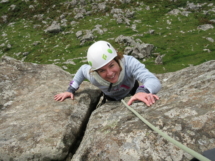 | Rock climbing | 1 Day | 2 Day | 3 Day | 4 Day |
| --- | --- | --- | --- | --- |
| 1 Person | £290 | £570 | £850 | £1120 |
| 2 People | £320 | £630 | £920 | £1200 |
| Family (up to 4) | £360 | £700 | £POA | £POA |
Classic routes, fun days out or dedicated skills courses. Indoor to outdoor. Learn to lead.
All equipment provided
Winter Activities 2023/24 season.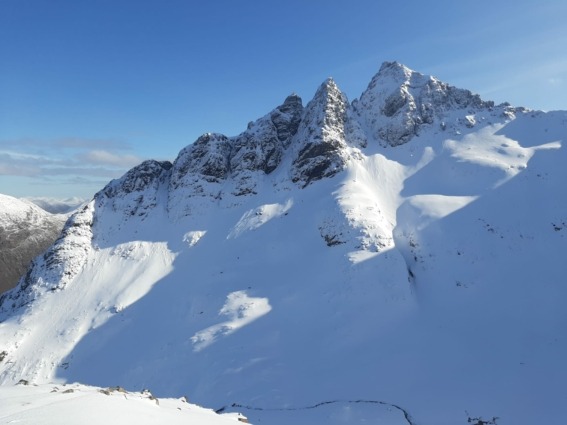 Guiding Prices
Winter climbing and mountaineering prices 2023/24
| RATIO/NUMBER OF DAYS | 1-day | 2-days | 3-days | 4-days |
| --- | --- | --- | --- | --- |
| 1:1 | £300 | £590 | £880 | £1150 |
| 1:2 Up to grade V | £330 | £650 | £980 | £1240 |
| 1:3 Grade II maximum | £375 | £740 | £1050 | £1390 |
| 1:4 Grade I maximum | £400 | £780 | £1150 | £1480 |
Harness & helmet use included in prices. Winter boots, Ice axes and crampons are available to hire in most sizes.
Guides working our winter mountaineering courses are all trained and insured for serious winter climbing conditions, essential for all but a small handful of Black Cuillin outings. They are highly qualified professionals commanding a premium wage so our daily rates reflect this but are split between all course participants. Please consult the winter course pages for details including our recommended ratios of client to guide.
Winter walking
Skye's scenery is truly stunning in winter and low-level walks and easier hills give guests unique visual feasts of light and effects. The outings are less technical but your guide will still give you a full value experience.
Winter walking prices for up to 4 people through the 2023/2024 season
Winter Walking
(Total cost between all participants)
1 Day
£320
2 Day
£620
3 Day
£920
Non-technical hill or low-level walks on the island available throughout winter
Other Services we offer.
Guiding away from Skye
Mainland Mountaineering
We are always happy to arrange a guide for mountaineering objectives on the Scottish Mainland. We instruct and guide on the North face of Ben Nevis in winter with accommodation in the CIC hut often possible. Other popular requests are the more exposed Munros and Tops such as An Teallach, the Forcan Ridge, Aonach Eagach and Liathach. Guiding rates are the same and expenses for the guide's travel time and accommodation are charged at cost price.
Alpine Climbing
Skye Guides works with Frost Guiding to offer a high quality guiding service for any Alpine objectives. Assessments and training done in the Cuillin allow clients to arrive fully prepared for suitable ambitions. We can offer a combined price for training courses on Skye followed by an Alpine course with Frost Guiding.
 TV, photography, camping, nature walks etc.
Prices depend on the nature of the outing and are based on  factors such as the degree of danger involved, numbers in the party and the level of input by Skye Guides Ltd.
Below are some examples of pricing for some more unusual activities we can provide
Photography outing including bivouac for sunset and dawn from Red Cuillin. 1 client. £450
High adrenalin outing for 12 on a Stag do. Tyrolean Traverse and sea-level traversing. £695 (2 guides)
Guide party of 12 through Glen Sligachan from Coruisk following a boat trip from Elgol. Geology, natural history and photography. £695(2 guides)
Guide party of 5 along the Trotternish Ridge. 2 days with an overnight camp. £635
Provide Industrial Roped Access safety for film crew in a Quarry. 2 technicians and equipment provided. £750
Guide a coach party of 40 on a short, easy but beautiful walk (2 hour). £320