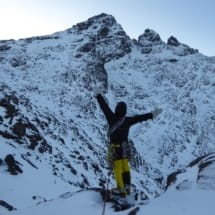 Why work with Skye Guides?
Skye has unique challenges to those offering guiding and instruction. Our team work together to share and improve the standard of experience for clients. The work gives intense opportunities to learn, practice and fine tune techniques. We'd like to hear from anyone with a high level of enthusiasm for Skye whether you are already well-established, newly qualified or a trainee on the Guide's scheme.
Benefits-
Largest provider with high demand for guides year round.
High quality work; private guiding and low ratio only.
Minimum admin, advertising and negotiations required.
High rates of pay.
Full back-up from the team; lifts, sick days and beta
Use of Skye Basecamp facilities.
Best mountains in Britain
Annual training week
Multiple partners for personal climbing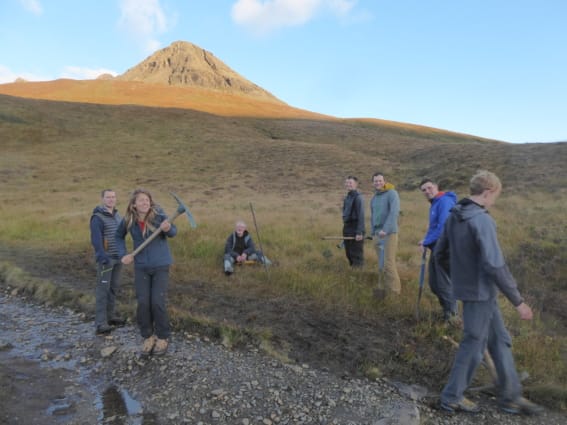 We are fortunate to have some of the most highly respected freelance guides and instructors in the team, with over a hundred seasons of Cuillin guiding experience between us.
"Having worked regularly for Skye Guides for nearly a decade now, it still makes a lot of sense for me as a travelling freelancer. In comparison to working for other companies, the benefits of a shower, drying room and kitchen are simply a no-brainer during inevitable stints of bad weather. Basecamp also acts as a social hub for sharing evening craic and guiding knowledge. Mike has always been generous and supportive to work for. He does a great job of managing clients' expectations at first contact, and puts a welcome emphasis on quality of experience for both client and guide."
Andy Moles
Joining the Skye Guides team.
Applications to work are welcome from guides and instructors with appropriate qualifications and experience. The greater your Cuillin experience the better but we run in-house training to fast track new staff to the high level that the company demands. As part of the team you will be surrounded by others with a wealth of knowledge and tactics specific to delivering the very best quality guiding in Skye and the Cuillin.
Apply in writing to mike@skyeguides.co.uk with a CV and covering letter focussing on your Cuillin experience in particular. Please include referees relating to instructing and guiding work that you have done. We'll get in touch for a conversation initially. Assuming that goes well the format is simple- the sooner you can get here to shadow the sooner we can take bookings for your diary.
Learning the Cuillin.
The majority of applicants are aware that they need to dedicate time to learning the Cuillin in detail which is achieved with a mix of shadowing and solo outings. To reach the level of knowledge required takes considerable dedication. Applicants are strongly recommended to complete this process in the season before as the terrain is not easy to learn in winter conditions.
How we work.
We pride ourselves and advertise our guiding as the very highest quality available and with an intimate level of local knowledge. As a company we only take bookings when we know that we have suitable guides to cover the work and don't arrange work for guides until they demonstrate the right level of knowledge.
Contracts and protected incomes
Our booking systems have been established for over 20 years. Clients pay a deposit at the stage of booking and full balance is paid 8 weeks before the course. This allows us to guarantee your work and income well in advance. Cancellations do happen but we have clauses in our terms that protect the guide's income.
Choose how much work.
As sub-contractors our guides ultimately choose how much and how long to work for. Cuillin work is brutal; the physical demands of ascending over 6000m in a 4-day Munro course are obvious but the mental fatigue is at least as draining. Weekly the aim is to have no more than 5 consecutive days and 2 days off before the next contract, but there are no hard and fast rules. Equally significant is the length of time spent working on Skye. We are quite used to working with guides who have "real jobs", family commitments, overseas expeditions, assessments and other guiding commitments. Doing stints of 4 to 8 weeks is most common but some stay all season while others just make a guest appearance of a few days a year. Guides often have some of their own personal work contracts that can be mixed into Skye Guides work with enough notice
About Basecamp
Opening our climber's hostel in 2016 has allowed our guides a hugely improved standard of living while they work on the island. Van dwelling guides pay just £5 per night for extensive benefits including drying room, power showers, the new guides kitchen, washing machines, dryers and free wifi. In order to be fair the facilities are only available whilst working for Skye Guides or doing work with their own clients. Those working for other guiding outfits must make their own arrangements for those periods.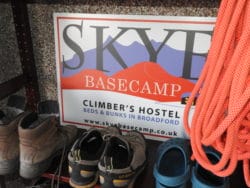 Letter to new guides 2021-
I work on a completely open hand, card on table basis so please excuse bluntness but also feel free to say everything and anything to my face.
My major interest is to keep the standard of guiding from Skye Guides as high as possible. There is a commercial interest but those who know me well understand that this is secondary to many other aspects. One of the main principles I try to ingrain is that we mustn't bastardise our own climbing by getting bored/disinterested in the guiding work. Chasing the buck is a common catalyst in this process and stops too many guiding careers far too soon.
Dealing with the commercial side first however-
I don't charge for shadowing and training but hope to recoup the investment by selling your services this season and hopefully a few to come. I base guiding very much along the lines of Alpine systems. Private guiding only and low ratio work on technical rock is the norm. Private is still not the norm for the majority of providers in Scotland but there is no shortage of market in our niche for charging more for a higher quality product. Clients are vetted and have their expectations "managed" long before they arrive which means guides can concentrate on guiding rather than politics.
In exchange I don't take a booking without being 100% confident in my guides. It is not unusual that guides Cuillin knowledge needs some intense work. In addition to the initial shadowing taking yourselves out on clear days to nail as much as possible asap will be crucial. Different sections are easier to nail and I will juggle to fill your books as soon as I'm happy that you know them. Pea-soupers aren't unusual on the Misty Isle ?
The sooner you get here and up to speed the easier for me to fill your pockets.
Technically I expect you to all be solid enough not to kill anyone but the slickness to move parties rapidly is probably the most important skill you'll develop up here. Without seeing you in action I can't tell short-roping skills but I intend to get this side sorted to a commercial level asap. You'll find I have my own ways that have been developed for use in the Cuillin. Close to zero use of direct belays, little gear placement unless pitching a route, intense client training from the outset and a couple more things I'm sure.
There is plenty of work. To be clear I'd definitely prefer it if you don't pick up work from other providers through this period unless I'm really leaving you short. Large amounts will be last minute or covering for my rota or other SG guides who have broken cars, bodies etc as can happen. Realistically you can probably expect to get 5+ days a week once up to speed.
In fairness to those guides already working for us I can't offer top wages until you're up to speed. We will agree a base level but £10 extra is paid for those doing more than 20 days per season and another £10 for those with the full guiding on Skye game licked. As well as the training the other major attraction of working for SG is the use of facilities. There's hot showers, drying room, wifi and a new kitchen area specifically for guides. Van dwellers pay £5 per night. Let me know if cash flow is a problem at any stage and I will try to help out if at all possible.
The Skye environment is harsh to work in and definitely not like van-dwelling in the Alps. Obliged to go out in all weathers and the terrain hammers gear. Highly recommend bringing at least a couple of pairs of boots and not your prize possessions. Approach shoes are only suitable for pure dry days in my experience. Rich Parker started carrying 2 waterproofs a few years back and it's a tactic I've used myself and not regretted! At the opposite end of the scale are midgies that are infinitely worse than any rain or wind IMHO! Fortunately the number of days where they are a problem once on the move is minimal but intense training in how to meet and greet clients in Slig carpark while under attack is one of the crucial lessons ?. Smidge is the repellent of choice but full upper body net is my weapon of choice. We have all these plus head nets in stock at basecamp here.
Looking forward to working and getting some superb climbing done with you all,
Mike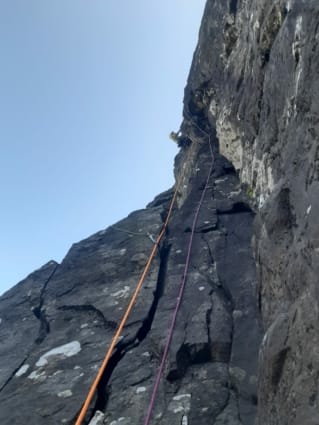 Dan Moore on the first ascent of The Power of Now, E4 6a Sgurr Mhiccoinnich. July 2021