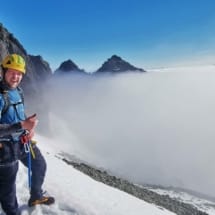 Why work with Skye Guides?
The Skye Cuillin are the only Alpine mountains in Britain. The work gives intense opportunities to learn, practice and fine tune techniques that will fast-track your guiding and instructing to the very highest levels. We'd like to hear from anyone with a high level of enthusiasm for Skye whether you are already well-established, newly qualified or a trainee on the Guide's scheme.
Benefits-
Largest provider of Skye work with high demand for guides year round.
High quality work; private guiding and low ratio only.
Minimum admin, advertising and negotiations required.
High rates of pay.
Full back-up from the team; lifts, sick days and beta
Use of Skye Basecamp facilities.
Best mountains in Britain
Annual training week
Multiple partners for personal climbing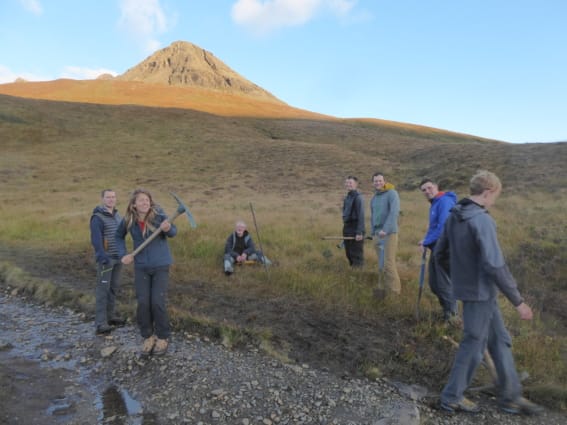 ---
About the Skye Guides team.
Established by Mike Lates in 1995 Skye Guides has developed a reputation for high quality bespoke guiding on the Isle of Skye. The team has now grown to over 20 members and we are fortunate to have some of the most highly respected freelance guides and instructors in Scotland, with over 100 seasons of Cuillin guiding experience between us.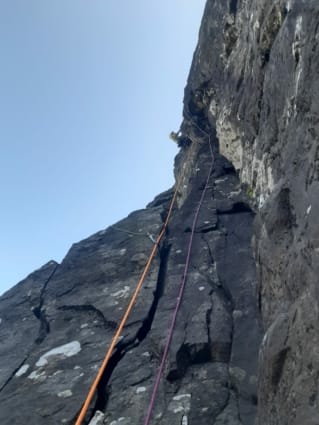 "Having worked regularly for Skye Guides for a decade now, it still makes a lot of sense for me as a travelling freelancer. In comparison to working for other companies, the benefits of a shower, drying room and kitchen are simply a no-brainer during inevitable stints of bad weather. Basecamp also acts as a social hub for sharing evening craic and guiding knowledge. Mike has always been generous and supportive to work for. He does a great job of managing clients' expectations at first contact, and puts a welcome emphasis on quality of experience for both client and guide."
Andy Moles
Joining the Skye Guides team.
Applications to work are welcome from guides and instructors with appropriate qualifications and experience. The greater your Cuillin experience the better but we run in-house training to fast track new staff to the high level that the company demands. As part of the team you will be surrounded by others with a wealth of knowledge and tactics specific to delivering the very best quality guiding in Skye and the Cuillin.
Apply in writing to mike@skyeguides.co.uk with a CV and covering letter focussing on your Cuillin experience in particular. Please include referees relating to instructing and guiding work that you have done. We'll get in touch for a conversation initially. Assuming that goes well the format is simple- the sooner you can get here to shadow the sooner we can take bookings for your diary.
In return we ask that new team members dedicate their time on Skye to working for Skye Guides rather than competing guiding companies.
Learning the Cuillin.
The majority of applicants are aware that they need to dedicate time to learning the Cuillin in detail which is achieved with a mix of shadowing and solo outings. To reach the level of knowledge required takes considerable dedication. Applicants are strongly recommended to complete this process in the season before as the terrain is not easy to learn in winter conditions.
How we work.
We pride ourselves and advertise our guiding as the very highest quality available and with an intimate level of local knowledge. As a company we only take bookings when we know that we have suitable guides to cover the work and don't arrange work for guides until they demonstrate the right level of knowledge.
Contracts and protected incomes
Our booking systems have been established for over 20 years. Clients pay a deposit at the stage of booking and full balance is paid 8 weeks before the course. This allows us to guarantee your work and income well in advance. Cancellations do happen but we have clauses in our terms that protect the guide's income.
Choose how much work.
As sub-contractors our guides ultimately choose how much and how long to work for. Cuillin work is brutal; the physical demands of ascending over 6000m in a 4-day Munro course are obvious but the mental fatigue is at least as draining. Weekly the aim is to have no more than 5 consecutive days and 2 days off before the next contract, but there are no hard and fast rules. Equally significant is the length of time spent working on Skye. We are quite used to working with guides who have "real jobs", family commitments, overseas expeditions, assessments and other guiding commitments. Doing stints of 4 to 8 weeks is most common but some stay all season while others just make a guest appearance of a few days a year. Guides offered their own personal work contracts on the island are asked to be open with us and check that it doesn't clash with Skye Guides work.
About Basecamp
The guides kitchen area at Basecamp operates as a social hub for the Skye Guides team with facilities making for a hugely improved standard of living while on the island. In addition to the cooking facilities there is access to the drying room, power showers, washing machines, dryers and free wifi. A high percentage of the clients stay at the hostel so discussing plans etc is done in comfort as opposed to a layby or carpark at the start of the days walk. Client kit is increasingly kept here for collection and distribution.
Most guides live out of their own vans while on the island and pay £12 per night that facilities are used. Use is not compulsory given practicalities of fuel costs, travel time etc but the ability to dry out and cook at the hostel proves very popular. Undoubtedly the biggest attraction is a chance to meet and talk through climbing and work ideas with the many other experienced members of the team.
Facilities are only available whilst working for Skye Guides.