Skye Guides on the In. Pinn.
We make every effort to advise clients on the best way to achieve this unique summit and also to make the climb a real highlight. An important part of any attempt on the In. Pinn. is the training and assessment of clients in the brief period available before reaching the foot of the Pinnacle.
On the approach walk we assess abilities and then teach everyone exactly what they need to know. Training is given in both climbing skills and ropework. No experience is needed but anything you have previously learnt is always a benefit.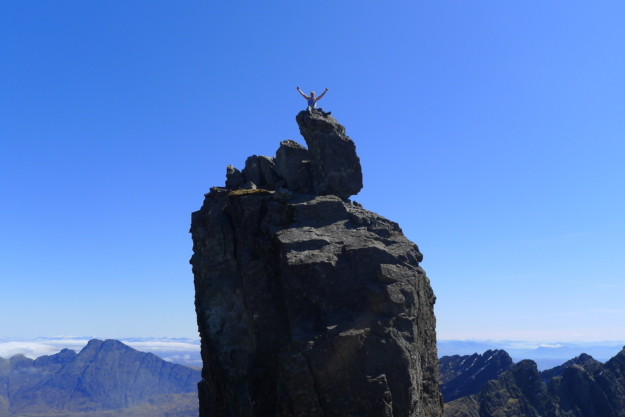 "Mike – thanks for a fantastic days guiding round Corrie Lagan and up the In Pinn. Your approach put us both very much at ease and gave us great confidence on the day. I'd certainly recommend you and Skye Guides to anyone looking for adventure on the Cuillin!" EdC
Weather
Conditions are critical to an ascent with most days between the extremes of good and bad. Our guides will advise clients as to whether an attempt is sensible. In fine, dry weather the climbing is technically easy but still requires all members of the party to concentrate 100 per cent. In less ideal conditions the climb becomes a far more serious and difficult undertaking. We recommend that clients choose the two-day option to enhance chances of summiting the In. Pinn.
Larger parties.
As with all technical rock climbs the larger the party the lower the chance of success. Apologies for this bluntness but this fact isn't widely publicised. If you are blessed with perfect weather there are few better theatres in the world for watching other human beings with whose emotions that you can empathise. Unfortunately 3000 feet up a Scottish mountain is sometimes less hospitable and generates a less relaxed atmosphere.
Two or more guides are often used with groups to speed up the process and enhance the experience and chances of success. Larger parties may be split into two or more groups with one group waiting, while the other makes the ascent. While a single client can be very closely supervised and kept safe and warm enough to justify an attempt at the In Pinn, it could be that an attempt by a larger guided party attempt is ill-advised. Having a lower guiding ratio can sway this decision. There are immediate safety factors but also discomfort and a danger of hypothermia to anyone waiting.
In such circumstances a suitable alternative will be offered which is often a different Cuillin Munro peak. Full details in our terms and conditions.
Information about the routes we use for the ascents.
1- The East Ridge; Moderate standard rock climb. 65m 200ft. 95% of ascents.
The climbing is not difficult for a confident scrambler when the rock is dry but wind and rain make the climb a more serious proposition. There are large footholds for all but one step; there are fewer positive hand-holds but you will have been taught to climb on your feet and just use hands for balance. The whale-back shape of the East Ridge means that it is not possible to safeguard every step along the whole length of the ascent but the rope is directly above you (and very tight!) on the single hardest move (the crux in climbing terms).
2- The West Ridge; Severe standard rock climb. 18m 60ft.
A rope can be kept above clients but this is a vertical polished rock climb that is too serious for the guide to climb in the wet. In good conditions this gives a great challenge in complete safety with plenty of advisers usually on hand. Popular with clients who frequent indoor climbing walls.
Abseiling off afterwards.
Getting down again is often one of people's biggest fears but fortunately it is both safe and simple. It is possible for the guide to simply lower you as you lean back on the rope. The vast majority of clients use the more traditional skill of abseiling which is simple to learn and protected by the guide just in case. A chain to abseil from is fixed right around the foot of the Bolster Stone.
The Pinn. for more experienced climbers
Clients who are familiar with ropes and karabiners have an increased chance of success because the guide is able to place the extra protection for safety needed in more adverse weather conditions. Experienced clients often demonstrate a high level of technical skill which can justify an ascent.
To find out more about courses with Skye Guides return to Summer Activities