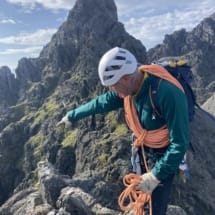 Dan moved to Skye in 2020 and mixes his guiding with being the local postie! He qualified with his MIA whilst living and working in North Wales back in 2003.
He has climbed extensively across Europe, particularly in Bavaria but also in France, Switzerland and Spain with other trips including a memorable trip to Jordon.
In 2013 he moved back to his native Derbyshire and a role at the prestigious Whitehall Outdoor Education centre where he remained until a snap decision to move to Skye in January 2021.
Amidst the Covid mayhem he began work as a part time postie and the rest of the time working with Skye Guides…
Favourites-
Long alpine-style routes on Sron na Ciche in the Cuillin
The Pillar at Diabeg
Food- Sausage or bacon sarnie
Beer- good german pilsner
Whisky- Ard Beag Coire Bhrechan