Our own climbers' accommodation.

We are very proud of our very own climbers' hostel here in Broadford, SKYE BASECAMP.
It has become an ideal base for guiding clients to discuss plans and experiences with their guides and other climbers. Beds in shared dormitories, or private rooms for you and your partners are available. We keep space blocked for guiding guests so just ask if our system shows as full!
There are hot showers, comfy beds and a good drying room but you'll find a whole lot of other reasons to hang out at Basecamp. BOOK NOW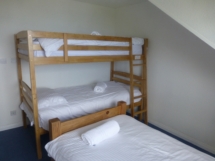 We have bunks and beds in small shared rooms or private en-suite rooms for those wanting a bit more luxury.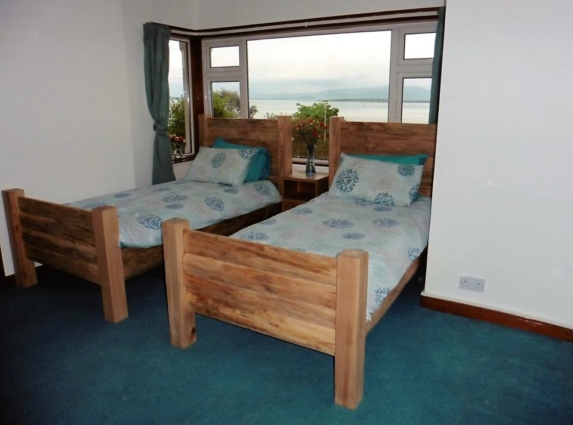 We have a large, newly fitted kitchen with excellent self catering facilities adjacent to the spacious dining room.
The guiding office is now run from Basecamp and our guides will be in and out each day. Current conditions, route details and logistical advice will be "on tap" for any guests or visitors. You may meet like-minded guests and decide to book a guide.
---
A word of warning- Skye gets full!
Gone are the days of trips for the Misty Isle being for the connoisseur! Skye has recently become one of the "must see" places for tourists visiting Scotland. So popular has it become that arranging your accommodation is a top priority when planning a trip at any time between April and November. If you do leave things to the last minute you can expect to pay premium prices. At the height of summer the only option left for many tourists is to purchase camping equipment and take their chances with the weather!
Where is a good place on Skye to stay?
The Cuillin are situated centrally but Skye is a large island and driving a fair distance most days is inevitable. Skye scenery is so stunning, however, that these journeys form an enjoyable part of the vacation. The main roads are fast and open and an hour's travel is definitely not the bind that it can sound; embrace and enjoy!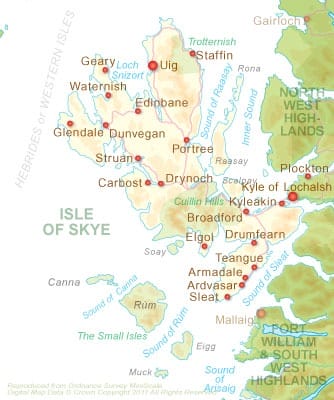 Approaching by the Skye Bridge from Kyle of Lochalsh (A87) is most reliable. The ferry from Mallaig stops at 6pm and must be booked.
Some clients cleverly avoid the premium prices by booking on the mainland and travelling a little bit more each day over the Skye Bridge. This works well when using the main roads but try to avoid being too far out on a limb down single track roads.
---
Bed and Breakfasts.
There are literally hundreds of B&B's to choose from. Internet searches are now the normal method and social media sites are particularly good for seeking last minute possibilities (check "Skye Rooms" Facebook page first thing in the mornings when cancellations are generally made).
Tourist Information Portree: 01478 612 137
Sligachan Hotel (Tel: 01478 650 204)

Old Inn Carbost (Tel: 01478 640 205)

Sconser Lodge (Tel: 01478 650 333)

Broadford Hotel (01471 822 204)
Dunollie Hotel, Broadford (Tel: 01471 822 253)
Cuillin Hills Hotel, Portree (Tel: 01478 612 003)
Kinloch Lodge Hotel & restaurant (Tel: 01471 833 333)
Duisdale House Hotel (Tel: 01471 833 202)
Toravaig House Hotel (Tel: 01471 820 200)
---
Campsites:
There is now (2019) a brand new campsite in Broadford complete with hook-ups and superb facilities. Camping Skye
No forward booking for the traditional Cuillin campsites at Sligachan and Glen Brittle is necessary. Both have good hot water showers and electric hook-ups for campervan/caravans.
Sligachan has a bar and hotel providing food & drink across the road from the site and is a 9-mile drive from Portree.
Glen Brittle is a beautiful peaceful site beside the best beach on Skye that has a small shop with limited supplies of food and camping equipment.
There are also sites in Broadford, Strollamus, Portree, Dunvegan, Staffin & Greshornish.
---
Hostels:
Skye Basecamp, Broadford. (01471 820044)
Waterfront Bunkhouse, Old Inn, Carbost (Tel: 01478 640 205)

Sligachan Bunkhouse (Tel: 01478 650 204)
Croft, Bothy and Bunkhouse, Portnalong (Tel: 01478 640 254)
Broadford Youth Hostel (Tel: 01471 822 442)
Broad Backpackers Hostel (Tel 01471 820 333)
Glen Brittle Youth Hostel (Tel: 01478 640 278)

Portree Independent Hostel (Tel: 01478 613 737)

Bayfield Backpackers, Portree (Tel: 01478 612 231)

Skye Walker Hostel, Portnalong (Tel: 01478 640 250)

---
Self Catering Cottages: