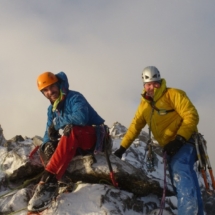 Skye Guides operates as a close-knit team of instructors and guides to run the various courses on offer. They have been selected because of their professionalism and passion for the Black Cuillin as well as their experience, qualifications and an intimate knowledge of the terrain. In-house training is given through shadowing experienced Skye Guides. Low ratio guiding on such technical terrain is very unusual in the UK and the quality of work available through Skye Guides is highly attractive to instructors and guides.
Guides will be moving up through the various UK and international mountain training schemes of Mountain Leader UK and British Mountain Guides. We recognise that work experience for instructors moving up through the UK and international awards structure is vital. We operate an in-house training policy that supplements the guides experience with information and techniques specific to the Cuillin as well as ensuring that our high standards of service are maintained; one of our regular clients refers to us as a "finishing school for guides".
The Smear V,5. 2nd ascent April 2013. FA Doug Scott 1979
On the ground this means that some of our guides are highly skilled and experienced but haven't all gained the same paper qualifications. All are fully insured and are registered with Mountain Training UK. Health and Safety regulations allow for this situation, specifying experience and site specific knowledge along side paper qualifications; the guides insurance companies are happy to cover this. Some guides that have worked with us now have their full international IFMGA carnet but still make guest appearances because they enjoy the challenge of Cuillin guiding so much.
Many of our instructors and guides spend their year travelling, climbing and working on mountains throughout the world so bring a rich variety of knowledge and experiences to share with you. Mike is into his 29th season but still prides himself in "keeping up with the kids!" We work closely with Graham who started his guiding with us back in 2004. He now runs his own major Alpine guiding outfit Frost Guiding
There is a solid core of guides returning each season who strongly support the Skye Guides philosophy of low-ratio equals high quality. Gillian is on her 14th season, Malcy his 12th, Andy 11th, Ollie 6th etc. Equally, there is a steady trickle of new guides that are introduced to the team and introduced to the high standards that we promise our guests. While on Skye they work as a closely knit team and spend days off climbing with each other as often as possible. At the height of the season up to 10 different guides will be operating each day.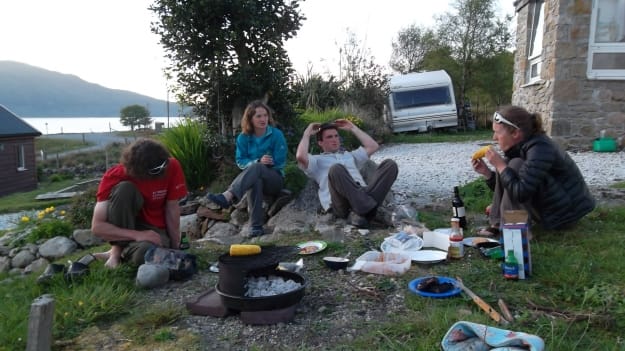 All of our guides are professional mountaineers aware that the most important factor is your safety. Their intimate knowledge of the terrain means that you will safely achieve the maximum from your outing and have a thoroughly enjoyable time doing so.