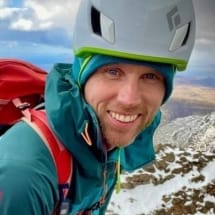 Andy is back on Skye for his tenth season with Skye Guides this year. He holds both MCI and WMCI awards.
Originally from Northern Ireland, Andy studied English Literature at Edinburgh University. Since then he has been darting around the country trying to climb as many bits of it as he can, and after realising this lifestyle could also be a career, taking people out to do the same.
Andy's first experiences in the Cuillin as an inexperienced youth were a steep learning curve, but also a massive inspiration in his development as a mountaineer. Now returning annually as a fully qualified WMCI and a guide, Andy has never lost his passion for being in the mountains on Skye.
Andy Moles was a great guide, and I don't think I could have wished for more in terms of his professional skills, including planning, provision of clear advice, and being extremely considerate and enabling. –Caroline
Andy was absolutely great, clear with advice, safe, professional from the top to the bottom. He has not only excellent climbing skills but also communication skills and he is a fantastic teacher –Zbig
I wanted to drop you a quick note to say thank you very much to Andy for three wonderful days on the hills last week. My friends and I had never used guides before and it was a great success with excellent company. There is no way we could have achieved our goals without you and we enjoyed every minute. –Peter
Andy was a fantastic guide: calm, relaxed, professional and good company. –Ian
A Few of Andy's Favourite Things
Climbing – Moonlight Buttress (Zion, Utah), Salbitschijen Westgrat (Switzerland – like the wildest bits of the Cuillin all day long)
Skye – Waking up at the bivi to another stunning Cuillin dawn. Climbing new routes in the Cuillin and the sea cliffs.
Books – It should be something literary but really it's the climbing guidebook for wherever I am right now.
Likely to- tell you about better spots than the Fairy Pools for wild swimming, eat something at every opportunity, recommend a coffee shake at the café in Broadford
Music – Sumptuously produced electronics
Food – Something spicy
Whisky – Something smoky