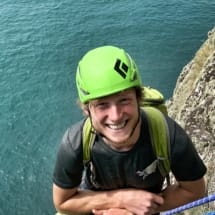 Alex did his Skye Guides assessment and in-house training in September '21 and joined the team in 2022 for many hard-fought weeks of work. The summer 0f '22 had the worst weather anybody on Skye could remember. Happy and patient whatever the weather Alex is a very welcome addition to our squad.
He grew up in the Southwest making use of the varied sea-cliffs and (very) polished limestone to cut his teeth climbing as a teen.
Alex has a zoology degree from Bristol and is super keen on natural history, particularly birds. He spends a fair amount of his other work-time guiding wildlife tours so there's a good chance of spotting eagles and less well-known birds when out with him.
He first did the Cuillin Ridge as student with very little idea of what he was undertaking; "An epic bivi sticks in my mind!"
He has climbed all over the Alps and in Morocco, but the west-coast of Scotland really floats his boat in terms of scenery, sense of adventure and memorable days out.
Favourites
Rock – Quartz Icicle, Gogarth or The Pillar, Diabaig
Winter – Glover's Chimney on the Ben topping out to the most gorgeous golden sunset above the clouds.
Skye – Supercharger, Neist was pretty unforgettable for numerous reasons involving too short abseil ropes and angry fulmars. Crowning glory has to be any day Kilt Rock, though.
Food – Dried mango and Huel (sorry, I won't wear the t-shirt)
Music – Pretty much anything from liquid d'n'b to grime! Enjoying Beluga Lagoon at the moment when up in Scotland.
Whisky – any Speyside