13/12/13
Anyone unfamiliar with the Harvey SKYE THE CUILLIN map should treat themselves to a copy this xmas. The 1:25,000 scale map covers a huge area from Broadford, up to Sligachan, Carbost, Glen Brittle and right across to Elgol.  But it is the 1:12,500 enlargement of the Main Ridge makes it the only map of any real use to climbers and walkers wanting to explore the Ridge.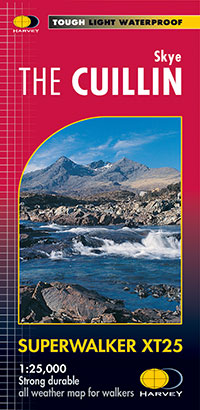 It's been an enjoyable task this week helping Peter Child at Harvey Maps with updates for the reprint in January. The project has been ongoing for quite a few years now; they reprint just about annually so map corrections can be easily added.
Paths
This year I suggested that some of the larger trails higher in the Cuillin could justify being added becuase they are comparatively easy to follow in good visibility. Pete was then able to double-check the ideas with aerial shots and produce an accurate end result that should aid a huge number of visitors.
Sgurr na Banachdaich is well recognised as the easiest Cuillin Munro to attain and the route has become well enough pronounced on the ground to mark it nearly to the summit.
Cliff numbering correlation with the SMC Guidebook
Correlating the SMC "SKYE THE CUILLIN" guidebook with the "SKYE THE CUILLIN" map has been the other major task.
Photodiagram of the northern Cuillin seen from Sligachan; crags in red circles.

The 1:12,500 enlargement orientated for viewing the northern Cuillin from Sligachan; crag numbers in red.
There are a total of 98 different crags from the book now all marked as close to the start of the climbing as possible. Previous editions of the map have, since 2004, had 55 crags marked; don't worry these are all in the right place and match the map index. Fifty-five was the number of crags I thought the Cuillin had at the early stages of writing the guidebook. It was another 7 years before we went to print but the end result, particularly with these latest Harveys updates, means that climbers have a hugely increased chance of identifying and navigating to the cliffs they want to climb.
Signed copies of the Cuillin Guidebook can still be bought direct from us if you want another Christmas present!
Skye Trail
The most noticeable change on the 1:25,000 side is the addition of a section of The Skye Trail. Harveys also sell a map specific to the Skye Trail.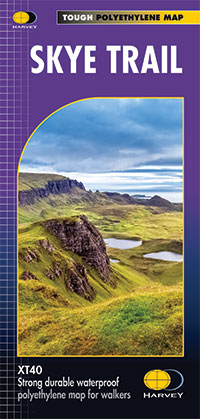 2 variations are marked  in the Cuillin section for the more adventurous including a traverse of Bla Bheinn down to Camasunary and a detour into Coruisk via the Bad Step.
New materials
The 2014 map will also be the first made of the new generation of tough polyethylene that is both more waterproof but also far more resistant to tearing. Great news for all, including our guides who carry their valuable copies every day through all sorts of weather.
Finally I'd recommend browsing the Harvey maps website for a fascinating insight into how modern, high quality mapping is being done. Enjoy:-)