30/01/17
The snow this week came thick and fast and with no strong winds behind it, resulting in a beautiful uniform layer.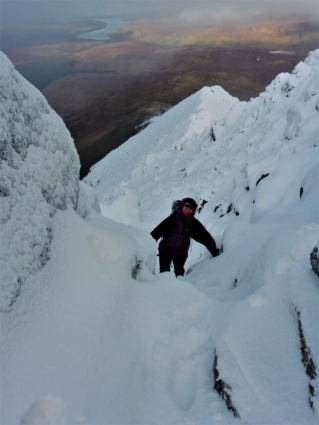 Yesterday this provided a wonderful cushion with no real need for crampons as we headed up the classic NW Ridge of Bruach na Frithe.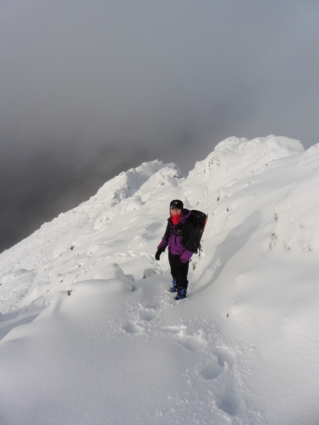 Very different from this time last year where sheets of hard snow gave very serious conditions.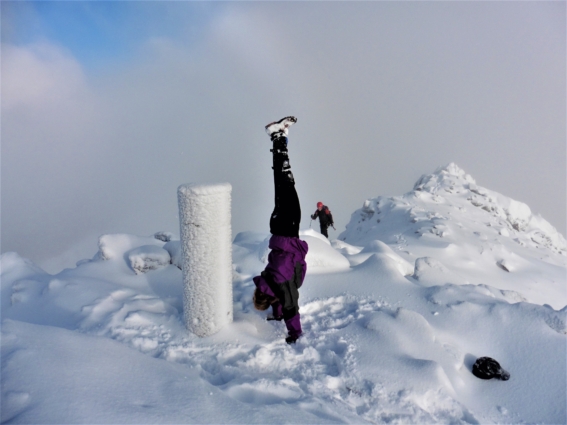 Mara's summit handstand was photobombed by Helen from Cioch Direct and we all enjoyed teasing glimses of the Ridge to the south as clouds rolled in and out.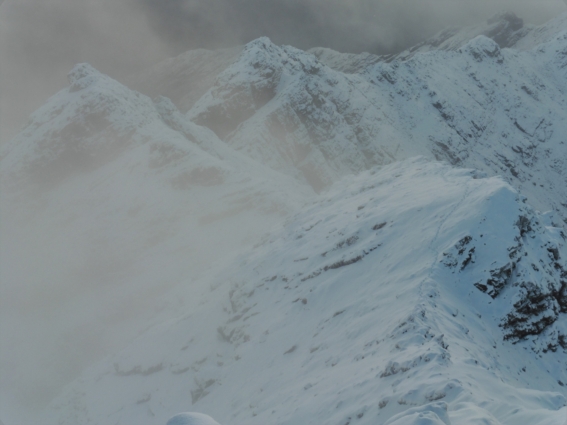 Surprisingly a line of fresh prints led off ahead of us as we descended the South Ridge, others enjoying the superb conditions.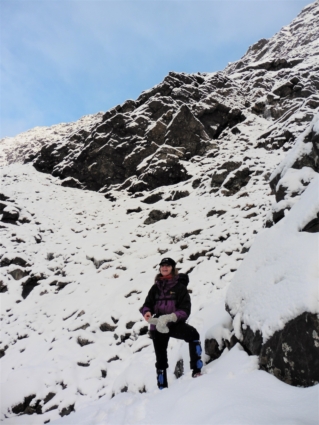 A rope kept us safe on the few steeper steps before a descent from Tairnilear and out past the Fairy Pools with some obligatory litter picking.
---
With such superb conditions and an even better forecast it was time to up the fun levels for today and Clach Glas seemed to fit the bill perfectly.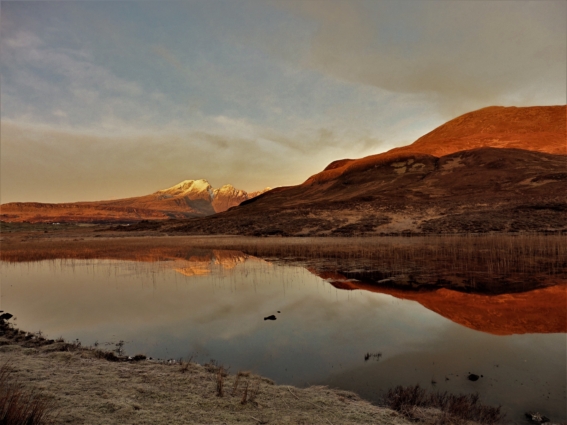 Phil joined me on the guiding today as Clair and Trevor started their Ridges and Routes course based at Skye Basecamp.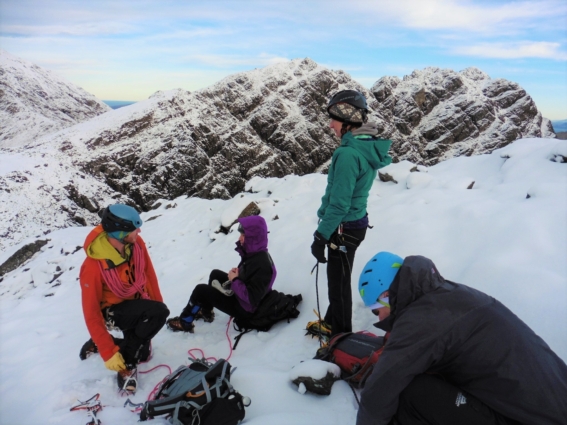 Far colder overnight had cemented the snow even better to the rocks. This meant crampons were compulsory but the combo gave incredibly positive footings.
My guess is that anyone on the Ridge today will have made superb progress.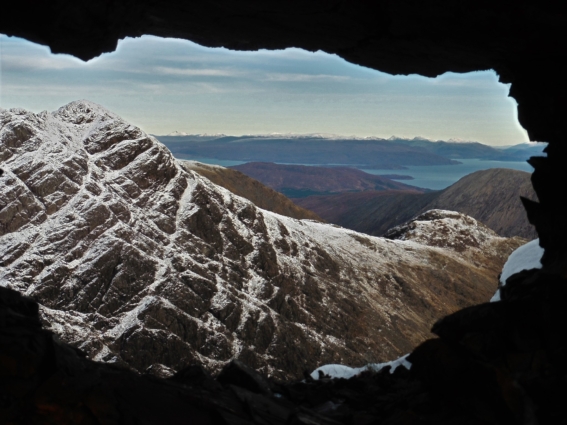 The most technical section onto the Final Tower and descending the Imposter were pretty full-on, definitely grade IV climbing and a long abseil to get off the summit.
The bitter wind hit us on this side and a free facial scrub was dished out every time someone moved much in front of you!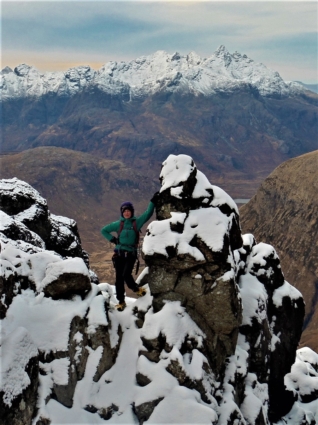 All in all a very full-on day in some of the best conditions I've ever had on Clach Glas.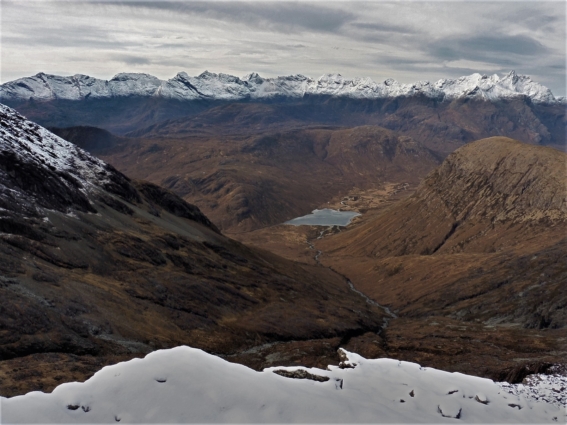 12/01/17
This year's festival has started in great style.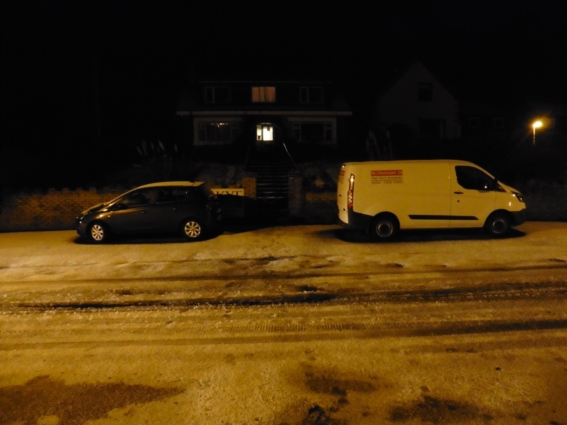 Leaving Skye Basecamp this morning; snow arrived right on cue and right to sea-level.
Sgurr a Bhasteir was quite black looking as we approached but there was some ice in the foot of Mike The Bhasteird.
It soon became too thin so I took to the blunt rib on the left, and just in time! The heavens opened and I watched a waterfall of snow pummel down the groove on my right. Some really good moves (with enough gear to be fun) led to the ledge at 40m and Pok followed with style.
Pok led on and coped well with the terrain and fierce stinging hail and gusting wind to find a semi-hanging stance below a final steep wall.
By the time we got down our sacks had nearly been buried 
The joys continued on the walk-out with amazing light and the mists rolled away.

And Sgurr a' Bhasteir had transformed into Snow White. Our line is marked in red and is called Formali Known As. 90m IV,4
07/01/17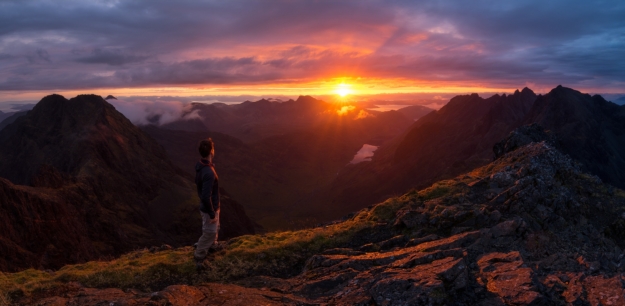 Photo courtesy of James Nichols-  www.jcheynne.com
2016 has been monumental in many, many ways.
In our own little world Skye Guides has expanded considerably. The number of guided days reached a total well in excess of 500. Over 1000 clients were involved in 200+ ascents of the In Pinn and 30+ successful Cuillin Ridge Traverses. An enormous thanks to clients who trust our company so much and to the incredible team of guides that make these dreams come true. Gillian, Rich, Iain, Jamie, Niels, Tamsin, Caspar, Mike, Steve, Karen, Scott. Rory, Lou, Ollie, Jonny, Andy, Iain and Emma.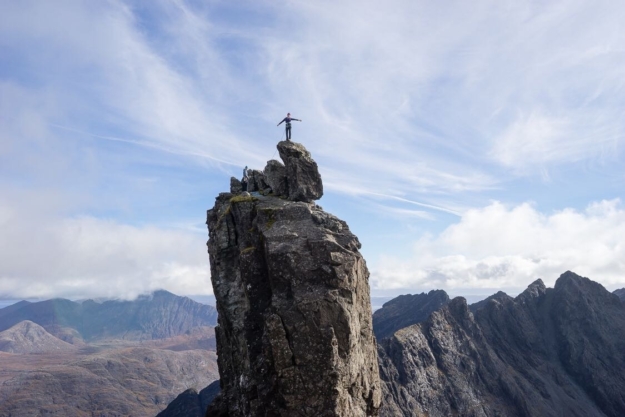 photo courtesy of Gillespie Macdonald
Much of my year was spent developing Skye Basecamp.  Creating a hub of climbing knowledge and information on Skye has been in plans for many years. Basecamp is a dedicated climbers' hostel and realising this part of the ambition feels like a massive step in the right direction.
Huge amounts of work were put in by friends old and new to finally allow us to open in August. Apologies to anyone I miss but thank you Catriona, Lucy, Beth, Annmarie, Tansy, Kieron, Ianto, Beads, Pete, James, Tom, Derek, Conor, Lachlan, Elanor, Mike, Faith, Chris, Helen, Remus, Bob, Jim, Jancis, Alan, Morgan, Nick, Ru & his mates, Innes, Ben, Uncle tom Cobbly n all….

We were busy from the outset and are managing to stay open right through this our first winter. Highlights are hard to select but the new kitchen inspired a series of visitors to get baking and cooking; the aromas as you come in the front door are superb.
Rendezvous at Basecamp gave a chance for guides and clients to discuss the days routes over an extra coffee whilst looking out at Broadford Bay vista.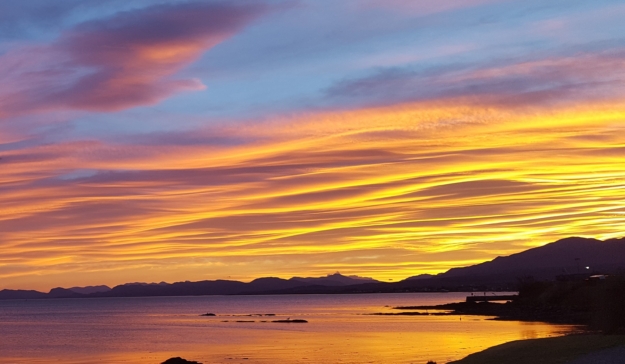 Much has been made of what a mad world we became in 2016 and few of us are likely to be unaffected. What can be sure is that Skye and the Cuillin will continue show us what a wonderful world we do have around us.
Slainte Mha, Mike