23/11/15
The first winter climbing day of the season is always daunting; so much extra kit to remember, fit, fix and, worst of all, carry. Yesterday though, I had a cunning plan; walking up Blaven on Saturday I'd spotted a couple of ideal new lines all icy and snow covered nice and low on the hill. Now I do remember clocking how warm it was on the walk back from the Broadford football dance too late on Saturday night but Sunday dawned stunningly and the car was coated in frost. Beads and Murdo were right on time and I felt smug remembering to pack the hot flask despite my thick head. Torrin was stunning with the eastern Cuillin as a backdrop but most obvious was that the snow-line had jumped half-way up the mountain or more; on the back of 3 fast days on the tops my body ached just at the thought of having to go right up again.
At the carpark Murdo let out an expletive as he located his boots as being back in Portree and my relief came in the most comical/painful/more comical manner. Smug we were not as Beads and I know it will be our turn to screw up soon enough but we did enjoy an extra cuppa with the time we knew Murdo needed to make the next rendezvous at Sligachan. So the crack team was finally in action before 10-30am.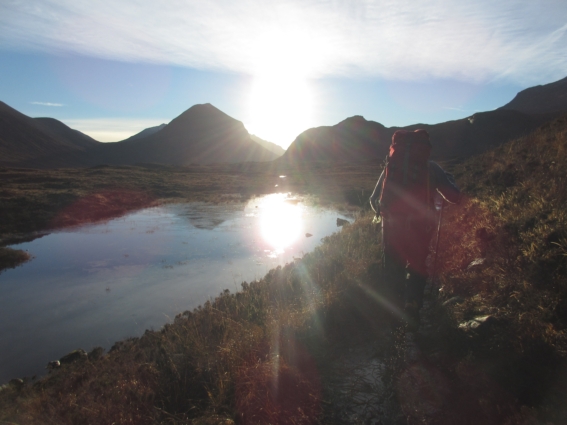 Beads tried to tempt us to the flesh pots of his own personal face on Sgurr a' Bhasteir but it was black as the ace of spades and obvious we needed to go high; either the Bhasteir face of Gillean or Am Basteir itself. Way back in 2009 I'd spotted an open-book corner directly above where The Deadline(III) turns hard right. Another attraction was that it seemed likely to be short enough that we might top out before dark 🙂
My pitch gave a sharp wake-up call for the new season with a wide range of tactics and plenty of fight needed to make upward progress. A couple of good ice placements early on were but a tease and above here I used everything from full body wedging to tiny finger edges. The protection was all a bit testing to construct and somewhat reliant on the rock holding together but luckily wasn't put to the test.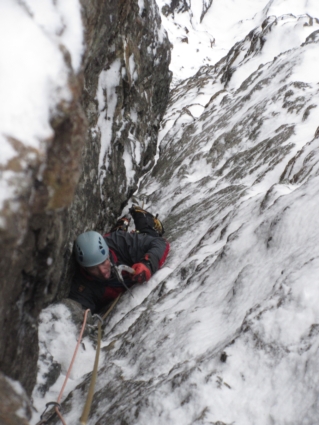 A pull over the capping stone to finish saw both Murdo and I flop like seals onto the snow-covered scree bed but Mr Beads managed the whole pitch in some style.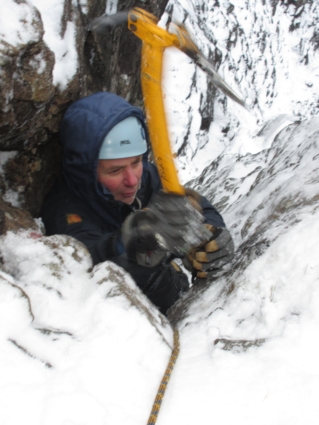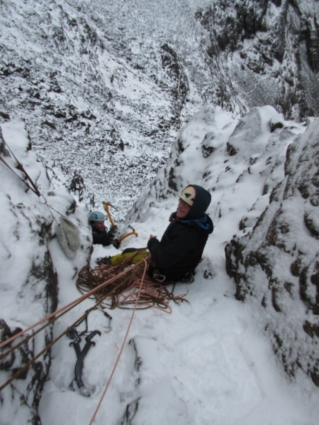 The continuation pitch gave Beads more quality climbing and a stunning top-out on the back of Am Basteir.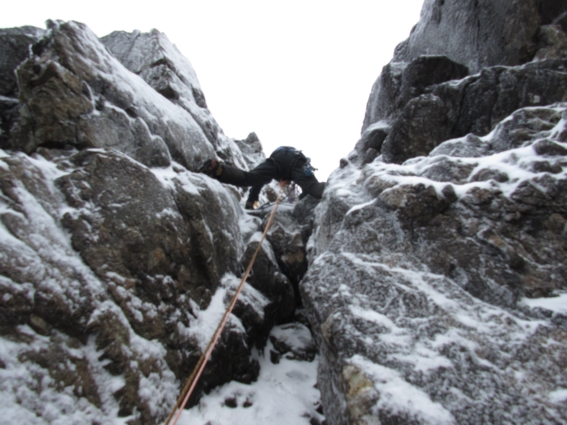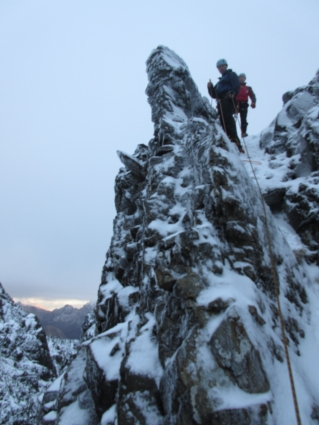 Shining out from below our cloud cover was a dazzling aray of autumn colours out over the mainland to the south; here looking across to Loch Nevis with Mallaig to the right and Knoydart to the left-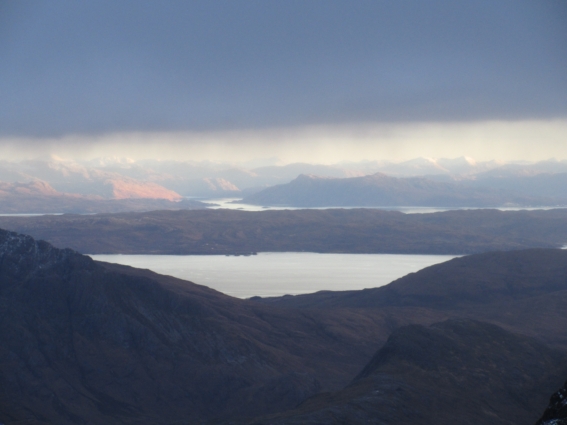 The route was short (70m) but gave sustained and quality climbing. Wordmeister Beads had christened it The Breadline tied into the parent route The Deadline long before we had completed. Grading a route with so much thrutching is always hard but I'm going to settle on V,5 for now and see what future ascentionists think. It's a good line that will be in nick frequently so shouldn't be long….
Heavy sacks gave squealing quads on the initial steep downhill but I found myself back in a serene mindset once more as the moon lit the moorland path back to the car; a hair of the dog, a bath and a long lie-in…….