16/07/13
With the weather breaking in the west Lucy and I decided to hit the road for the final couple of days of her week. King Bee on Creag Dubh at Newtonmore gave us our fix of 3 star climbing on the journey across but we were saving energy for what looked likely to be a massive day next day; and so it proved!
The Needle on the Shelterstone Crag is a classic route cleverly weaving its way up the enormous clean face to reach Needle Crack and finally thread the eye to reach the top. With alternating pitches of 4b, 5b, 4b, 5b, 4c, 5a, 4b, 5a, 4b it looked like we could alternate leads to give a perfect culmination in a week where Lucy's leading has shot up from V Diff to confident VS.
The day was a long one, the tale even longer but culminated with Lucy leading the Needle Crack in superb style while I followed in a more agricultural fashion on the fantastic lay-back holds. All the routes open to her now dawned upon Lucy as she browsed Scottish Selected Rock Climbs over breakfast!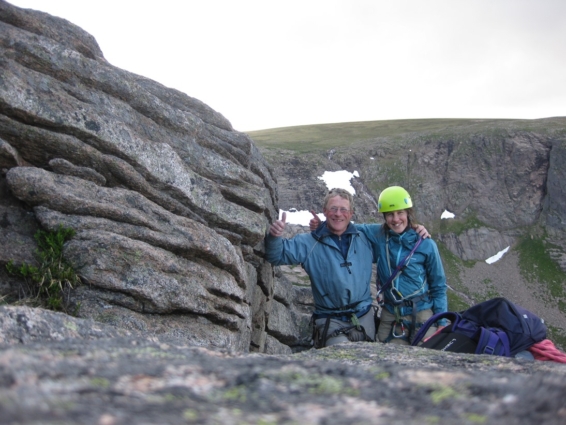 Enjoy the gallery-