28/08/12
Dodging between some pretty awful rain showers for the past week but had a great day out with regulars Lisa & Vickie on Wednesday.
Narrowest section of Sgurr a' Ghreadaidh
and relaxing the muscles afterwards
The weekend forecast improved enough to allow a Traverse attempt.
Rehen, Catherine & I took a ride in with Alex on the AquaXplore RIB on an increasingly choppy sea.
By the time we reached Gars-bheinn the tops were cloud covered once more and the winds were strong enough to knock us right over. Progress was slow & hard work as we battled to keep our feet along the "easy" section of the Ridge.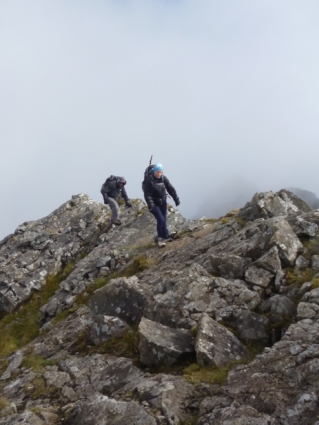 Overnighting in Coir' a' Ghrunnda we went to bed early hoping to wake in the perfect weather that was forecast but mist still clung heavily at 6am. The rocks were only slightly greasy on the rise up Alasdair but the exposed crest was soaking and treacherous to the Stone Shoot. We resisited the temptation to run away and made good progress to reach the Pinn at 11am.
Mist swirls around on An Stac Direct
The mists were finally clearing the tops and all those who had been lost finally seemed to home in on the Pinn. We got up just ahead of the mighty crowd and were briefly joined by Dave on his penultimate Munro.
The visibility and views continued to improve as we headed north and my Canadian guests were finally able to see the beauty of the Cuillin. Their previous summit was Mount Everest back in May and it was fascinating listening to their tales but also good to see and hear how much they appreciated the climbing and scenery in our wonderful wee mountains.
Catherine and Rehen with everything they had climbed in the Cuillin layed out behind them.
We descended from An Dorus as black clouds drew in from the south and got down just before the heavens opened.
17/08/12
After a couple of weeks holiday it has been an absolute pleasure to come back to work this last week. I've been fortunate enough to have 8 consecutive days of rock climbing.
Forgot the camera on the first day out but Dave & I had a great day approaching via Cioch Slab to the foot of the intimidating sounding Crack of Double Doom (VS 4c). I'd forgotten how fine the main pitch is; 50m of continuously testng moves and all well protected.
Next day was Direct Route on Eastern Buttress (Severe) with Ant & Paul; again a route that I'd forgotten how good it was with 9 pitches of superb rock & plenty of challenge.
We went to Neist next day with the guys doing their first leads after some intense practice in gear placements and setting up belays.
Next day the guys were tested and passed with flying colours as they led themselves up all 6 pitches of Window Buttress (V Diff)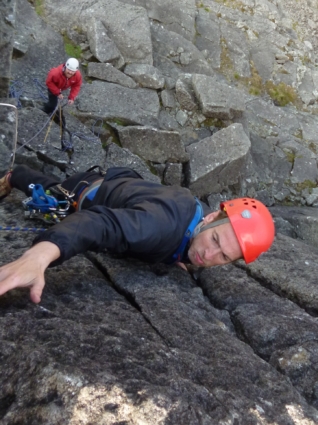 Back at Neist next day with Tom, Susan & daughter Lisa who showed her folks how it was done with fine ascents of (Severe) and Tatties (Severe).
To be fair Tom & Susan did superbly as well and were particularly happy with the short session of ropework for scrambling that we squeezed in.
Tuesday was a sun-fest at Kilt where Victoria, Elise & I climbed the Rpmper (Severe), Secret Service (VS, 5a)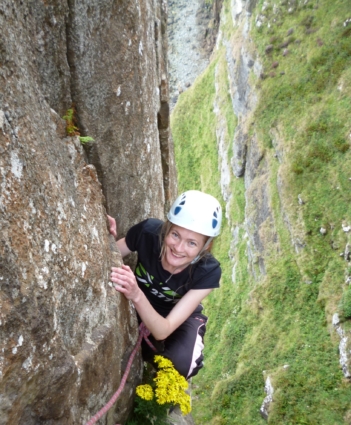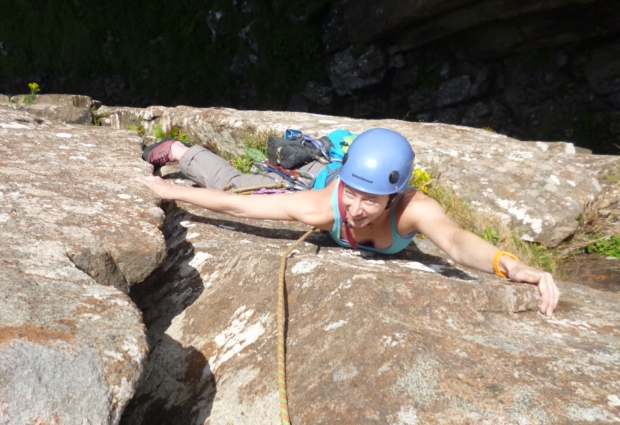 and then Elise & I climbed Jamboree
(VS 4c in the book but HVS 5a at least)
Next day we had John Doughty for company whose first trip to the Cuillin was over 50 years ago! He gave me the brief of a long open slabby route.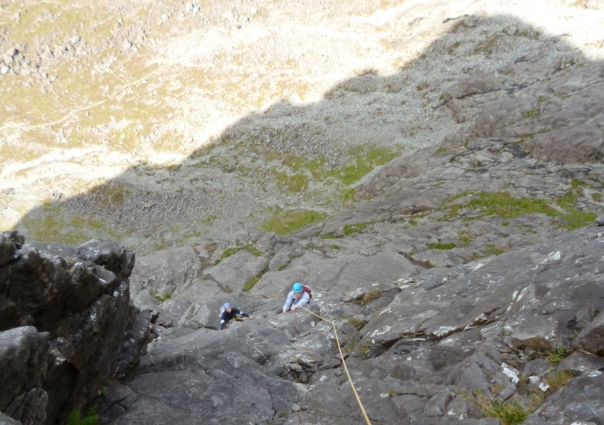 Central Route starting by Mallory's Slab & Groove takes on the full thousand foot height of the huge Western Buttress. We indulged in 10 pitches of "just what the doctor ordered" on a very full day out
On Thursday Icky, Elise and I decided to climb the route on the cover of the new Sea-Cliffs & Outcrops guidebook, Man of Straw at Neist. The setting by the swelling seas was superb and the route excellent to match; worthy of 3 stars in my opinion with moves and protection that make you think all route with superb moves in a stunning position.
Long may the summer last!!