29/11/12
The freeze thaw cycles have left great conditions in the Cuillin with a thin but complete cover from below 2000ft. The combination of conditions and forecast are the best I've seen for a winter traverse for  a couple of years. Still some small drifts that will be hard work for the first party along but I hope to hear of a few successes soon.
Ally took his "fast-tracking" into climbing a stage further today with a crash course in mixed climbing on the first winter ascent of An Stac Chimney in Coire Lagan. Graded moderate in summer I wrongly reasoned that it shouldn't be too challenging for a winter ascent 😉
The initial squeeze pitch must have taken me half an hour to work out how to ditch my rucsack. Taking to the right wall just meant an exciting section above the jaws of the rift before finally getting back into the clutches and a good thread runner. More relaxed the final chockstonebefore the belay seemed easy with good frozen turf and hooks.
The next chimney was clearly too narrow to get into but bridging up worked well to start with. As the walls steepened I was forced out right on good footholds & tiny hooks to thankfully reach a bomber large nut. The steep sequence above was superb (or was that relief?) with great placements to pull onto a pedestal. Stepping back into the gully I was able to make good speed to the final narrows. Gorgeous colours on the snow in the corrie below suggested it was getting late so I stepped out right to join the crest of An Stac Direct above the drop into Coruisk.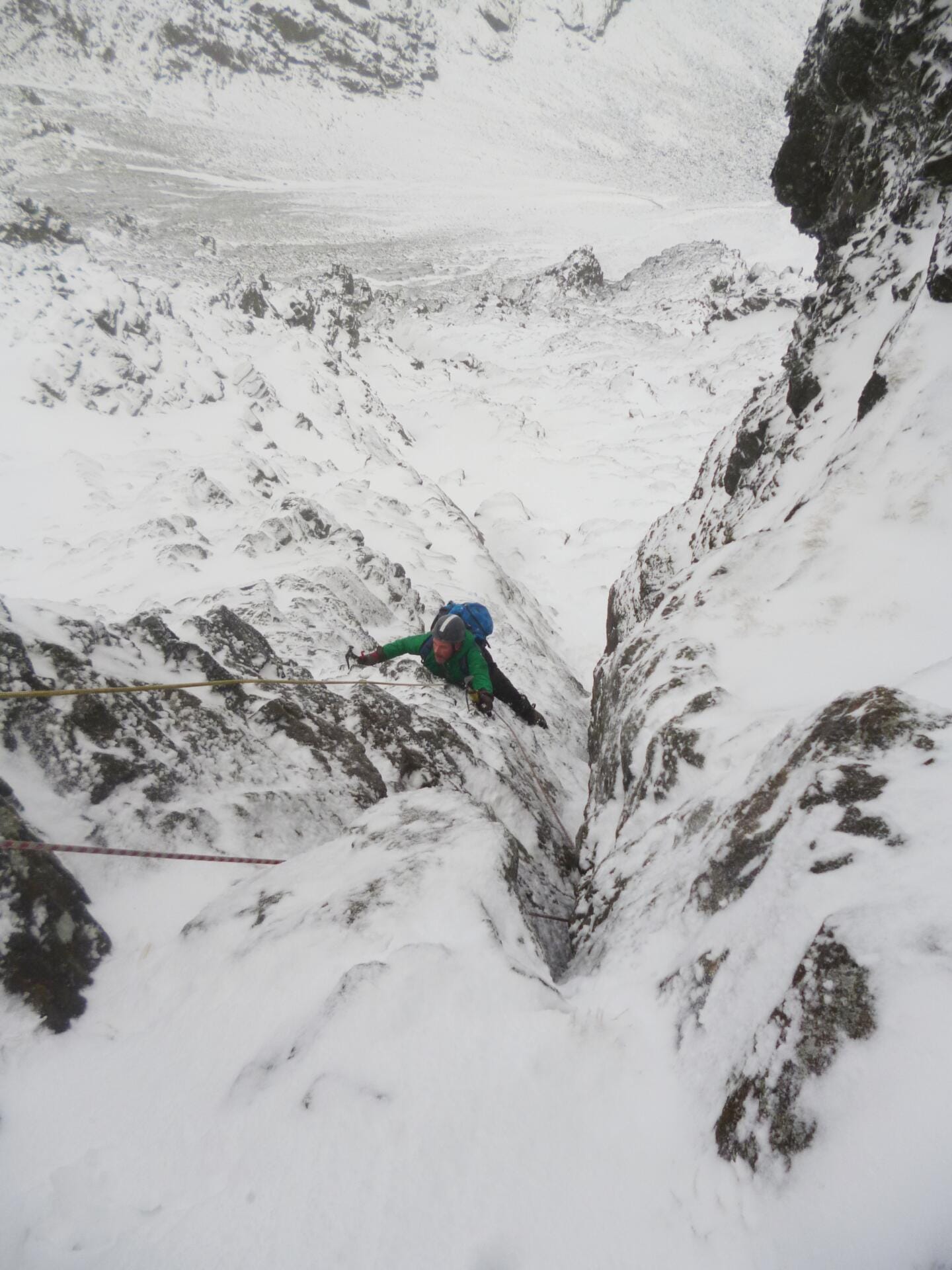 Ally didn't come off once all the way up despite it being his first time with axes & crampons; fine effort. Grade-wise I would say IV, 5 and worthy of at least one star. Similar to last December's routes this was particularly pleasing because the route faces south so would be stripped very quickly by any sun; the depths of winter do have benefit for some of us.
We moved together for the final 100m to reach my favourite view of the In Pinn. Sadly it was too late to add that to Ally's list of achievements for the day. Enjoy the gallery.