Deliverance, VII,7. 4th November
04/11/12
Todays new route gave us some great quality climbing up a beautiful corner-line. Every time I went down the Great Stone Shoot this summer I studied the line and concluded that it was very, very steep.
Having never tried anything similar it was clearly  beyond my leading abilities. Guy provided the perfect solution; strong, skilled, (a little bit loony?) and with masses of enthusiasm. My conclusion about the steepness wasn't wrong but the corner crack just kept giving him positive holds and good protection. A superb clean, ground-up first ascent.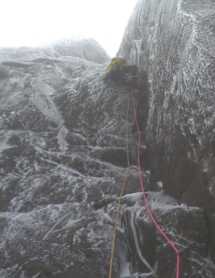 I only started using leashless axes last year but I was glad I had with all the hand swapping needed through the firece laybacking. Reaching the top of the first bulge upward movement still seems to be happening, placements keep appearing and, miraculously, my hands are still gripping the axes. Took a long rest to get the arms back before the 2nd bulge; although it was shorter, Guy wasn't kidding when he'd warned me about it being fierce. Things didn't give up right to the belay. While Guy squeezed his way out above my head I studied the anchors & realised it had been constructed to haul me up if neccesary.
Winter climbing in the Cuillin gave everything he expected & more for Guy; Deliverance is a great addition for the future; thanks Guy!
I'm going to write a seperate post on quite how much snow had come down since yesterday with views etc.