07/03/14
The fantastic Harvey Cuillin map has had an upgrade with
Tougher but lighter paper.
Updated map corrections to footpaths in particular.
Crags from the SMC guidebook "Skye the Cuillin" all now marked and indexed.It is well known by Cuillin regulars that the Ordanance Survey maps covering these mountains are close to useless for fine navigation; indeed there are many copies of the old 1930's SMC map still being used in preference!
Although any map has limitations in such intricate, steep and rocky terrain Harveys went a very long way to improve the situation when they first produced their Skye The Cuillin sheet over 10 years ago.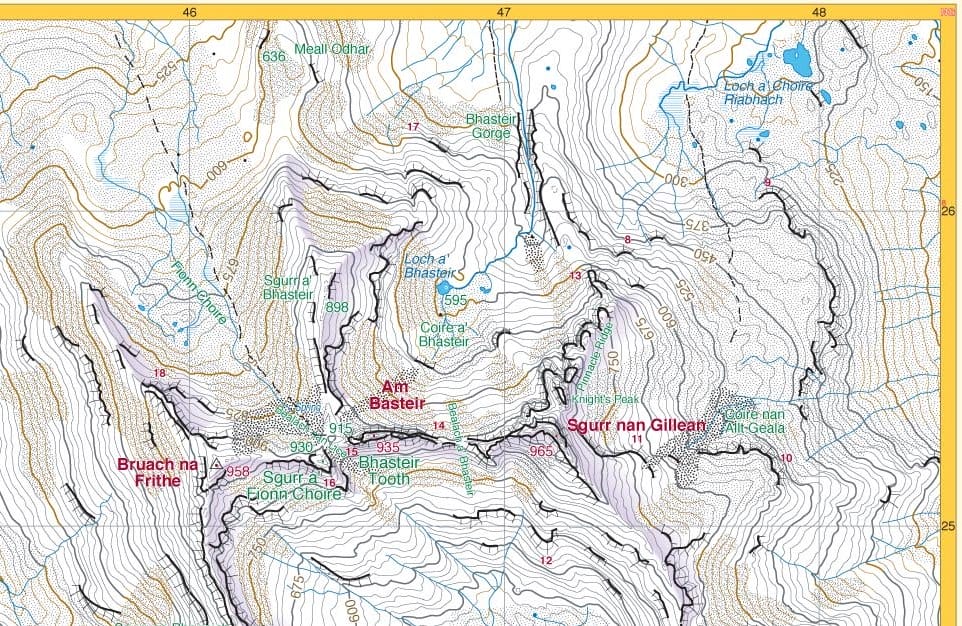 Why the maps are so much clearer is due to a broad combination of skills and techniques developed originally from producing very accurate orienteering maps. The 1:12,500 enlargement of the Cuillin Ridge very much resembles these fine navigation tools. 15m contour intervals and shading to highlight the ridge crest are just the base canvas for features, many of which are pure rock. Clever restriction of rock features seems to be the key to removing a lot of the clutter that the OS maps suffer from.
Index of crags listed in SMC guidebook, marked with orange numbers at the toe of each cliff. NB. footpath now marked close to Banachdaich summit.
Getting the crags marked was actually a project I started way back in 2003 when I was first asked to write the SMC guidebook. A key problem I had found had been locating the cliffs, let alone the climbs. Harvey Maps were very accommodating and anyone with previous copies of the map will find the index of crags as I envisaged it back then. 55 crags from those early stages of planning eventually ended up as a total of 98!
I've thoroughly enjoyed helping Harvey Maps; there are always small tweaks and doing a new run annually keeps this realistic. There is now a very good representation of just how far into the mountains it is possible to follow the footpaths. Check out those on Bla bheinn, Gillean & Banachdaich in particular.
The 1:25,000 side covers the massive area from Broadford north to Sligachan and South to Elgol in superb detail as well, making it a great tool for exploring closer to home.
12/02/14
Huge congratulations to South Skye A team for winning the p4/5 tournament tonight. It's the second year in a row that they've beaten arch rivals Portree A to the trophy but has nothing to do with their lucky shirts 😉
Back- Aaron, Nuan, Lachlan (captain) Front- Nathan, Ollie, Calum
The guys won every match in the league stages, semi-final and very high quality final. Spectators and players nervously glanced at the clock as South End desperately defended their early goal before captain Lachlan Macpherson made space for himself cleverly before rifling home in the dying seconds.
Aaron throws arms in the air as the final hooter sounds.
Really well done to South End B as well who won 2, drew one and only lost to Portree A. The play-off against Portree, for the semi-final draw, was a marathon that went to extra time and then golden goal before their tournament was finally over.
James giving it welly in the mamoth play-off against Portree C
27/01/14
Traversing benath the Central top of Banachdaich.
A wild and stormy start to the day was supposed to clear by 10am but nobody told the Cuillin weather gods. However, despite the appalling weather, snow conditions underfoot were very good. The fresh snow still had a lot of damp in it and should harden readily if we can get a freeze before the next thaw. I'd even go so far as to suggest a Winter Traverse might be possible.
Nearing 3rd top of Banachdaich
Its the first time that I've ever had my group shelter out "in anger"; providing shelter to add extra layers and eat a good quantity before pushing on to the top. We would only have managed a quick bite in that weather otherwise. It was a no brainer to whip it out again when we reached the top and needed to put the crampons and harnesses on. Although we carry them every day its only in extremis that this piece of kit really proves its worth.
From the summit we traversed the ridge southward to Bealach na Banachdaich. Fresh snow had only drifted up to about a foot or so deep and I knew it was lying mainly straight onto rock (this end of the crest was virtually snow-free by Tuesday last week) so had very few worries about it breaking away.
With little sign of improvement we decided against ascending to look at the Pinn and fought our way down into the stinging hailstones. Again we were lucky with underfoot conditions, ditched crampons early and slid our way down deep banks of fluffy white-stuff:-)