Latest Cuillin map by Harveys review.
07/03/14
The fantastic Harvey Cuillin map has had an upgrade with
Tougher but lighter paper.
Updated map corrections to footpaths in particular.
Crags from the SMC guidebook "Skye the Cuillin" all now marked and indexed.It is well known by Cuillin regulars that the Ordanance Survey maps covering these mountains are close to useless for fine navigation; indeed there are many copies of the old 1930's SMC map still being used in preference!
Although any map has limitations in such intricate, steep and rocky terrain Harveys went a very long way to improve the situation when they first produced their Skye The Cuillin sheet over 10 years ago.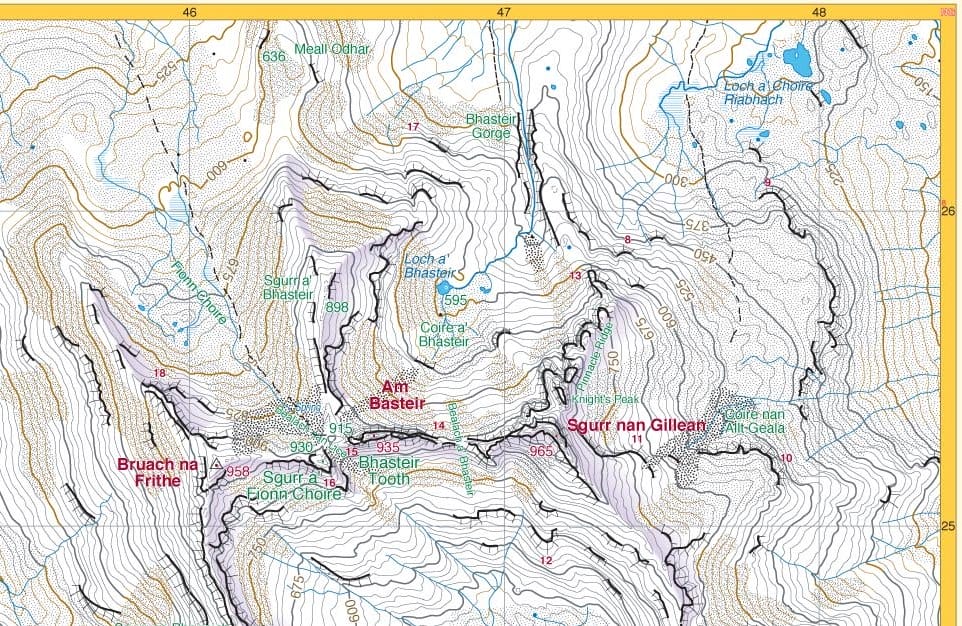 Why the maps are so much clearer is due to a broad combination of skills and techniques developed originally from producing very accurate orienteering maps. The 1:12,500 enlargement of the Cuillin Ridge very much resembles these fine navigation tools. 15m contour intervals and shading to highlight the ridge crest are just the base canvas for features, many of which are pure rock. Clever restriction of rock features seems to be the key to removing a lot of the clutter that the OS maps suffer from.
Index of crags listed in SMC guidebook, marked with orange numbers at the toe of each cliff. NB. footpath now marked close to Banachdaich summit.
Getting the crags marked was actually a project I started way back in 2003 when I was first asked to write the SMC guidebook. A key problem I had found had been locating the cliffs, let alone the climbs. Harvey Maps were very accommodating and anyone with previous copies of the map will find the index of crags as I envisaged it back then. 55 crags from those early stages of planning eventually ended up as a total of 98!
I've thoroughly enjoyed helping Harvey Maps; there are always small tweaks and doing a new run annually keeps this realistic. There is now a very good representation of just how far into the mountains it is possible to follow the footpaths. Check out those on Bla bheinn, Gillean & Banachdaich in particular.
The 1:25,000 side covers the massive area from Broadford north to Sligachan and South to Elgol in superb detail as well, making it a great tool for exploring closer to home.