21/10/15
Alan called me exactly a year ago with an outrageous request to be guided up Stac Lee on St Kilda in October or November 2015 "if there's a settled period of weather"; ha, bloody ha. But no, he was serious as it was his last remaining Marilyn; a list of 1556 peaks over 500 feet high.
The full tale is long and full of plot & intrigue but, basically, the phone rang last Wednesday and I had to drop everything for the weekend ahead including all the rugby matches which was no small sacrifice!
We sailed to Harris Friday lunchtime and camped in an idylic spot just 10 minutes from Leverburgh where we would sail from at 6-30 next morning.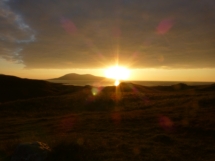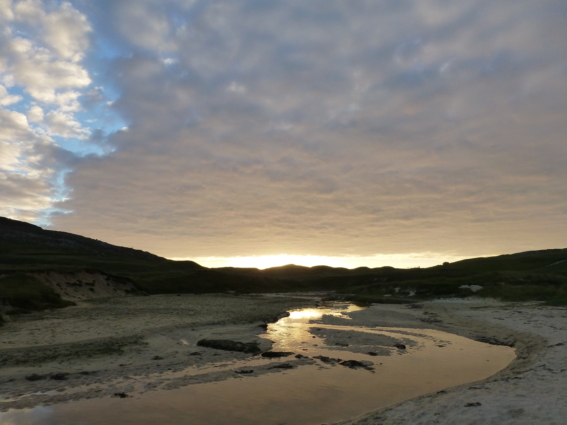 Beautiful skies at
Seamus and the crew of the Enchanted Isle had us all loaded and heading off 40 miles westward before the sun rose and I was soon catching up on Z's but was woken by a shout of land ahoy. Not far ahead stood some impressive stacks, immediately recognisable from what little I'd managed to read. Distance was deceptive however andd it took more than another hour to finally reach St Kilda. Stunning light, dolphins and even a Minke whale kept us occupied along with a palpable tension of excitement & fear rising.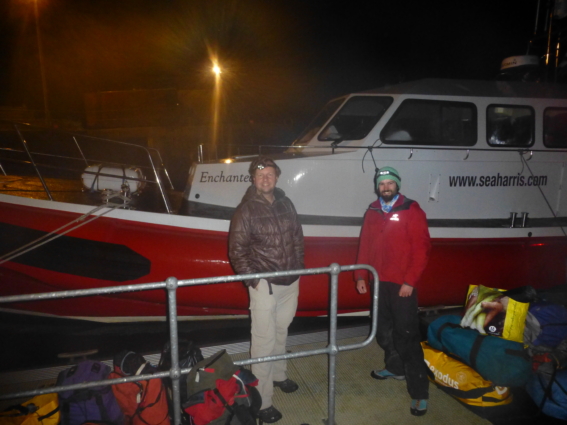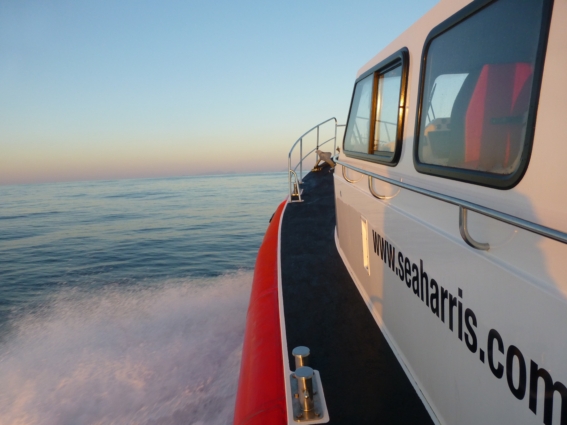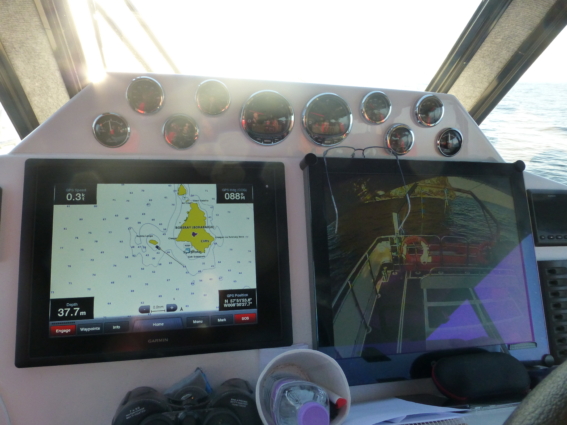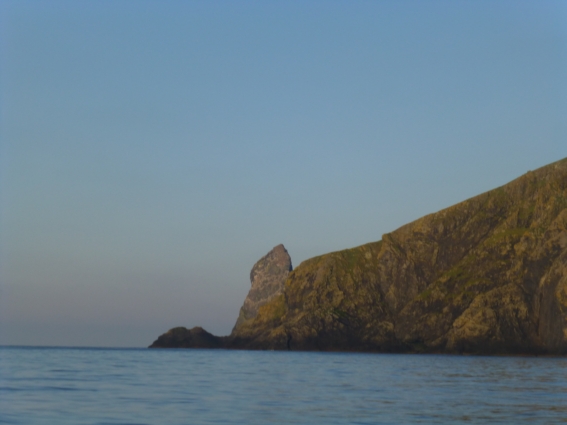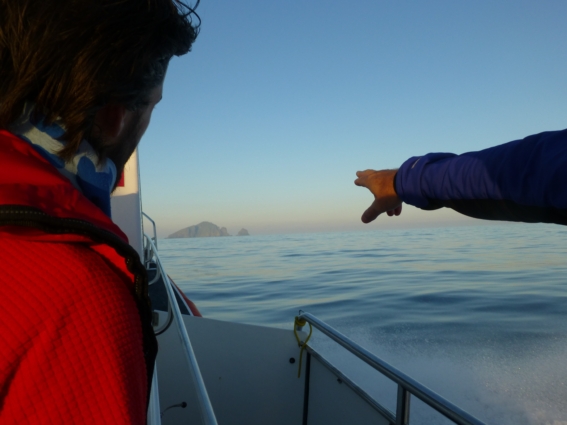 Stac Lee was the aim for the day and Alan and I were given the first ride ashore. The plan was for us to head up with Bob Kerr and his guide Tim following behind and rigging a static to help the less confident leaders behind and everything went pretty much exactly to plan. Conditions were better than the previous year's assailants had encountered with bone dry rock and, more importantly, far drier and less deep guano from the gannets.
The route was effectively 3 pitches, never harder than V Diff in the conditions we had, and then a long easy scramble zig-zagging to the summit. The rock is gabbro; another super volcano that errupted at a similar time to the Cuillin volcanoes on Skye & Rum. The result is similar to what the Skye Cuillin would look like if sea-level rose to the level of Coire lagan or higher.
We made it to the top just before half 12 where Alan had to remind me it was his final Marylin top and a good celbration was in order. Michael Earnshaw also compleated and the others were alldelighted to get the highest & hardest "out of the way" 🙂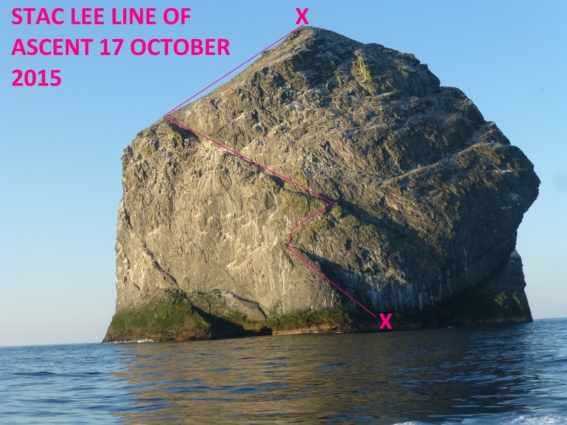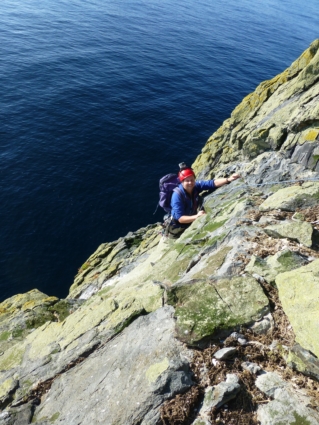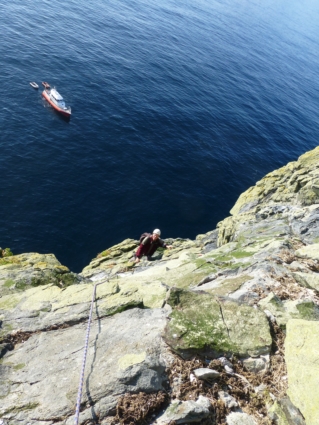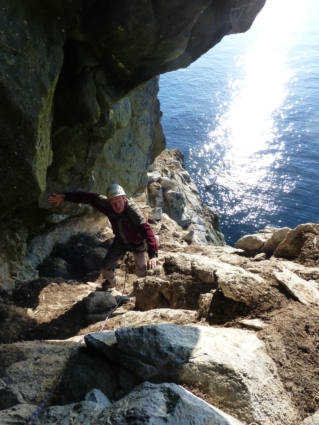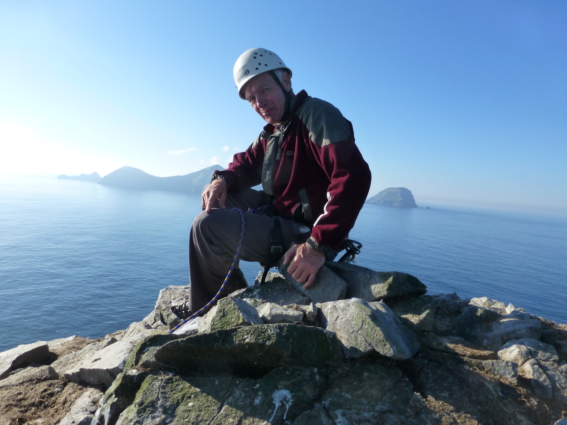 Ascent photos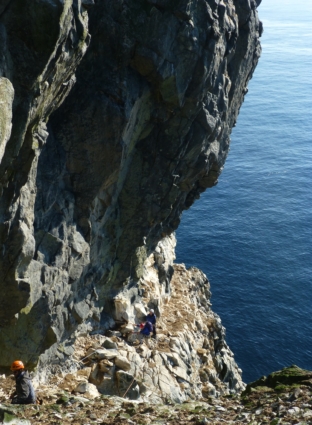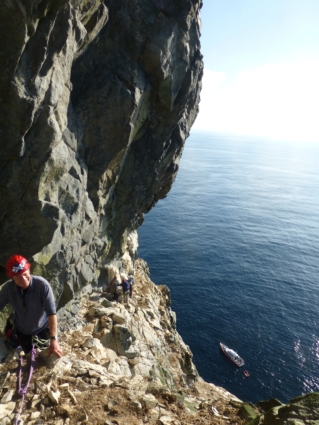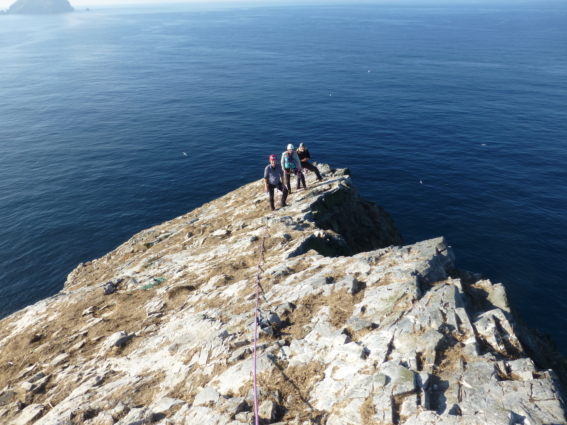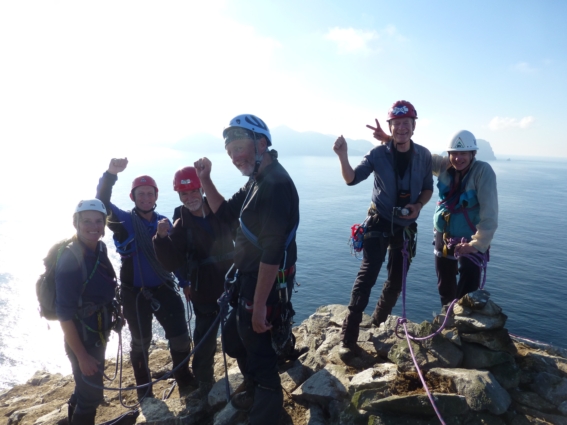 Scorching sun & no wind added to the difficulties, not, as everyone gradually made it down for one big abseil descent and a safe return to the Enchanted Isle for tea & cake by about 4pm.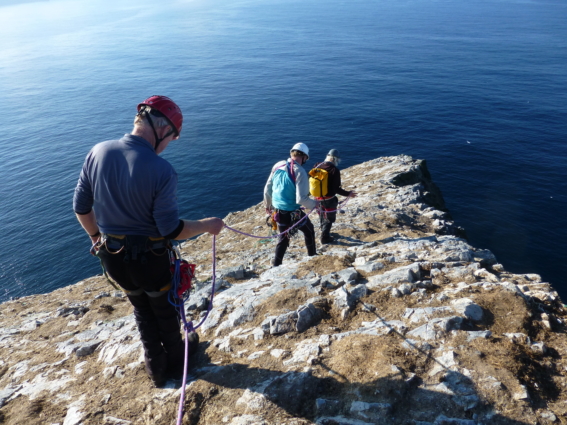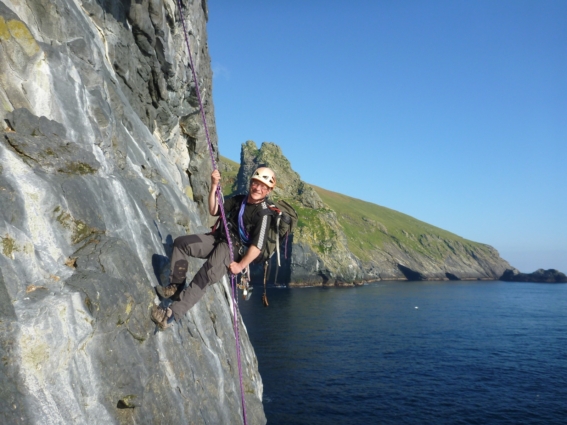 Descent pics
Speed was of an essence as we realised there was time to recce the next day's objective, Stac an Armin. The swell was against us using last year's landing so Tim & I rigged ropes on the East side. 35m of greasy slime covered rocks made us grateful for spikes & crampons but everything was set for a rapid ascent next day and return in time for the Scottish match on the ferry ride back from Tarbet……. if all went to plan. The swell nearly saw me in the drink as I abseiled onto the boat but, instead it was time to lap up the stunning light & scenery on the 20 minute ride to the old village on Hirta.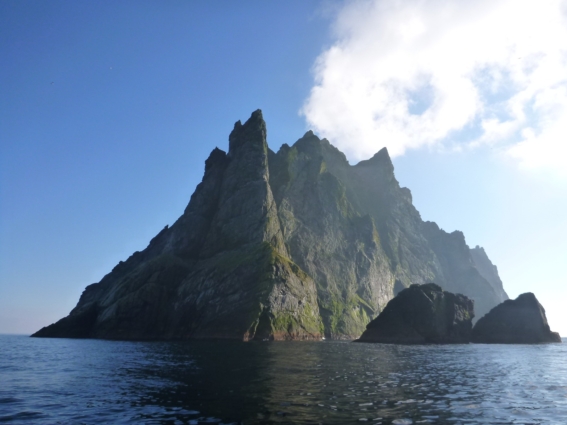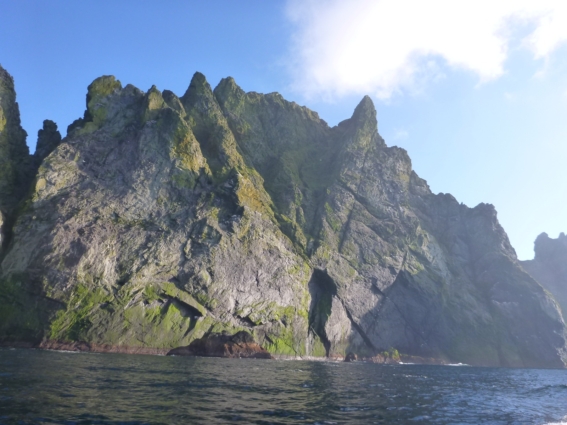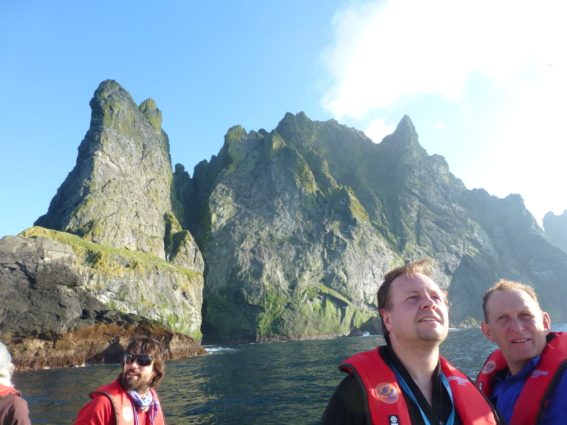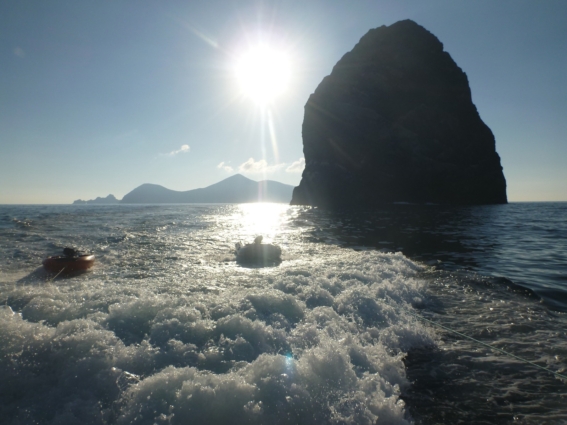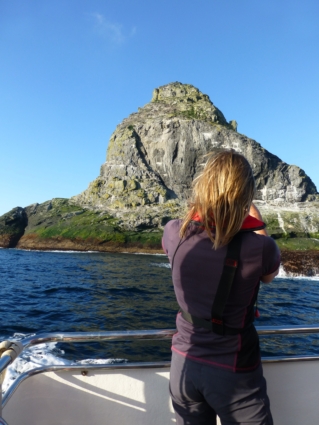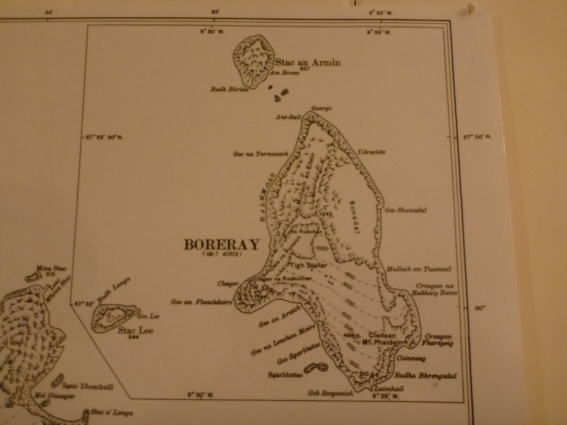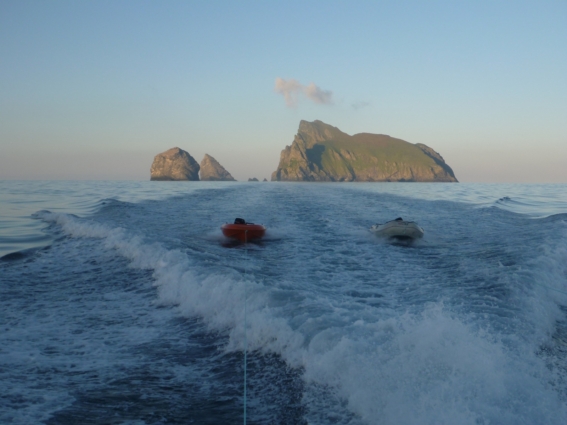 Boreray (right), Stac Lee (left) and Stac an Armin (centre)
The MOD base on Hirta is horribly out of keeping with the haunting beauty of the abandoned village but this didn't detract from this, the largest island in the world heritage site, or the bouyant atmosphere as everyone settled down with good food, drink & banter & finally relaxing on what had been a high-octane day.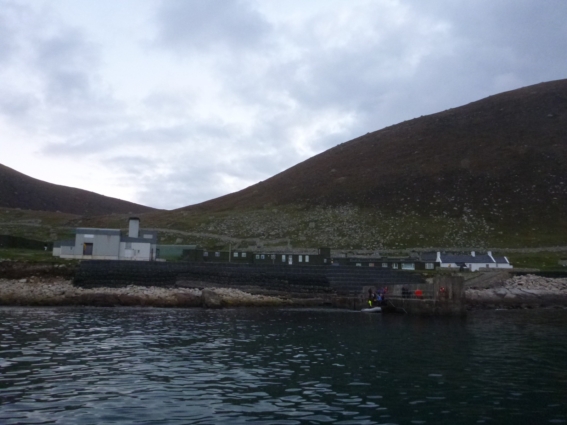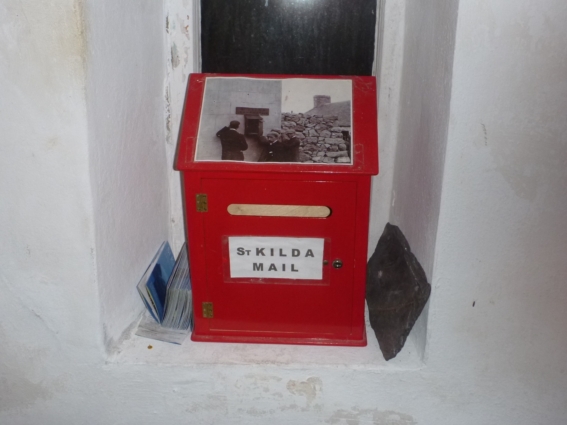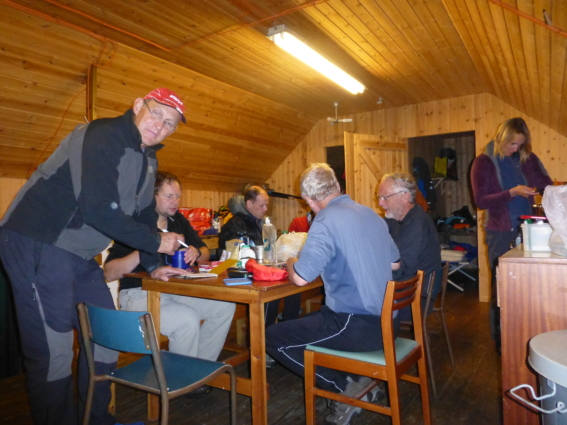 That's all for now but I'll complete with Sunday's pictures asap.
15/10/15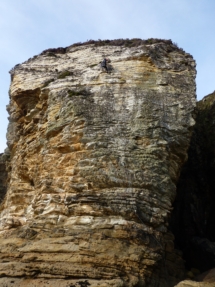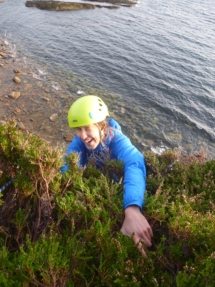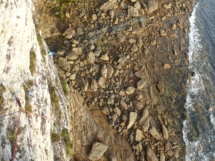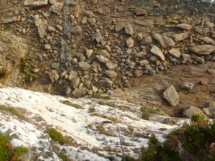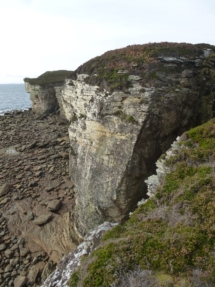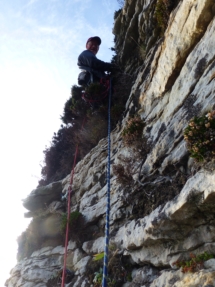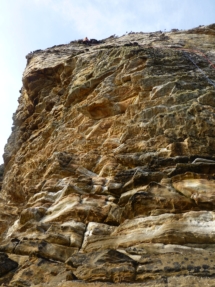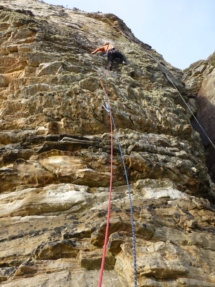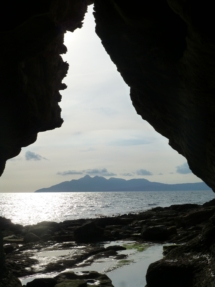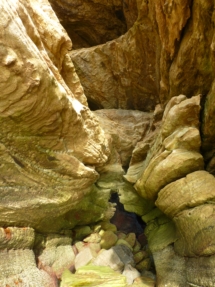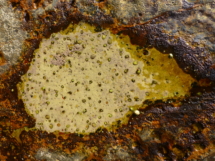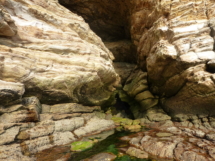 I was surprised to find the obvious buttress beside Prince Charlie's Cave hadn't had an ascent when I finally studied the guidebook last week.
Lucy's half term visit gave a chance far sooner than I expected to have a closer look. Stakes in the heather above were essential for a belay and I was respectful enough to use them to pre-inspect the route; apologies to the more purist amongst you.
First note was not to finish too directly with 10ft of vertical peat and dead heather above the central line.  Apart from this I only remember wishing I'd got half a dozen half sized cams for the numerous uniform horizontal breaks. I got to the foot of the climb without much more of an idea of what to expect than I'd had from looking from afar.
A bizarre conversation ensued; a mix of positivity about the lack of steepness and more negative "maybe there's a reason it hasn't been climbed before".
I lived; an intense hour or so of delicacy, cleaning, clever gear placing, funky moves, disco-leg, crimp after crimp, recalculation, long run-outs and a wee bit of finger crossing finally found me with some attached heather in hand pulling over the top.
Retrospectively a really intense cleaning/gardening session would probably have made things a bit easier but I'm pretty sure Arch Buttress will remain quite an adventure for any suiters. E1 5a and definitely worth a star for those who enjoy their nerve being tested.
The wonderful artistic shots are credit to Lucy Spark while she waited for me to prussic back up for the rope; all good practice for this weekend's adventure to Stac Lee……
06/10/15
I did get comments after my last post that I mentioned the poor summer but the photos didn't reflect it so here's a couple of shots from the start of September showiing folk having fun despite the damp.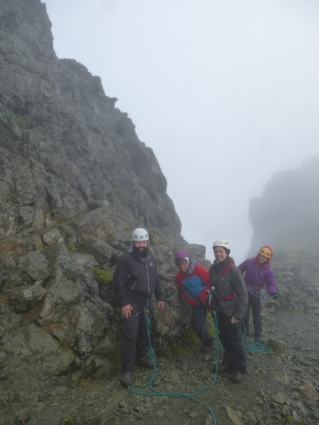 A cold looking team at the foot of the Pinn.
Sunday 6th was pretty grim with cold wind and heavy showers but we got our timing just right to catch an hour of less heavy precipitation. It poured down again shortly after we left the In Pinn but this day typified what we've been doing all summer, close scrutiny of forecasts allowing us to get ambitions achieved.
Karen & Mo were up for a week of shadowing and had been briefed to bring sunshine with them from Plas y Brenin which they promised but it couldn't keep up with Mo's driving 🙂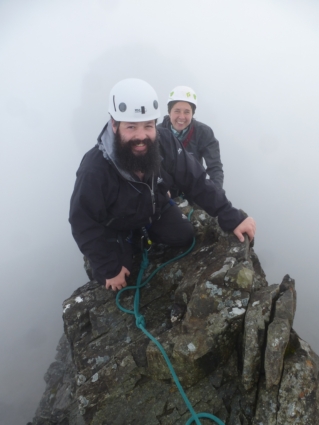 Kevin & Fiona enjoying the brief lull & dry rock.
The sun finally arrived on Monday with a stunning cloud inversion that I sadly missed but our guides and clients all raved about.
Karen watching the mists burn off Lochan a' Ghrunnda
I had a great day at Neist on Tuesday with regular Jane Parfitt. A particular highlight was climbing Man of Straw, the cover shot of Jane's coveted Seacliffs guidebook.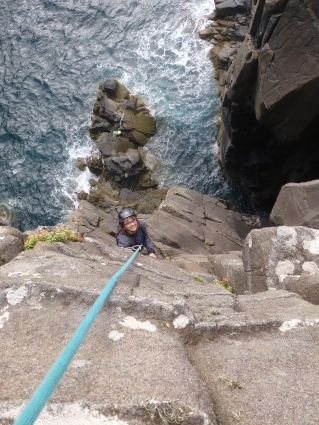 Jane loving the sea & sun on Man of Straw, VS.
With the exception of Cioch and In Pinn ascents, in various degrees of poor weather, this season has been just too wet and cold for Cuillin rock climbing.
On Wednesday 9th I finally managed my first major Cuillin rock climb of the year and even managed to combine it with a glorious days work. We opted for Pinnacle Ridge as Robert (76) had never climbed it in his previous 8 rounds of Munros. Incidentally he has now completed the 9th round and is back on Skye starting his 10th which should be done before he reaches 80! Meanwhile modest old Brett (21) was happy to take the scenic route to Am Basteir on such a lovely day; for the record he has only Ben More on Mull to climb to compleat his 1st round of Munros.
I particularly like this shot of us on the exciting Traverse on Knight's Peak where Robert appears to be levitating along a light-beam from Mo; perhaps that's how he does it!
Mo and I left the others to descend to Sligachan while we headed for a line on the Bhasteir Face of Gillean. Some debris littered the ledges but 3 pitches of good climbing gave us Indian Buttress, HVS 5a.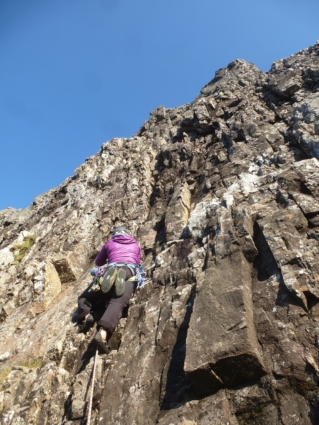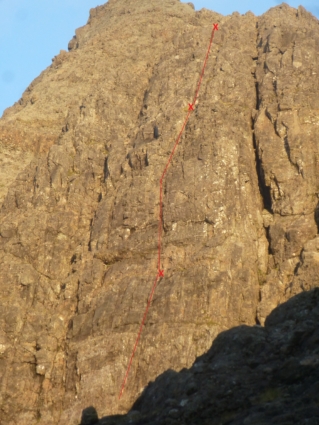 Probably no stars until someone takes a sweeping brush to it but a good adventure in the sun.
Well enough of the tales; please enjoy some sunny pictures as much as we enjoyed being out there. The rest of September was largely warmer & sunnier than any point in the past 10 months.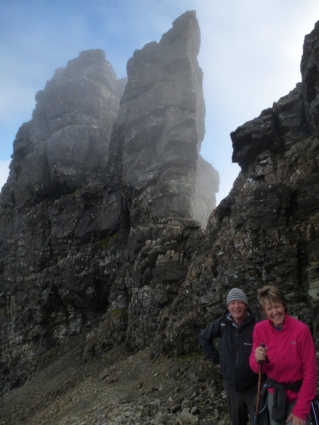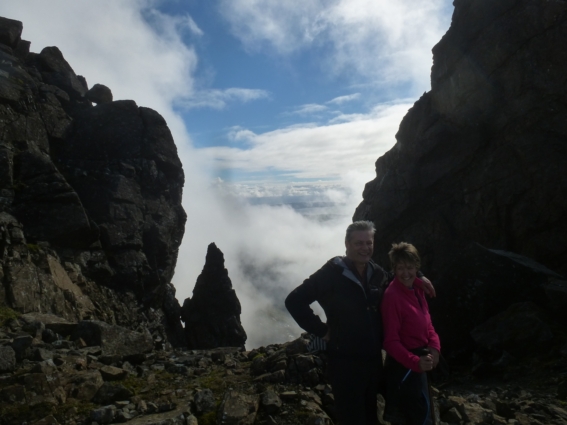 Alan & Tina; his first ever mountain day!!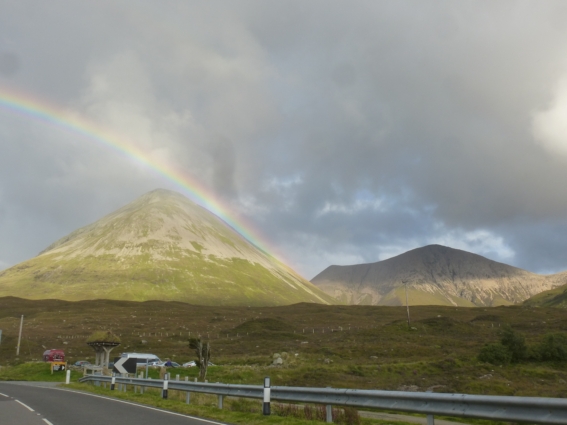 Rainbow over Glamaig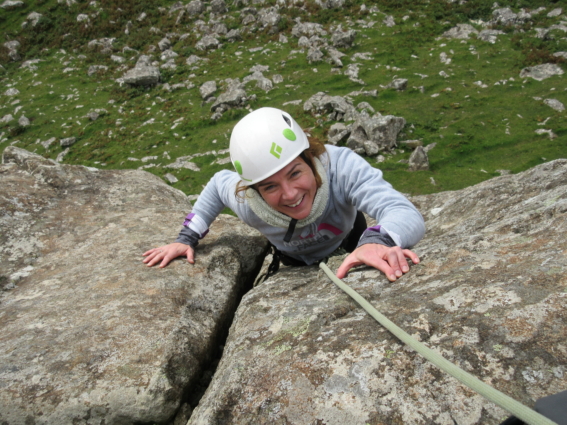 Helen in heaven on her first day of climbing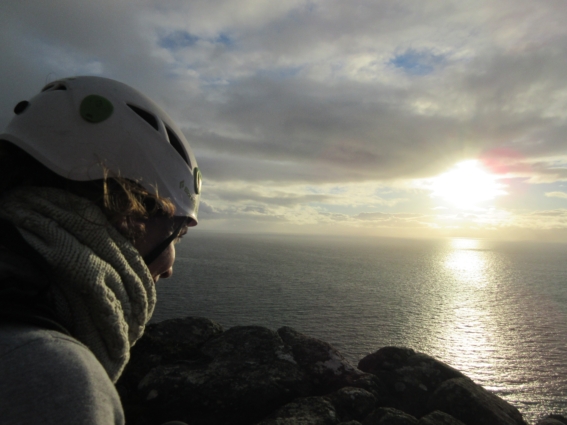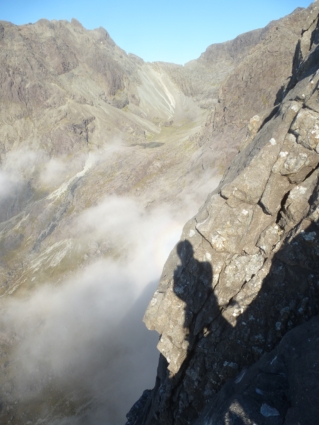 Brokn Spectre from high on Western Buttress looking down on Coire Lagan and across to the In Pinn.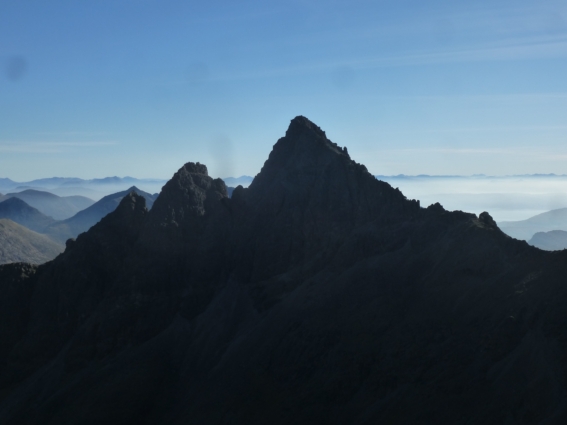 Wonderful light on a reverse round of Coir' a' Bhasteir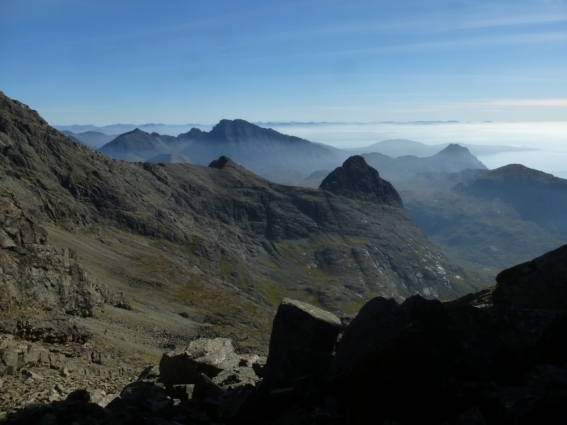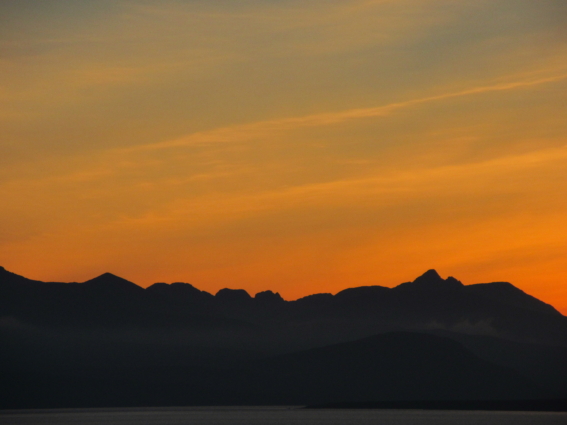 Ridge from the Bridge, last day of September 2015