September and something of an Indian Summer.
06/10/15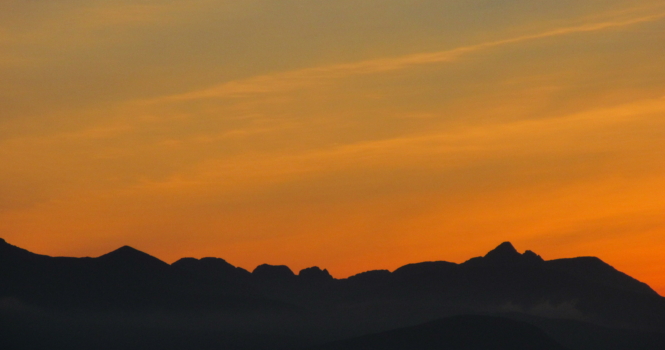 I did get comments after my last post that I mentioned the poor summer but the photos didn't reflect it so here's a couple of shots from the start of September showiing folk having fun despite the damp.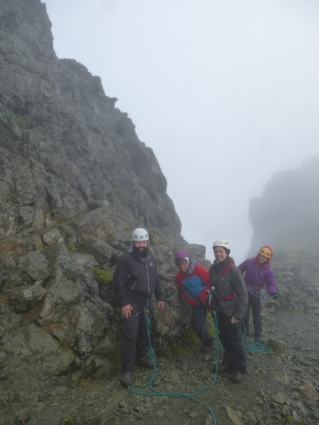 A cold looking team at the foot of the Pinn.
Sunday 6th was pretty grim with cold wind and heavy showers but we got our timing just right to catch an hour of less heavy precipitation. It poured down again shortly after we left the In Pinn but this day typified what we've been doing all summer, close scrutiny of forecasts allowing us to get ambitions achieved.
Karen & Mo were up for a week of shadowing and had been briefed to bring sunshine with them from Plas y Brenin which they promised but it couldn't keep up with Mo's driving 🙂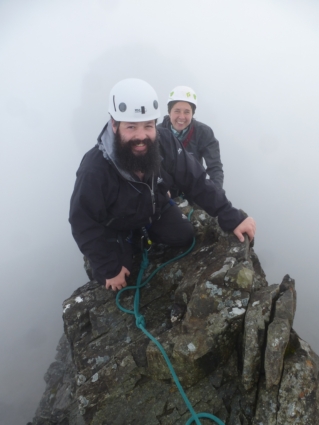 Kevin & Fiona enjoying the brief lull & dry rock.
The sun finally arrived on Monday with a stunning cloud inversion that I sadly missed but our guides and clients all raved about.
Karen watching the mists burn off Lochan a' Ghrunnda
I had a great day at Neist on Tuesday with regular Jane Parfitt. A particular highlight was climbing Man of Straw, the cover shot of Jane's coveted Seacliffs guidebook.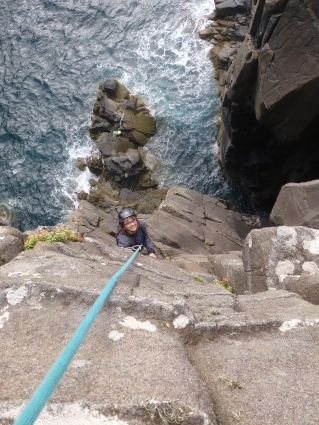 Jane loving the sea & sun on Man of Straw, VS.
With the exception of Cioch and In Pinn ascents, in various degrees of poor weather, this season has been just too wet and cold for Cuillin rock climbing.
On Wednesday 9th I finally managed my first major Cuillin rock climb of the year and even managed to combine it with a glorious days work. We opted for Pinnacle Ridge as Robert (76) had never climbed it in his previous 8 rounds of Munros. Incidentally he has now completed the 9th round and is back on Skye starting his 10th which should be done before he reaches 80! Meanwhile modest old Brett (21) was happy to take the scenic route to Am Basteir on such a lovely day; for the record he has only Ben More on Mull to climb to compleat his 1st round of Munros.
I particularly like this shot of us on the exciting Traverse on Knight's Peak where Robert appears to be levitating along a light-beam from Mo; perhaps that's how he does it!
Mo and I left the others to descend to Sligachan while we headed for a line on the Bhasteir Face of Gillean. Some debris littered the ledges but 3 pitches of good climbing gave us Indian Buttress, HVS 5a.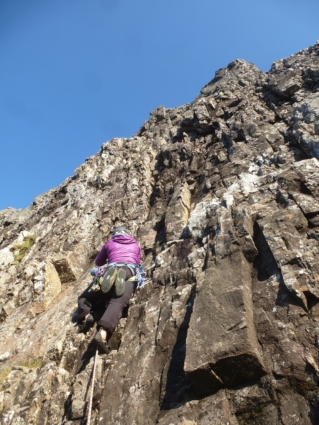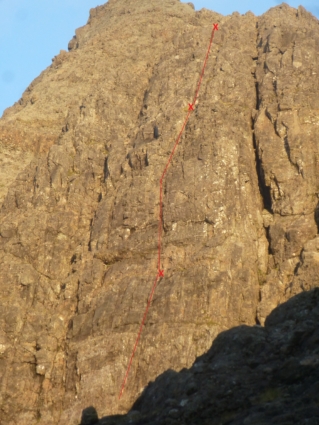 Probably no stars until someone takes a sweeping brush to it but a good adventure in the sun.
Well enough of the tales; please enjoy some sunny pictures as much as we enjoyed being out there. The rest of September was largely warmer & sunnier than any point in the past 10 months.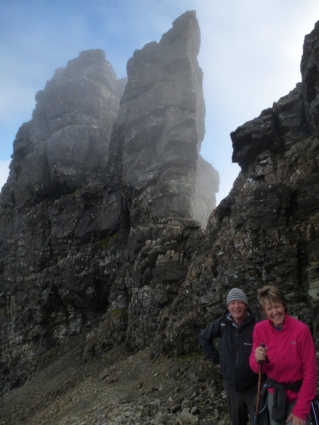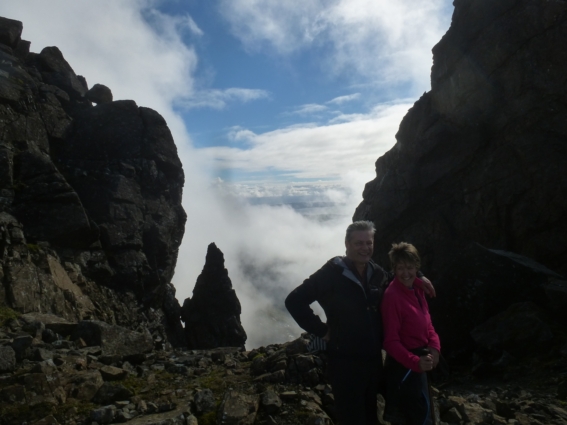 Alan & Tina; his first ever mountain day!!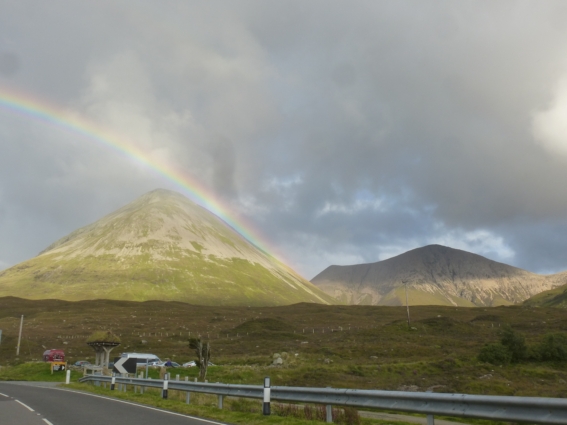 Rainbow over Glamaig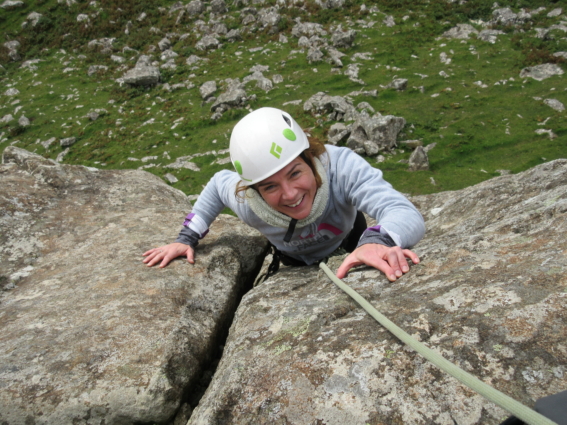 Helen in heaven on her first day of climbing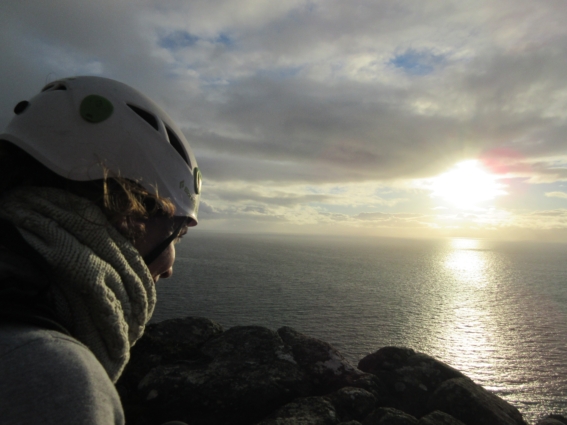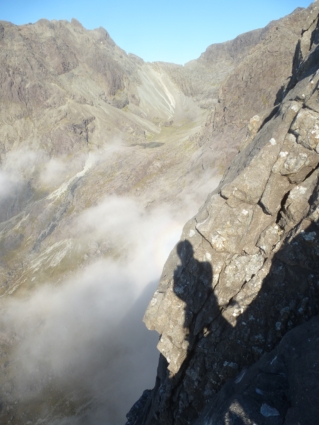 Brokn Spectre from high on Western Buttress looking down on Coire Lagan and across to the In Pinn.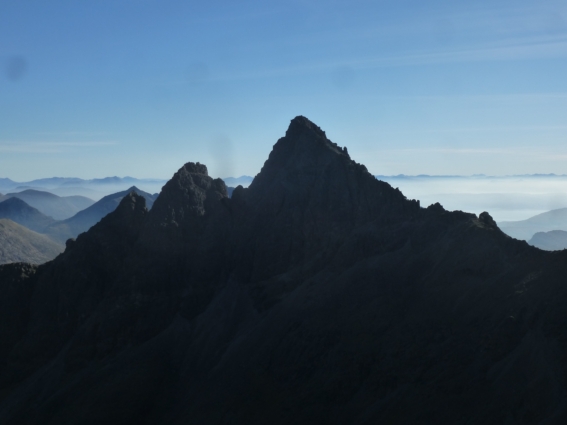 Wonderful light on a reverse round of Coir' a' Bhasteir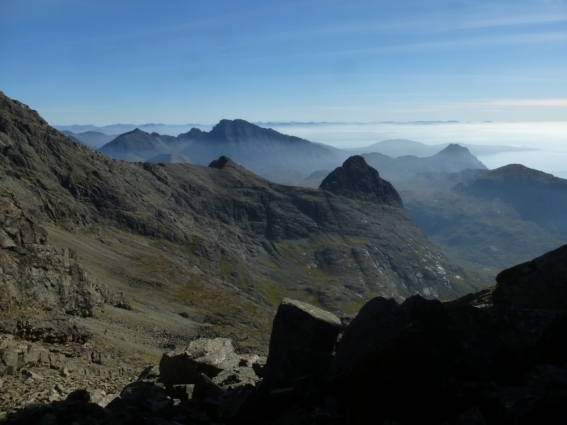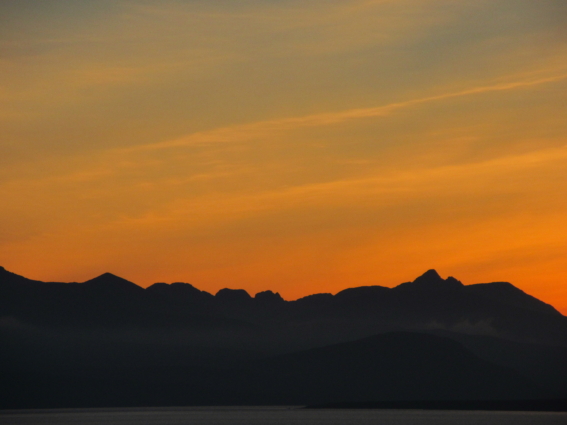 Ridge from the Bridge, last day of September 2015