27/06/12
Many apologies to regular blog followers for nearly a month of "radio silence". The weather has been to blame but for all of the right reasons.  June continued the Spring of 2012 trend of nearly wall to wall sunshine and hardly a raindrop worth remembering. I've just checked on the records for Carbost weather that shows just 1.1 inch of rain in the past month of which 15% fell in the last 24 hours! The misty Isle is finally serving up some proper rain which is very hard for us to deal with emotionally; some of us may neeed counselling about just how unfair and wrong it is to have to actually wear a waterproof jacket!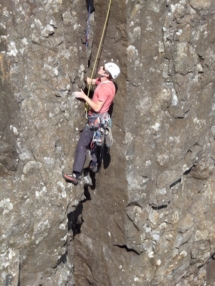 As a consequence of the fine weather we have been working our socks off, clients have been achieving far more than they ever imagined and the phone hasn't stopped ringing from those who want to join the party! There have been so many highlights I've very little idea of where to start in choosing suitable images; I'll put as big a variety as possible & I apologise to anyone that I've missed out.
Using a syphon to collect where normally there is a huge flow of water

Dawn panorama from Sgurr Alasdair, 4-30am (Andy Hillen)


Fundraising for the Rock Trust by climbing all the Scottish Munros in a weekend; 16/17th June
Finally getting a chance to take Skye-based film Director up the Pinn 7 years after we first shot the award winning Gaelic language film Seachd which was titled The Inaccessible Pinnacle in English. More recently Chris has had huge success with both the TV series and film of The Inbetweeners.
Also with us was Rhianna from Youngfilms and Johnny Barrington who has sent a link to his new film's trailer- https://vimeo.com/18812335
Martin on Pure Splendor, E2 5b at Elgol
Simon showing good confidence crossing Clach Glas
Diedre out there at Kilt on Secret Service, HVS
Heaven is a pool in the sun!!
01/06/12
For the Traverse recently we've been favouring the technique of a short first day followed by a long but very lightweight second. The result was, eventually, a very fast Traverse with newly-weds Geraint & Kate Davies (nee Bailey). Thanks to Robert and Bill on the Bella Jane for getting us off on the usual rocks despite the high tide levels
A drop in temperature and layer of cloud helped us keep a good speed up on the rise up Gars-bheinn. A real highlight was finding a beautiful large adder in thee grass hopefully looking for some rays.
The TD Gap gave the first real adrenalin buzz of the day
Rain meant we stayed in our very cosy pits until 11-30 the next morning; a record 18 hours of patience, eating, drinking & snoring! As predicted the rain stopped and the rocks started drying out in front of our eyes as we headed off shortly after midday. The rope kept us confident and upright until the mists finally burnt off as we descended from Sgurr Mhiccoinnich.
The fantastic effects continued as we climbed the Pinn
With the first technical section done it was time to put the foot to the floor and make up some time. Kate (nee Baily) holds a fair number of running records and brand new husband Geraint is no slob either. Cool breezes and thin cloud cover helped us eat up the miles.
We reached Bruach na Frithe not long after 6-30pm and the guys still felt good for an ascent of Naismith's route on the Tooth.
A cold wind picked up and the mist drew in as we topped out on Gillean just after half past eight.
Having been through everything the Cuillin & I could throw at them, this pair of runners got their own back by beasting me down hill in the setting sun for a very fine tasting cold pint in the Slig.
Many congratulations to Kate & Geraint Davies on getting married last Saturday and for spending their honeymoon completing a very fine Traverse in less than 12 hours end to end (if you ignore the rain-break!).