26/02/15
Tony & Maija have ambitions on climbing Mont Blanc this summer so my brief was to get them confident on their crampons.
We met in awful weather on the first morning but the forecast was to improve through the day so we spent a very productive hour fine-tuning and discussing the kit. It was still damp as we left the carpark but breaks soon began to appear.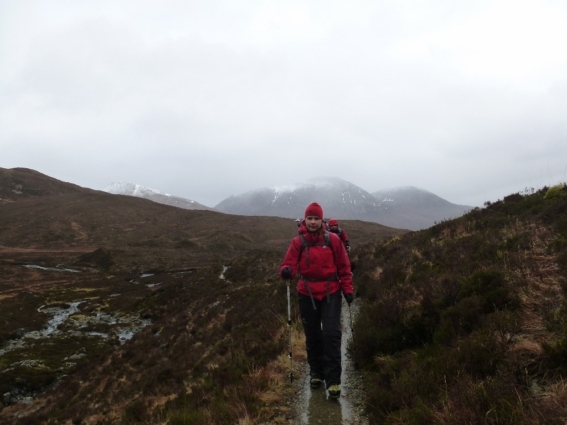 Maija not convinced about this improving forecast….
Our delayed start not only worked very well with the weather but we were the 3rd party up the Great Gully on Ba Bheinn that day so had a wonderful line of bucket steps right to the crest. As so often this season the summit views were outstanding.
We wore crampons for practice more than safety but were very glad to have them on as we started our descent; the change of aspect made meant the initial 10 minutes were on very hard old snow before we got back to the soft stuff and some essential bumsliding to avoid sinking every step.
Next day there were strong gusts so we opted for the low-lying Broad Gully on Sgurr a' Bhasteir.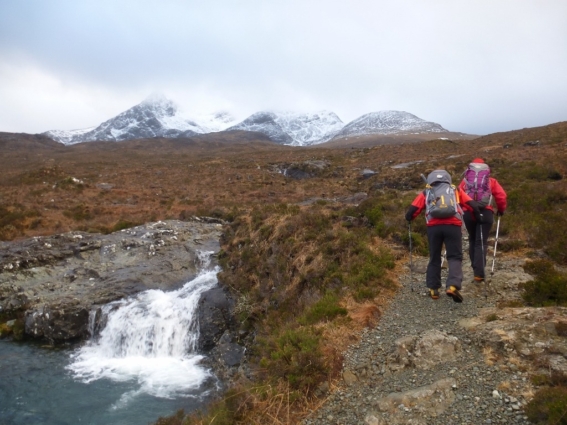 Passing the "Jacuzzi" pool.
On the ascent we encountered a wide variety of consitency, a common theme this season with so much weather going on. The ridge and corrie were surprisingly sheltered but the gusts were soon bowling us over on the way out.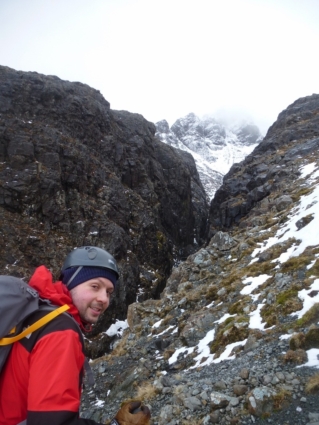 Tony looking up the Bhasteir Gorge to Pinnacle Ridge
On Wednesday we hid from the wet weather and had a concentrated skills session on the Portree high school wall and by Thursday it looked like we would struggle to find any snow to play on at all….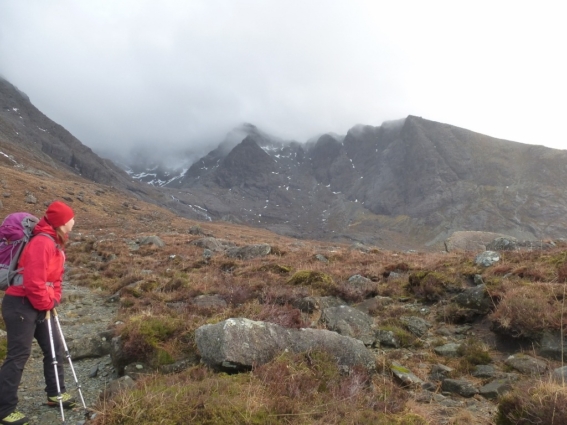 A black looking Coire Lagan.
How wrong we were; snow with great consistency led right up the An Stac screes, around the bypass (and a huge new rockfall btw!) and up past the In Pinn to the summit crest.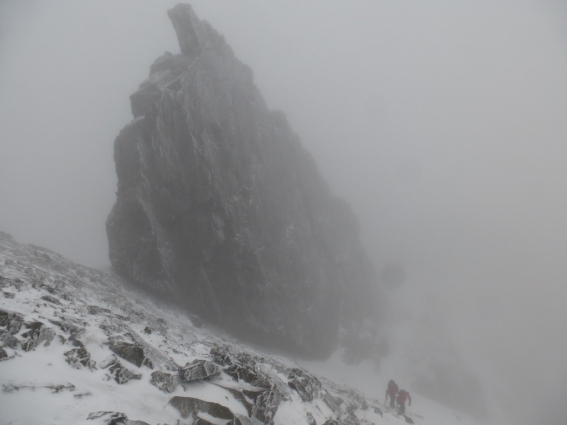 Very definitely winter!
I love it when the mountains treat you to such a wonderful surprise; a great way to finish the course.