Alpine route for an Alpine day; 15th Feb
15/02/15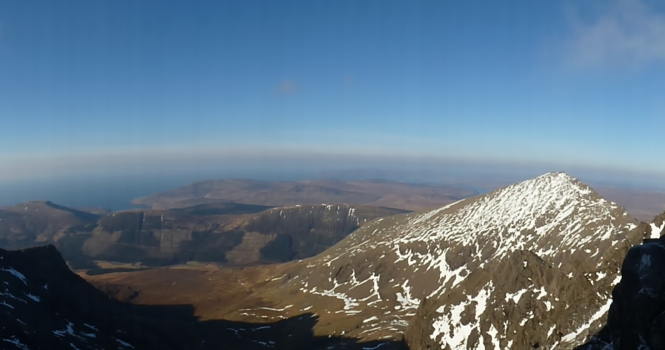 Clear blue skies and heavy frost signalled stonking conditions and we weren't disappointed. I opted for one of the longest snow lines in the Cuillin, Diagonal Gully on Ghreadaidh.
The snow was uniform from bottom to top; not steel hard but definitely calf burning.
I've had big crevasses in the lower reaches before but todays wasn't wide; deep enough to swallow us but we all crossed safely and paced ourselves on "fast simmer" for the next 1000ft.
The views from the Ridge crest were stunning with snow-clad peaks laid out spectacularly.

Climbing along the narrow crest was a slow and delicate procedure with only tiny amounts of rime ice muting the squeals from our crampons. Check out the short video HERE
The descent of the crest was higher octane with long runnels of water-ice to negotiate and the hard snow in An Dorus gave 20 minutes of concentrated and thigh-burning descent.