Skye Winter Festival 2015 report.
22/02/15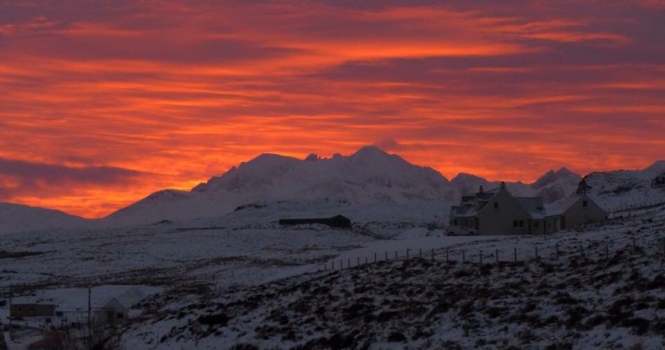 Wow; what a fortnight. A huge thanks to everyone who came along to support the event, to Angus and all of the staff at the Old Inn for making us so welcome, to Annmarie for keeping us all domesticated and, perhaps most of all, to the weather gods for turning on the winter weather spectacularly. The only day when nothing was climbed was 25th January but it did mean that nobody was late for their Burn's supper!

Panorama above the clouds from Friday 6th
Over 40 people all appeared to be having a good time whatever the weather threw at them and reaped the benefits of some spectacular conditions for both mixed and pure ice climbing. More than 20 new routes were added between grades I and VII. Over half of the participants lost their Cuillin winter virginity and now can't decide if they are nymphomaniacs or just perverts 🙂
Stuart popping through Mo's hole…..
Mentions in dispatches, in no particular order, go out to most folk and apologies if you're not listed-
Craig, Rory & Dylan who embraced the spirit of the festival brilliantly despite their first day being more like a tropical typhoon than Scottish winter; they went on to add at least 4 new routes over the coming days.
Rory's hole
Michael Barnard and partners for showing everyone quite how much Cuillin potential there is for the accomplished winter climber in the higher grades. He came up 3 weekends on the trot.
Michael on Skye High V,7
Antoni for keeping the standards of single malt incredibly high despite less cultured alcoholic interference.
Jonny for his modest "I'm not a climber" achievements through the week including the In Pinn; every team should have a Jonny to break trail!
Lucy for services to the team including top-roping 5 folk on the icefalls in a blizzard then missing out herself and being first to balance up the In Pinn with only a nut key to clear cracks.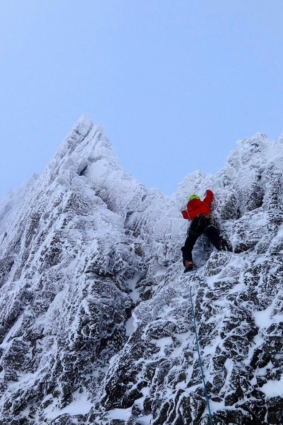 Lucy starting up the Pinn
James found Deep gash had little usable ice in it but his consolation route was the third ascent of Doug Scott's The Smear!
And Romain, what can I say? For taking gaelic flare and passion for Skye & winter further than anyone thought possible, for winding me up to the great entertainment of everyone else and for surviving a diarrhoea filled car journey through drifts & blizzards.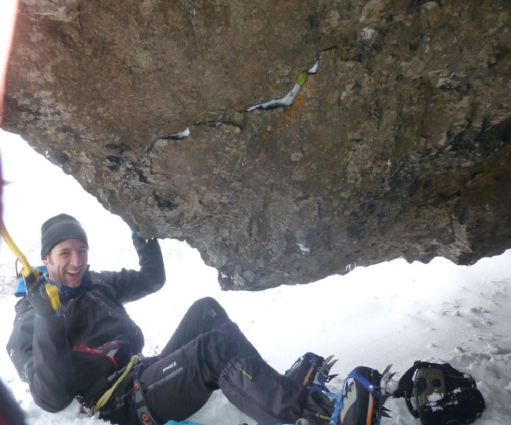 Romain
I loved all of my days out but there were a few particularly good highlights-
A team effort with good friends Beads, Antoni & David in the wild blizzards of Friday 30th to finally tackle the twin icefalls (they've teased for 20 years) high on Sgurr a' Bhasteir. We aimed for the pair but the weather dictated that teamwork was the best idea.
Trench warfare approaching Twicicle
Twicicle was a superb grade IV with Beads & I sharing the gear & the craic on lead. Another highlight that day was the huge relief at the whole festival team reappearing back in the corrie cave out of the maelstrom; phew.
Jonny, Cat & Jo sheltering from the maelstrom on Friday 30th
On the Sunday I got a complete beasting at the hands of James on Con's Cleft (VII,7). He'd run out of daylight 2 days earlier and I was more than happy to come and help him get the project finished. It was a fantastic effort from him, poor style on my part but a long term ambition put to bed and great to climb with James again for the first time in over a decade.
James on the crux of Cons Cleft
Next day Ally & I were the only ones left and were rewarded with the first properly settled day of the meet. Onceicle had grown to suitable thickness, gave 45m of great steep fun and moonlight lit our walkout.
Onceicle, just below the steepening
Wednesday dawned stunningly and I took a gamble to return to a mixed venue that had defeated me twice previously; the day turned out to be the highpoint of my festival. Lying on the north side of the West Ridge of Garbh-bheinn is a 100m high cliff of gabbro unusually adorned with loads of vegetation. Conditions were just right with frozen turf and oodles of ice smears. Mo, Stuart and I grabbed the first good looking line leading to a tight chimney with a crucial chockstone.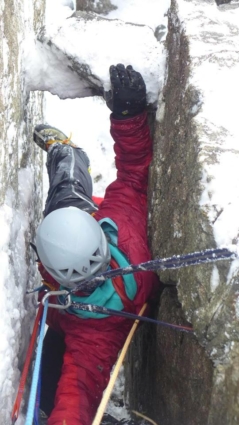 Mo on the crux chimney of Chockolates
Mo's pitch started by poking herself through a tiny squeeze before some great moves to top out. Full of character we decided Chockolates was a 2 star V,6. With some daylight left we shot down again and Mo led off up Yat for the Doh, II- a Hong Kong phrase meaning "one for the road".
For more images and tales see the festival Facebook page. For those who were there please put links to your own accounts and look closely at your privacy settings so that as many folk as possible can see anything you have shared with the Skye Winter Festival page. Any photos gratefully received.