Blog bubble bursts 27th June 2012
27/06/12
Many apologies to regular blog followers for nearly a month of "radio silence". The weather has been to blame but for all of the right reasons.  June continued the Spring of 2012 trend of nearly wall to wall sunshine and hardly a raindrop worth remembering. I've just checked on the records for Carbost weather that shows just 1.1 inch of rain in the past month of which 15% fell in the last 24 hours! The misty Isle is finally serving up some proper rain which is very hard for us to deal with emotionally; some of us may neeed counselling about just how unfair and wrong it is to have to actually wear a waterproof jacket!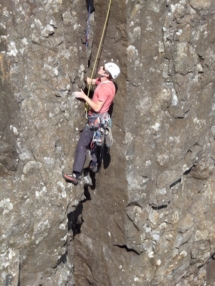 As a consequence of the fine weather we have been working our socks off, clients have been achieving far more than they ever imagined and the phone hasn't stopped ringing from those who want to join the party! There have been so many highlights I've very little idea of where to start in choosing suitable images; I'll put as big a variety as possible & I apologise to anyone that I've missed out.
Using a syphon to collect where normally there is a huge flow of water

Dawn panorama from Sgurr Alasdair, 4-30am (Andy Hillen)


Fundraising for the Rock Trust by climbing all the Scottish Munros in a weekend; 16/17th June
Finally getting a chance to take Skye-based film Director up the Pinn 7 years after we first shot the award winning Gaelic language film Seachd which was titled The Inaccessible Pinnacle in English. More recently Chris has had huge success with both the TV series and film of The Inbetweeners.
Also with us was Rhianna from Youngfilms and Johnny Barrington who has sent a link to his new film's trailer- https://vimeo.com/18812335
Martin on Pure Splendor, E2 5b at Elgol
Simon showing good confidence crossing Clach Glas
Diedre out there at Kilt on Secret Service, HVS
Heaven is a pool in the sun!!