Looking good on the Ridge, 29th December
29/12/13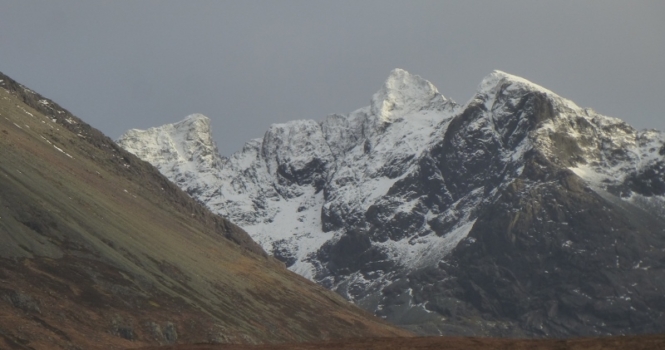 Beautiful calm day today for some Cuillin exploration.
Early clouds dispersed to leave us magnificent views up to the Coire Lagan peaks.
Sgurr Mhiccoinnich
The kids all enjoyed the boulders while waiting for the rest of us to catch up.
I love the light at this time of year with the subtle hues of dawn pretty much blending in with the sunset.
Rum & Eigg silouetted in the mid-winter sun
Climbers will be interested in the conditions and potential fun just now; below is my report for UKClimbing. I've put a zoomed picture of the top of Sgurr Dearg and the In Pinn immediately below.
"The heavy snows have been stripped out right up to 700m but, above this, serious quantities are still plastering all rocks. With temperatures up to 7 degrees or so yesterday it is very likely to have thawed to the tops and is now solidifying nicely.
Worth an attempt on a Traverse if we can get a settled period of weather but I can't spot that window myself.
Not much ice visible and all but the steepest mixed lines likely to be swamped. Not sure it is cold enough for the plastered snow to be much use."
West flank of Dearg summit plastered in deep snow; I would expect lots of rock showing through after a thaw normally.
Gallery-