Grabbing Gabbro
06/11/14
The 5th of November was a day to remember with clear blue skies and even a frost on the ground. John, Iain & I enjoyed Pinnacle Ridge and the joys of rapid drying gabbro with just the occasional streak of black ice keeping us vigilant.
Shady approach to Pinnacle Ridge
Yet again I was dumfounded to find even the shady northern aspects mostly dry; amazing after so much recent rain.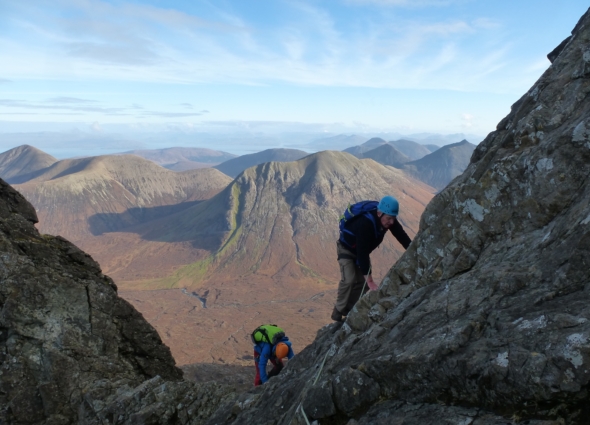 John & Iain on the crux slab with Marsco prominent behind.
I've been scuppered by black ice before so the crampons came along. Adding winter metalwork for the first time always hurts so it was also an opportunity to break myself in gently, especially as its nearly 6 weeks since I was last up on a big hill. Sadly the legs didn't agree with my definition of "gently".
Steep finish
With hardly a breath of wind John even had time to sketch during a relaxed summit lunch while Iain and I took on our quota of vitamin D.
Summit Sunshine
 With the sun so low in the sky the colours, light and shadows gave us a visual feast all day but my lasting memory will be John extolling the joys of grabbing gabbro; I coudln't agree more.
Summit Shadows as we top out
Comments are closed.