24/04/16
A complex & unusual set of circumstances, coupled with a blast of Arctic air, gave our first Traverse of the year a very unique feel.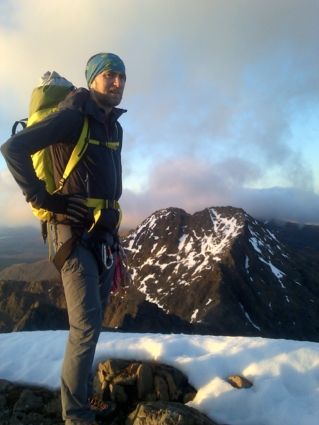 Basically I guided Phil on the first half of the Traverse then Scott Kirkhope took over for day 2 to successfully reach Sgurr nan Gillean.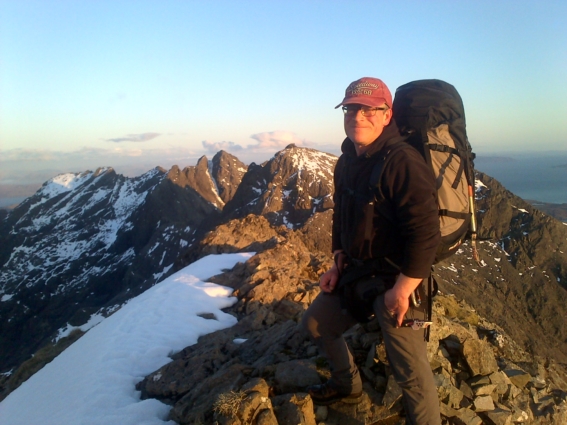 Our days couldn't have been more different- I enjoyed largely dry, warm rock, no need for crampons and even some gorgeous sheltered picnicking.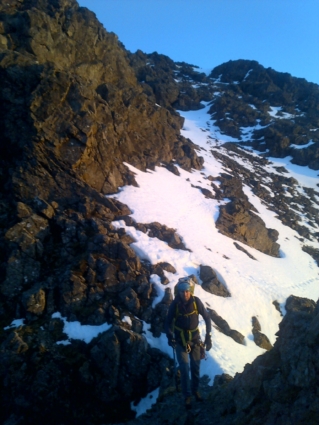 Often we were forced to stay on the very top of the crest which just added to the pleasure.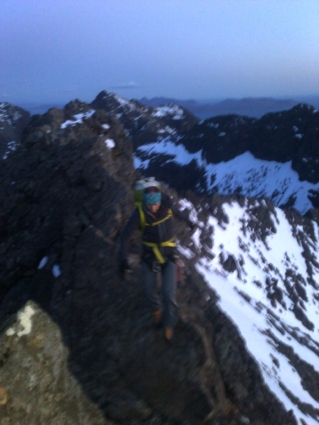 Sgurr nan Eag to Ghreadaidh took us about 7.5 hours
Scott woke to fresh snow falling and had crampons straight from the bivvy until reaching Glaic Moire nearly 3 hours later.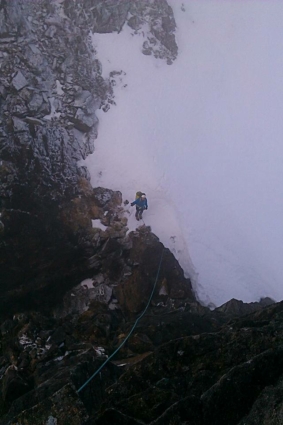 Much of the time was in the cloud with wind picking up in strength but Phil's fitness & abilities kept them moving well. The clouds finally cleared on the final rise up Gillean, revealing once more the whole lenght of the Traverse. Ghreadaidh to Gillean had taken about 6.5 hours.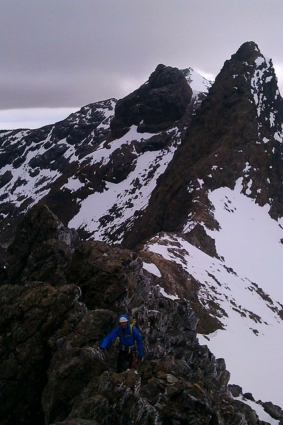 Despite the darkness I enjoyed picking my way off, crampons completely necessary until way below An Dorus where Scott and I passed and compared notes before he joined Phil for the bivvy about an hour after I'd left. The final hour was a delight with the moon casting my huge shadow across the moorland. Catching last orders in Carbost seemed a deserved reward.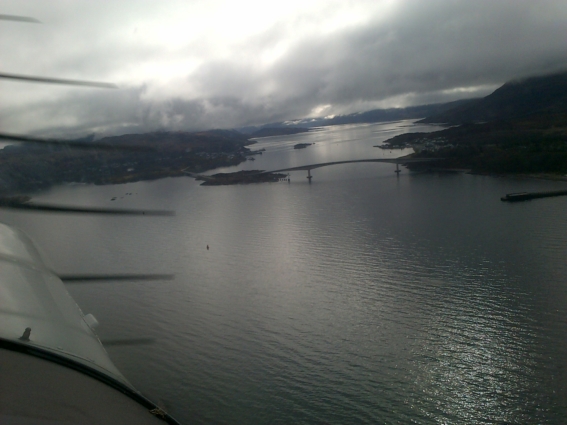 One of the unusual circumstances was Phil flying himself into Broadford airstrip and, this morning, we were treated to a quick flight around South Skye before he headed home to England. Many thanks to Scott and Phil for a memorable time in so many ways.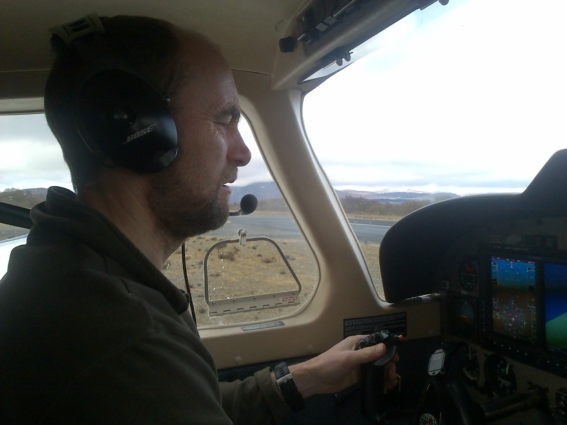 15/02/15
Clear blue skies and heavy frost signalled stonking conditions and we weren't disappointed. I opted for one of the longest snow lines in the Cuillin, Diagonal Gully on Ghreadaidh.
The snow was uniform from bottom to top; not steel hard but definitely calf burning.
I've had big crevasses in the lower reaches before but todays wasn't wide; deep enough to swallow us but we all crossed safely and paced ourselves on "fast simmer" for the next 1000ft.
The views from the Ridge crest were stunning with snow-clad peaks laid out spectacularly.

Climbing along the narrow crest was a slow and delicate procedure with only tiny amounts of rime ice muting the squeals from our crampons. Check out the short video HERE
The descent of the crest was higher octane with long runnels of water-ice to negotiate and the hard snow in An Dorus gave 20 minutes of concentrated and thigh-burning descent.