Day 2. Sat 19th Jan
23/01/13
Recovering from a heavy night on the Fondue (supplied by Romain) teams headed out all over the Glen Brittle corries.
Steve Perry & Antoni went out on Casteil a Garbh Choire and did a good mixed line-
Caisteal a' Garbh Corrie; South End (Winter) IV,5**

30m. Follow the distictive crack until it ends on a stance. Finish up the short steep wall on your left.
Steve Perry and Antoni Anderson.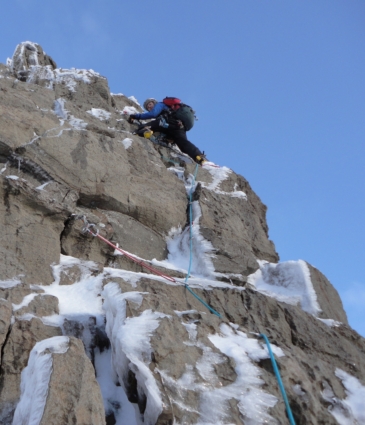 Dave & Nathan enjoyed Gully C on Thearlaich- "bit like Lockwoods chimney".
James Sutton & Ben Wear, the Skye boys, did a superb climb up Dyke Gully & Buttress @ V,6 "best route I've done on Skye said James.
Iain & Andy climbed a new route they called Perspex Groove (IV?), a rising diagonal low on Window Buttress.
Paul & Brendan ventured into Coir' a' Ghrunnda, were thwarted by the impressive North Crag Gully falls but enjoyed stunning vistas from Dubh na Da Bheinn.
Spike & Icky rediscovered the great ice formations on Banachdaich at the head of the south branch of Coir' a' Ghreadaidh.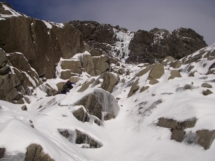 Ann-Marie, Kim, Nicola & I chose the Spur of Sgurr an Fheadain which had been transformed from it's normal wonderful rock scramble to a fantastic snowy crest with perfect hard snow from bottom to top; 650m II.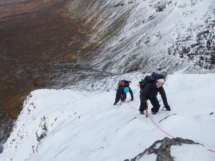 Below us the Skye teams of Beads, Murdo & Norman, Matt & Lisa were climbing (as 2 ropes with different variations) a new route with an (as ever) inspiring name-
Hubble, Bubble, Toil & Trouble
III 3 500m .follow right edge of Waterpipe (geddit?) Gully over easy rock and turf up to a rock barrier climbed by an obvious left slanting groove, then an awkward step into a gully leading to the more commiting top section, with a choice of chimneys,small walls leading to the summit ridge of Sgurr an Fheadain.
Over on Blabheinn, and not part of the meet, Iain Small and Simon Richardson pulled off an audacious ascent of Jib, a summer E1 giving it a grade of VIII,8. Simon's excellent site
Scottish Winter
has his report.
Image gallery below-