SKYE WINTER FESTIVAL 2022
06/11/21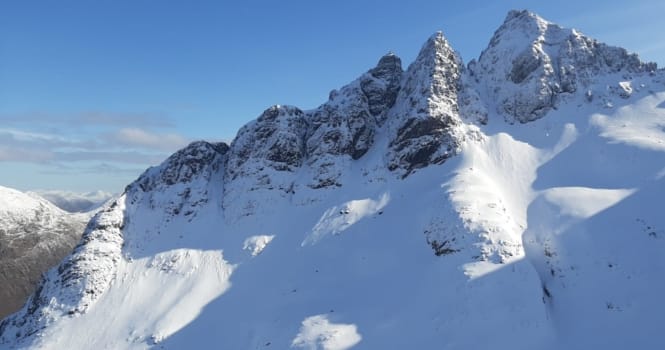 22nd to 30th January 2022.
An open invitation to climbers, walkers and any others with an active interest in the Skye mountains in winter. Join us for as many days as you want.
It's that time again for climbers to meet up, climb together and enjoy the post-match analysis. The Cuillin truly take on their Alpine status in winter and offer climbing and scenery like nowhere else in Britain.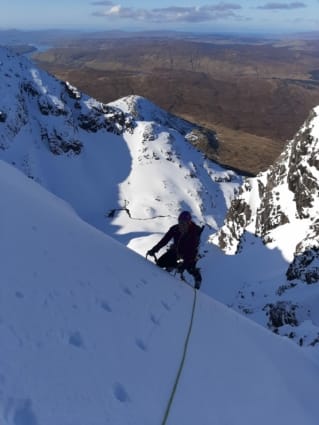 Skye Basecamp (Arrive 21st, climb 22-26th)
4 days climbing from the luxury of our very own Skye Basecamp. A 20-minute drive gives access to both Bla Bheinn and the northern peaks above Sligachan with walks and climbs at all grades.
Glen Brittle Memorial Hut (Arrive 26th, depart 30th)
5 days of stepping straight out of the door and into a Cuillin winter wonderland. This was how the festival started back in 2011! The Glen Brittle Memorial Hut is situated at the foot of the southern Cuillin with easy access to Coir' a Ghreadaidh, Coir' a' Banachdaich, Coire Lagan and Coir' a' Ghrunnda.
Background information.
The Climbing
Over the past 12 years The Skye Winter Festival that has seen high levels of activity including over 60 new winter routes. The Cuillin offer massive challenges no matter how much or how little snow the gods decide to give us so there will be action every day. If you're after hard technical mixed or just want to take in the grandeur the festival is open to anyone.
Our only rule is that nobody gets left out! Come alone or with a climbing partner.
Guests come from far and wide as well as a strong local representation each year. The apres-climb is embraced wholeheartedly; just choose a level that doesn't stop the climbing! The festival has allowed us to meet some amazing people and hear about some incredible adventures.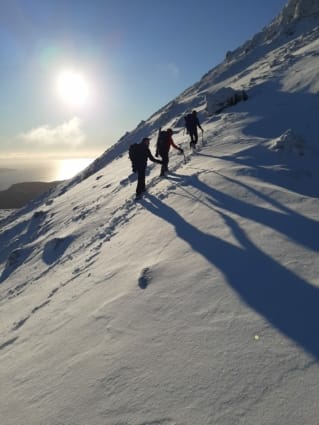 What's to do?
If you're unfamiliar with what Skye has to offer check out any winter blog posts or an article on "The New Cuillin" for plenty of ideas. On the ground there are plenty of folk with good knowledge including the guy that wrote the guidebook…
There's Neist or Elgol for rock climbing and we've got some dry tooling crags developed. Even skiing and boarding have been growing in popularity over the past few seasons.
Accommodation and Food
Beds cost £25 per night in both venues. Bedding is provided at Basecamp but pillow cases and sleeping bags are required for the Glen Brittle hut. Rooms are communal but split between sexes. There are 32 spaces in Basecamp and just 20 places in Glen Brittle. Space will still be available in Basecamp if demand is high enough.
The Memorial Hut and Basecamp both have good kitchens for self-catering. There is a supermarket in Broadford for last minute extras but a bit more planning is needed for Glen Brittle with the nearest supermarket being over 20 miles away! The annual dinner is a big communal evening meal on Saturday 29th January at a cost of £10pp. Not sure what we'll go for but local venison steaks, curry feasts and full roast dinners have been the norm. Please join us and let your hair down!
Both venues have great power showers and there are drying rooms for damp kit.
Booking
If you're interested in joining us send an e-mail to mike@skyeguides.co.uk. We'll send you a booking form. We also ask about your climbing grade, Cuillin experience, and details to help with arranging partners and lift sharing.
Bed reservations will need to be paid for in advance. If you are unsure you can make it, we can also let you know how busy the different nights are looking.
Costs
Attending the festival is free. Accommodation costs £25 per night for a bed and £10 per night for use of facilities for van-dwellers. Saturday evening meal will cost £10.
Evenings
This is very much a climbing event and the traditional banter associated with it. Wonderful characters and craic are the norm and over the years we've had illustrated talks on a variety of climbing trips and watched videos. Guests are welcome to bring anything from musical instruments to their own climbing snaps.
The Annual Festival dinner is cooked communally.
FAQ
Got your own campervan– You're still welcome to join us for climbing & socially. Use of facilities costs just £10 per night.
Last minute climber– We're quite used to this scenario and happy for you decide to join us last minute. Keep in touch about bed space.
Unsure? Don't worry if you don't know the Cuillin- many of the Winter Festival regulars know the Cuillin very well, especially those who work here as guides. We'll be offering route advice and information on the ground but, on the whole, it's a non-working meet for us and we're here to play like everyone else.
A list of attendees is circulated before the meet with details of their experience & depth of Cuillin knowledge. Through the meet walking and climbing teams slot into place after making acquaintances.
Don't be intimidated- if your ambitions are modest there will be somebody similar who knows any time on Skye is quality and happy to just rock back and enjoy!
Travel– Let us know where you're coming from and whether you want to share lifts- there's a part of the part of the booking form to help put you together with others offering/needing lifts