Escape From Colditz 11th February
11/02/13
Back on Blaven today but time for some ice at last; it's been close for weeks but not quite got there. Guy Steven was guiding Julian & George on the very high quality South Buttress Gully (II) and we were passed by Harvey the scottie dog and his owners while we kitted up. He proceeded to make what must be the first winter ascent of Great Gully by a dawg:)
Escape from Colditz (III) wasn't as thick with ice as I would have chosen but I knew that the key lower section doesn't need much to make it climbable. Backing and footing for 10m leads to a massive chockstone and then escape onto the wonderful ice ramps above.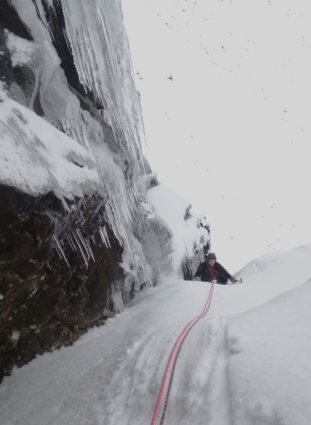 I belayed below the steepest section of ice so that I could keep in touch with Simon as he fought his way up the tunnel.
The climbing in the top pitch was superb with an added bonus of topping out into the sun.
Here are a few more shots-