There is a weather god.
02/04/16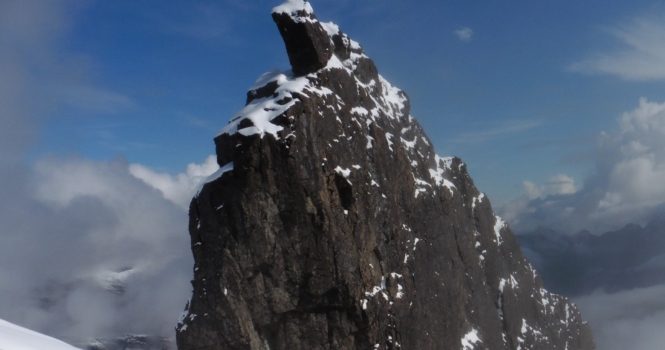 John and I spent a large part of Wednesday with incredibly heavy snow falling out of dark black clouds but the weather gods smiled on us in great big stylee 🙂
Despite John's undoubted fitness and ability my ambition to tackle the In Pinn was optimistic before we started. However, it was clear and dry as we left the glen and stayed that way for the first hour where we reached the 2000ft mark.

The magnificent view into Coire Lagan was soon obscured as mushroom-sized snowflakes fell vertically out of the windless skies.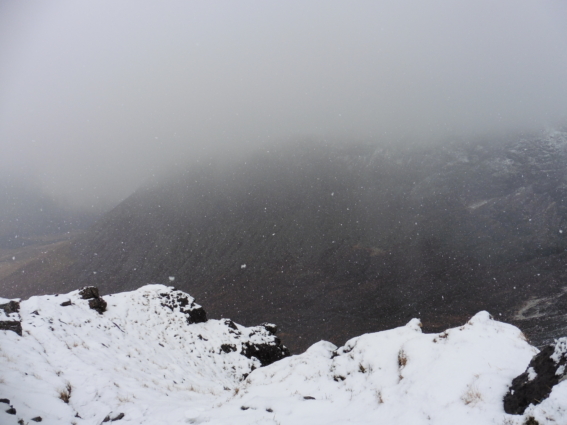 The density of cloud and intensity of snow would have got many folk down but Johnny is a man who loves the mountains whatever they chuck at him. The carpet underfoot fairly rapidly became knee-deep but every foothold formed as a solid level tread. At the final narrowing it was time to don harness, helmet and crampons and the magic of the day really began to a crescendo. Words aren't really enough so here's a sequence that hopefully gives a flavour of it…….
Just a few steps and the cameras just had to come out again……..
And things just got better as we moved in on the Pinn itself….
I have to admit to being both shocked and very pleasantly surprised at just how bare the route looked- compare it to the pictures of Gillean yesterday! Keeping crampons on seemed prudent but gloves were completely uneccesary with warm dry rock more positive than 90% of summer ascents I've done!
I finally found John's nemesis with the abseil requiring him to trust a bit of science and let the rope slip through his fingers- you can just see the tension building across his face here perched above a 60ft vertical drop; sorry John couldn't let your mates think you were that cool 😉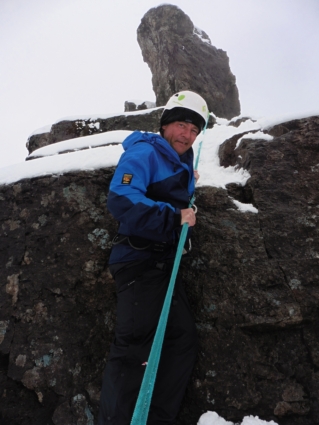 The moment we reached our rucksacks again the clouds rolled in and heavy snow started falling all around us. It didn't give up until we had crossed all the way over to Sgurr na Banachdaich and right down to 1500ft in Coir an Eich.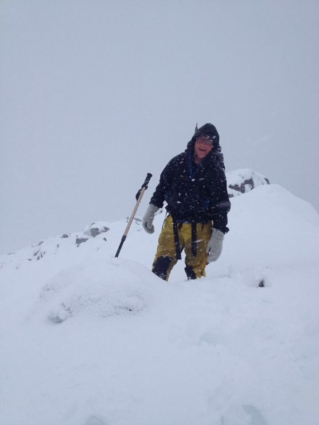 With perfect timing once more, instead of getting a soaking below the freezing level, the clouds cleared to warm sunshine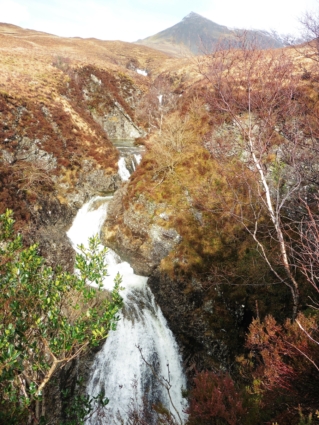 and a perfect view of our whole route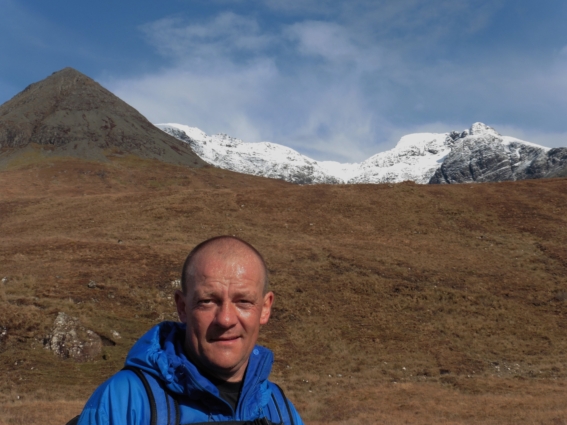 And just to top it all off eagle eyed John even spotted an eagle soaring high between the peaks of Coire Lagan; thanks to the mega-zoom on the Panasonic Lumix we can identify it as a wandering sea eagle. Another boring day in the office for me obviously 😉