The man who met Norman Collie
23/10/12
Skye-born Munro-bagger's link with Cuillin history.
In May this year our Skye Guide Malcom Airey guided 79 year old Alasdair MacPherson, along with his daughter Fiona, on an ascent of the Inaccessible Pinnacle. Malcolm was amazed to hear that Alasdair had once met the great Cuillin pioneer Professor J. Norman Collie.
Alasdair was born in Kraiknish by Eynort in 1932, the 2nd of 7 sons born to Duncan & Margaret MacPherson. In 1938, on a return journey from an auntie's house in the Braes, he was taken to the Sligachan Hotel. It was here that Norman Collie was pointed out to him in the hotel lounge. Although his own encounter was very limited it seems that Collie was well known amongst the local crofters both through the hotel and accompanying him on the hill.
Collie had discovered the joys of climbing on Skye in 1887 and went on to pioneer many climbs throughout the world but made no secret that his heart lay in the Cuillin. He had retired to Skye shortly before Alasdair's encounter with him and lived at the hotel for nearly a decade looking out on the peaks he knew so well. He died in 1942 and was laid to rest in a grave adjoining that of his Skye Guide and good friend John Mackenzie for whom he had so much admiration.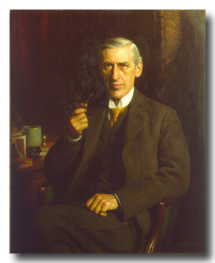 Alasdair himself left the island at the age of 18, qualified as a veterinary surgeon at Glasgow University and is now retired and living in Stonehaven. Having climbed the hardest of all the Munros he now has only 34 peaks left to compleat his round.