Skye Winter Skills Day, December 1st
02/12/12
11 of us enjoyed superb conditions and wonderful weather on an ascent of Sgurr a' Bhasteir on Saturday the 1st. Amongst the group was a mix of summer hill walkers, climbers and mountaineers from Skye. Many thanks to everyone who turned up to make it such a huge success.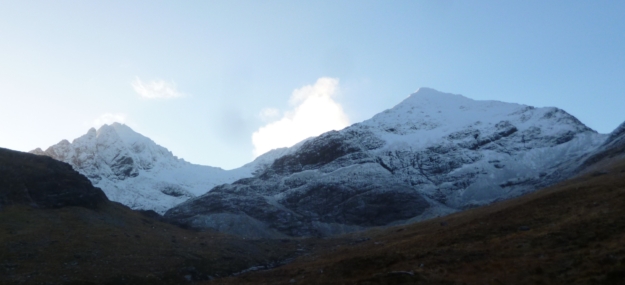 We all climbed the left hand (NE) ridge of the beautiful pyramidal Sgurr a' Bhasteir on the right.
I worried that Friday's heavy rain might not stop but the skies cleared, temperatures dropped and everyone survived the icy roads to meet at Sligachan at 8am. The peaks were plastered with snow with descriptions varying from "Himalayan" to "iced cakes".
The footpath was treacherously coated in black ice and gave everyone a full body work out just to stay upright. It was quite a relief to finally don the crampons at the steepening by the Basteir Gorge. Those wearing them for the first time were amazed at how positive they suddenly felt.
Underfoot conditions improved hugely once we reached the snow-line. Progress was tempered by a photography-fest as glorious vistas opened up all around us and a golden eagle even gave us a fly-by. After lunch Donald and Martin opted to head down to give themselves plenty of time to negotiate the icy slabs. The eagle again soared above us as we made very good speed to reach the summit and even more spectacular scenery.
Summit of Sgurr a' Bhasteir 898m
At Bealach na Lice crampons were removed to allow some practice at ice-axe arrest on a quick descent back into Coir' a' Bhasteir. We also briefly looked at how to treat delicate Cuillin ice before having to put crampons back on for the painful return over the icy slabs. We all managed this and most of the return journey before darkness finally engulfed us and the head-torches came into their own.
Everyone had a great time and one suggestion is to set-up a local facebook group for anyone keen to get out.