One more wafer thin ice climb sir? 10th March
12/03/16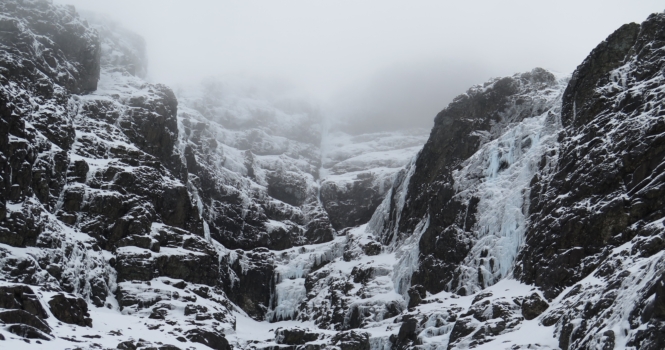 Winter climbing conditions this past month have been truly stunning on Skye, undoubtedly the best I've known in 23 winters. The elusive Winter Ridge Traverse has been in condition and completed for 4 weekends on the trot with debates over records making headlines in the climbing news. Mythical ice routes have been climbed for the first time since Mick Fowler's ascents 30 years ago (1986 was a legendary winter climbing season across the UK), many quality new routes have been added and modern mixed test-pieces such as Hung Drawn and Quartered have been repeated.
Most significantly though, dozens and dozens of folk have visited for the first time and discovered just how glorious the Cuillin are under a blanket of white. Sure the hardcore have grabbed the headlines but it's those with more modest ambitions that have discovered that there is something here for everyone. It has been a pleasure meeting and hearing from so many folk who have finally "seen the light".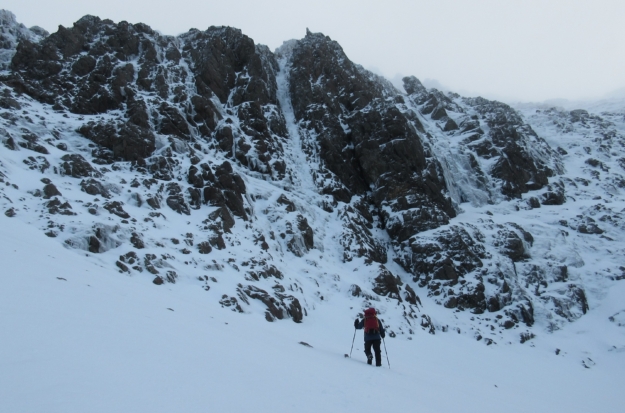 On Wednesday evening I met Adam & Sofia at Sligachan, climbers looking for their first Scottish winter experience. Working in Patagonia and Alaska normally they had opted against the crowds on  Ben Nevis, Adam's grandad had always told him Skye was a climber's Mecca. I agreed and pointed them towards the ice-clad amphitheatre on Mhadaidh for a look. A helpful assistant in Ellis Brighams had disuaded them from buying extra screws for the Cuillin but luckily I had a few spare in the back of car I wasn't planning to use til Friday.
When I got home and saw Friday was forecast to see a major thaw all sensible ideas an office day on Thursday went out of the window and I asked my new friends if I could come & play with them; not only might this be the end of the Cuillin ice this season, I may not see it like this again for the next 30  years!
A stunning dawn greeted us, windless and crisp only base layers were needed for the short approach.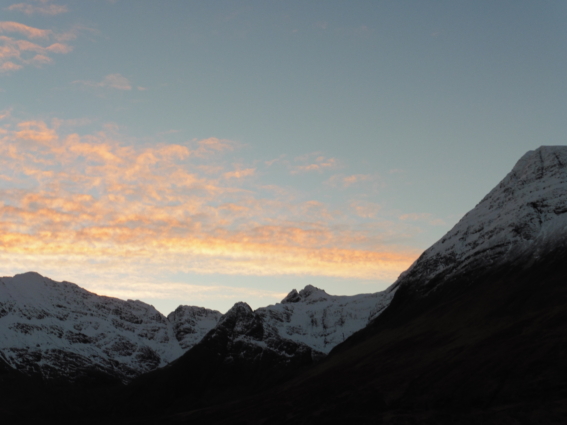 We were spoilt for choice, big new lines were tempting, a rematch with Icicle Factory too but we opted to try Spirulina, a new grade V put up by Uisdean and Lea last week.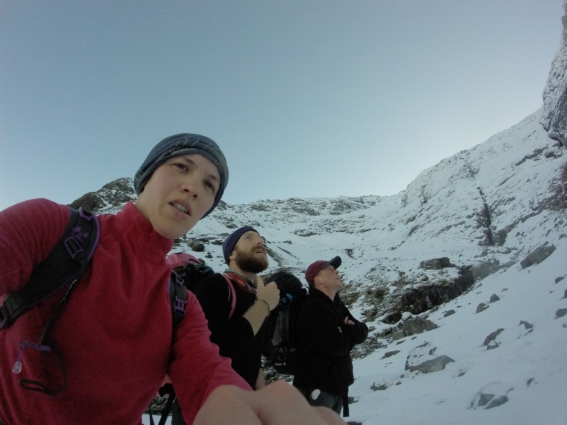 Boys look in awe as Sofia sets the go-pro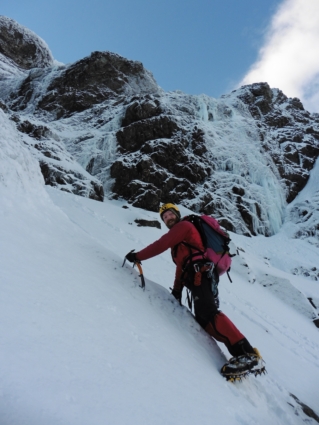 Adam led the first pitch very well, especially as he admitted it was his first ice for a couple of years. Sofia & I both got a good pump just following him up, typically, the deceptively steep ice.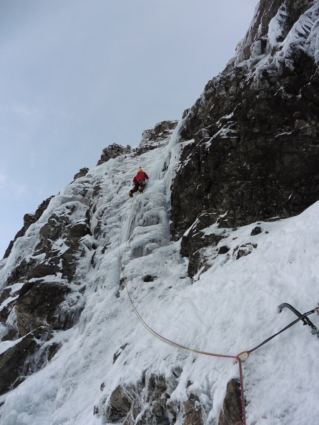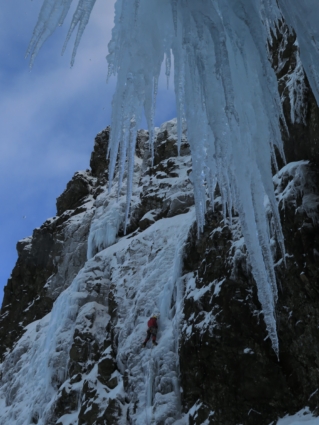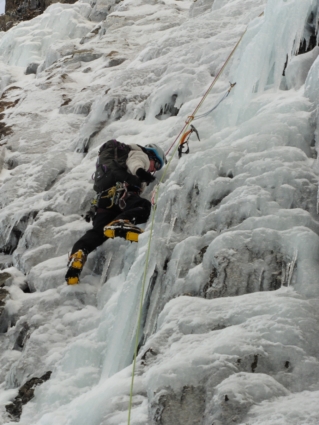 It had started to get noisy all around us as temperatures rose and snow sleuffed off from high above but the mixed moves above looked easy enough and would lead us to the mega looking higher pitches of Spectacula, irresistable!
Irresistable that was until I got hit by the first big sleuff. Our planned descent was back down the route and into the amphitheatre; not a good place to be. I faffed back & forth with the up/down dilemma but reasoned that there was bound to be a good anchor above to abseil off after just "one more slice of icy indulgence". Perfect climbing but not at all enjoyable as the volume of snow and noise increased and I wished I'd just backed off easily.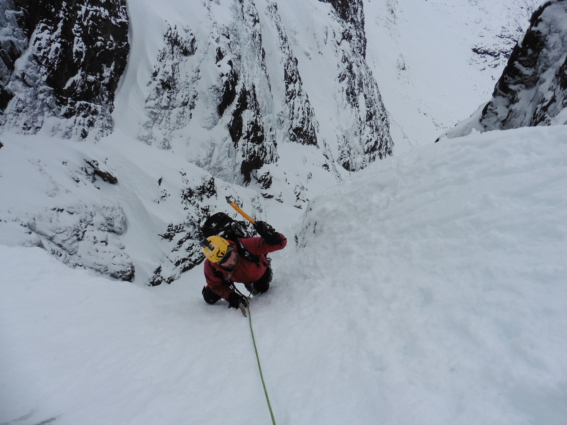 Crap rock meant I had to dive into the channel for good ice anchors. Should I bring the others into this spot too or just make the decision myself? Logic is a hard thing to retain under these circumstances but I knew now there were no big ice pillars above us to fall off so it was unlikely that anything more than wet snow would come down. Belaying them up was still a tense affair but the shared easy decision to abseil back off and their happy banter allowed me to mentally relax just a wee bit.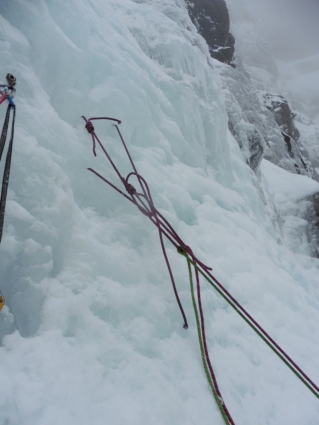 We ducked (and prayed a wee bit) whenever stuff came down while Adam expertly built Abalakov anchors and Sofia and I sorted the ropes.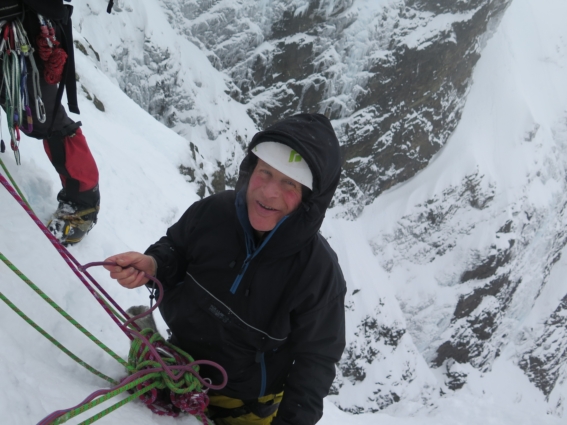 We knew it would be close but there was great relief as Adam whooped and had obviously reached the bottom in one go, rather than needing to re-anchor for another abseil.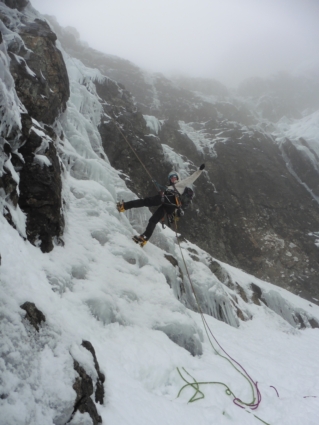 At the base there was urgency as everything was rammed into sacks and we ran away from the hail of somewhat harder bullets. Only after exiting the Amphitheatre did we finally relax and start the process of really enjoying what a great experience Spirulina had been.