Marsco 2nd September
03/09/12
There's a series of fronts sweeping off the Atlantic just now and cloaking the first mountains they hit. Luckily the Red Cuillin above Loch Ainort are shadowed by the Black Cuillin so are frequently the first, or only, tops to be clear. Armed with this knowledge and my fingers crossed I plummed for an ascent of Marsco despite the pouring rain at Sligachan. The best approach is from  the hairpins in Druim na Cleochd and across Bruach nam Bo. Within 10 minutes of starting the rain stopped and our objective showed in beautiful technicolour ahead….
Marsco appears ahead

An hour of rough but near horizontal walking leads to the foot of Coire nan Laogh.
Looking backto Loch Ainort where we came from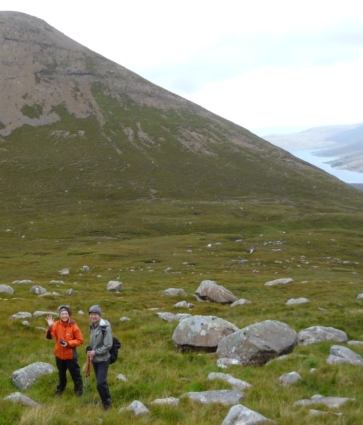 Time for a snack
From here the well beaten track follows an old fence-line steadily up to the crest of Marsco in about 3/4 of an hour. As the clouds cleared further the views through to the eastern Black Cuillin were fantastic
Garbh-bheinn, Clach Glas and Blaven just appearing out of the clouds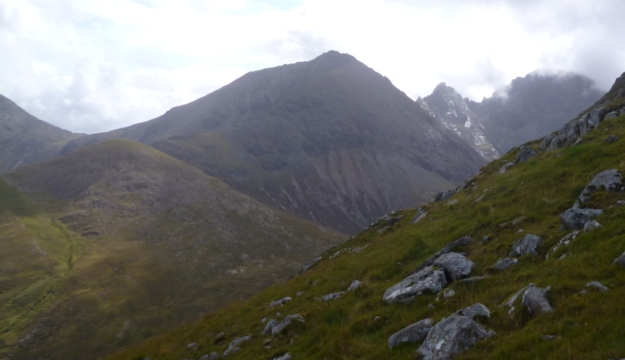 After lunch we braced ourselves against the stiff breeze and the final 10 minute rise to the tiny summit cairn. Although grassy the exposure on the final 100m is quite something. The eye gets drawn down all 736m back to the floor of Glen Sligachan on one side and the steep north face on the other.
Just concentrate on your feet!
Taking in the summit views
Sgurr nan Gillean showed its head briefly and impressively but clouds soon began to gather again and the race was on to beat the rain on the next weather front. Descending by the same route light rain caught us for the final 10 minutes but nobody was complaining and I can't deny feeling quite smug at snatching a good 6-hour walk from the misty mouth of the Atlantic.