Ideal Winter Traverse conditions this week 9th December
09/12/12

A Winter Traverse of the Cuillin Ridge is the Holy Grail of British mountaineering; the finest mountaineering route in the UK but requiring a unique set of circumstances to come into condition. Without going into detail too much that time has come and the crest of the Ridge should have a fairly consistently solid covering of snow from one end to the other that should allow pretty rapid progress. Equally importantly the forecast is for beautiful cold crisp clear skies over the next 3 days at least.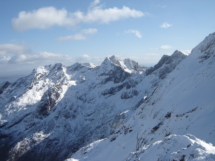 The route has been high on climbers tick lists ever since the first successful Traverse in 1965 by legends Tom Patey, Hamish MacInnes, Brian Robertson and Davey Crabb. I'm contracted to report weekly on conditions to UKClimbing and have been preparing folk as conditions build up with a series of increasingly positive reports. Below are a selection of the most recent posts for your amusement & information:
"Looking perfect for a Traverse now 'til Wednesday (or Thursday possibly). I'll give up posting on UKC if I don't hear about anyone going for it."
Cuillin Ridge in winter; timings for different sections
"One oversight in the new guidebook is a winter grade for doing individual sections and rounds of the corries. With conditions looking good in the coming week the breakdown below may be useful. It should also be of use for those just doing individual sections.
Winter is when the Cuillin truly takes on its "Alpine" status with conditions affecting the seriousness, line & techniques differently through the day. Descents are particularly thought provoking! With this in mind I've opted for using an alpine grading rather than Scottish winter. Timings are for (R) rounds, (S) sections or (A) approach. Approach & descents will vary hugely but allow 3.5 hours to the first summit in all but perfect conditions. Allow a min of 2 hours to descend but the last hour will probably be on a good footpath.
Daylight is about 7-30am to 4pm just now but will vary a lot with cloud cover.
(R) Traverse Gillean up Tourist rte, Descend from Bealach A Bhasteir E-W AD 9hrs
(S) Traverse Am Basteir & Tooth AD 1.5hrs
(S) Bruach na Frithe to Bealach Harta AD 2hrs
(S) Traverse Bidean N-S (col to col on Traverse) D 1.5hrs
(S) Glaic Moire to An Dorus AD 2hrs
(S) An Dorus- Banachdaich AD 2+hrs
(R) Coire na Banachdaich PD 8hrs
(A) Dearg W Ridge PD 3hrs in ascent
(R) Coire Lagan, Pinn to Alasdair D 9hrs
(R) Dubhs from Ghrunnda AD 7hrs
(R) Sgurr nan Eag to Gars-bheinn PD 8hrs
A brief overview is also available –http://skyeguides.co.uk/wp-content/uploads/2011/09/SkyeGuides_TheWinterTraverse.pdf"
"For those after climbs as opposed to the Traverse an article I wrote printed in Climb in January 2012 gives an overview of a more modern view of climbing in the Cuillin.- http://skyeguides.co.uk/wp-content/uploads/2012/11/cullin.pdf
Having focussed on mixed climbing in the article, ironically, last winter saw some good ice routes form and we now have a situation where these are reforming & even the Traverse is looking likely. Overall the message is get up there & explore & you wont be disappointed."
UKC Conditions report Skye 8 December
The excellent conditions and weather last weekend gave everybody a superb time. The winter skills day was well attended & well received by 11 of us on an ascent of Sgurr a Bhasteir.
Next day Jim Higgins & Ross made the 3rd ascent of HDQ on Am Basteir –http://scottishclimbers.blogspot.co.uk/
while Martin (HDQ 1st Ascent) & Pete (HDQ 2nd Ascent) were knocked back on their attempts to tackle a new line close by- http://www.ukclimbing.com/images/dbpage.html?id=209900.
Sadly nobody used the conditions & full moon to try the Traverse but all may not be lost despite a real plastering through the start of this week. A convincing thaw up to 800+m today and another warm blip tomorrow could well work in everybodies favour next week with a return to very cold settled conditions.
I was out on Wednesday (gallery- http://skyeguides.co.uk/deep-winter-play-5th-december/ ) but we just took our rack & ropes for a beautiful wander along the crest rather than swimming up any climbs. Despite drifts on the flanks there was an encouraging crust on the older snow below that made the very crest quite speedy & easy still. Worth watching the stability of the drifts higher up; we broke through an inch deep crust but this may thicken & make windslab more of an issue if it doesn't thaw as much as I hope.
There was the beginnings of some quite sizeable ice, by Cuillin standards, in south facing corners at "mid-level" including Southern Comfort (IV)- http://www.ukclimbing.com/images/dbpage.html?id=188294
Big winds in with the warm blips this weekend should all help keep things whiter more than black over the coming week and hopefully any fresh powder will drift off.
I noted the request for Skye routes on another post which reminded me of an outstanding mission to put guidebook times on sections of the Ridge in winter. Nearly finished that but will post seperately and also add it to my winter Traverse advice on the website.