Graupeling with Gully A, December 8th.
10/12/14
Great outing on Monday with Iain & Jamie on Sgurr Thearlaich again, this time on Gully A. Higher up we were defeated by mad quantities of graupel (hailstones) appearing from nowhere but the first pitch was absolute quality.
Bridging delicately up the groove; the inside of the chimney looked very involved with a nasty chockstone to finish.

The first winter ascent was solo by Roger O'Donovan in April 1970 (after soloing the 900 ft route Jeffrey's Dyke in 1.5hrs). He recorded 3 short ice pitches and gave it grade III. He was head instructor at Glenmore Lodge and, significantly, one of the first people using drooped pick axes and front pointing on crampons. This technique had only begun to be experimented with during the winter before.
Uisdean & Callum probably made the 2nd ascent in the very good conditions in 2013 and reported it as considerably harder than grade III.
Yesterday, in pure mixed conditions (glazed & powder with no build-up of snow) the first pitch gave 30m of well protected crack climbing with some funky moves and probably modern grade V,6. It was so good I'm really looking forward to going back to get the route finished.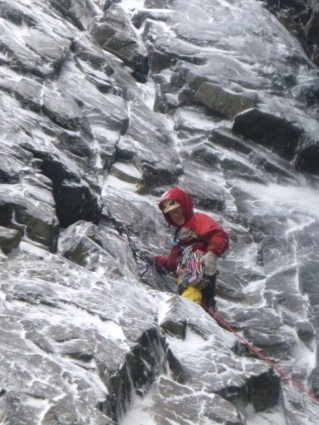 Placing great protection in the crack before setting off up the steepest section.