Flight of the Colditz Cock. 12th February
14/02/13
A groove & slab of thin ice right of Sailaway has enticed me for years. As well as waiting for enough ice I've been intimidated because I know the whole buttress is very compact and unlikely to yeild much protection; and so it proved. The climbing wasn't too hard but all a bit thin & run out.
The first pitch eventually yeilded a good wire at 15m and a bomber belay at 25m. A detour for a good nut left a bit of good but delicate hooking to regain the ice groove. A column of stacked blocks was frozen together enough to justify a sling and the ice above finally began to thicken up nicely. The final steep ice was even well protected by 2 bomb-proof screws.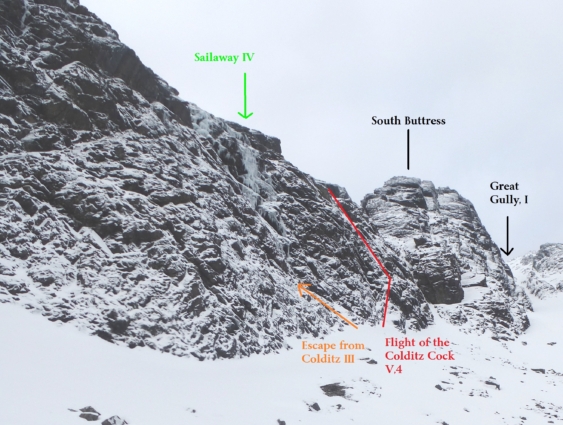 A bit of a steep learning curve but Simon took up the challenge well and also enjoyed the (nearly as hard) challenge of naming the route. Something related to Escape from Colditz and Birthday Breakout made sense and I'd heard about the escape glider they built but never got to use. We had to look up the name on-line but, 19 years after I first saw this line, it felt like the Colditz Cock had finally taken off!