First climb of the Winter. 5th December
06/12/14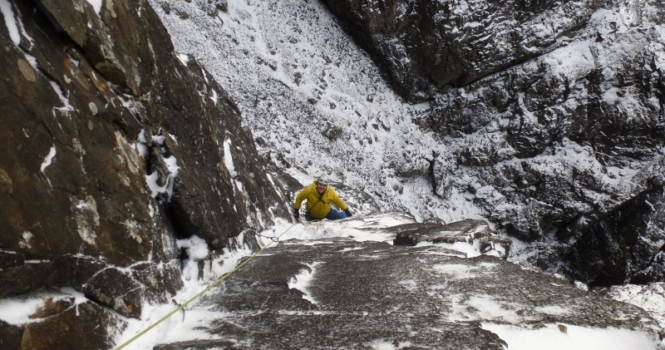 After what seems like a long wait Winter finally arrived properly in the Cuillin today. BC Buttress on Sgurr Thearlaich came up trumps with great conditions despite only a matter of hours.
Full of Cuillin promise…………..
Iain, Jamie and I climbed Le Diedre Blanc with a slightly easier start.
BC Buttress. Our route follows the orange line but started by the short wall to the right of the the white pyramid.
This gave us a 2 star  route at the slightly more amenable grade of IV,4.
Iain starting up pitch 2
There were some wintery showers
but we were rewarded with some spectacular light and views from the summit as we rigged the abseil back into the Great Stone Shoot.
Forecast is for alternating freeze & thaw for the week ahead so hopefully things will continue to improve even more.