Beautiful but Bitter weekend. 9/10 March
13/03/13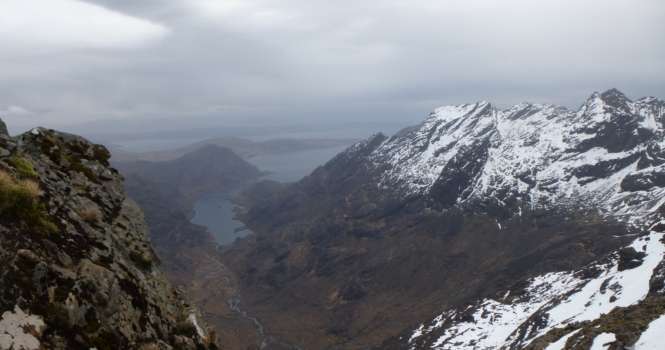 Chasing my tail a bit just now so apologies for short & sweet blog posts.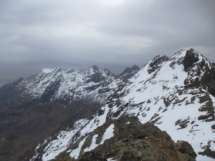 James & Joe had their first outing on crampons on Saturday. Immediately after practising ice-axe arrest we found the snow slopes to be steel-hard so had to concentrate fully on the rise and descent to An Dorus.
The short stretch to the summit of Mhadaidh exposed us to the strong winds and we all looked suitably weather-beaten by the time we reached the Old Inn.
Sunday was an even more bitter day, possibly the coldest of the winter. The wind picked up soon after we left the hotel, adding a real intensity to the freezing temperature. Donning more clothes at every break we eventually took shelter in the cave in Coir' a' Bhasteir.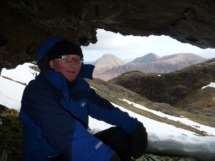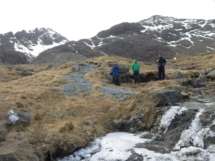 Here we concluded that neither open snow slopes nor narrow ridges were a good idea.
Instead we backed down slightly, traversed beneath Sgurr a' Bhasteir and enjoyed some sunny scrambling on dry rough gabbro onto Meall Odhar.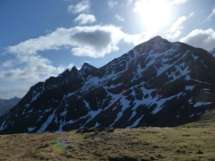 This minor summit is a rounded grassy knoll but also happens to be one of the most impressive view-spots on Skye. We took in stunning views of Pinnacle Ridge, the north face of Sgurr a Bhasteir, Bruach na Frithe, Outer Hebrides, Red Cuillin, Torridon etc etc until we had nearly refrozen.
The gallery is a mix of the 2 days; hopefully in order-