Bealach an Sgairne 6th Feb
07/02/13
With a blanket of fresh snow covering the tops Chris and I opted for an exploratory walk on the mainland today. Neither of us had been near Beinn Fhada so we parked up in Strath Croe and followed the beautiful stalkers path around the north side of the mountain.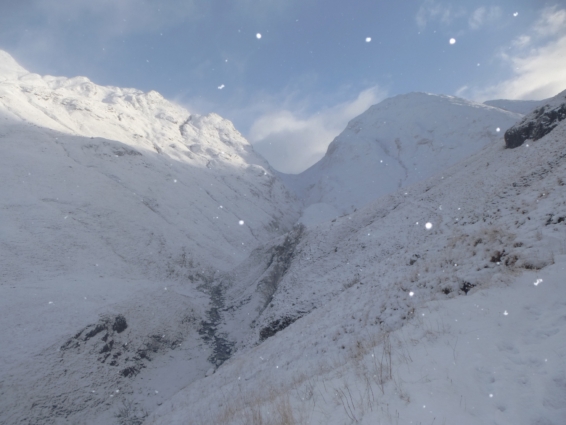 It started snowing heavily again soon after leaving the car but half an hour later the clouds cleared to reveal a real winter wonderland. Most striking was the deep cleft of Bealach an Sgairne out to the north.
There are a handful of long routes recorded on the western most top of Beinn Fhada, Sgurr a Choire Ghairbh. Although it looked impressive soaring above us the white blanket and steep black buttresses suggested the routes here weren't a good option.
Another hour of pleasent walking finally led us to the high point at Bealach an Sgairne and a great view out into the wilderness beyond.
Mullach Fraoch choire may be the Munro in the distance
Before we could even identify the peaks another heavy snow shower rolled in but we were very happy with our reconnaisance mission.