Always sunny at Elgol, 12th September
12/09/12
Great to get back to some rock climbing in the sunshine today with Fyona & Alistair at Elgol. We'd been blown off the crags at Staffin last week which added extra pressure to my brief to convince these climbing virgins that rock climbing is for them.
After an hour of training on the wall in Luib we headed down to sunny Elgol and the wonderfully user-friendly practice slab at the east side of the bay. Consisting of sandstone ribbed with horizontal breaks its' a great place to learn the importance of foot work. The right hand side then has some big jugs leading through an overhanging section giving a great opportunity to realise that leaning back on your arms isn't as difficult as it looks.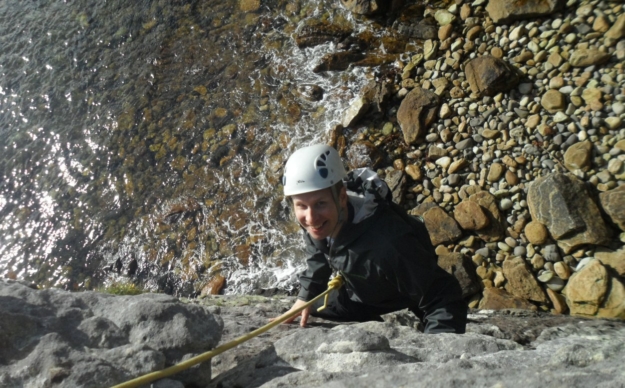 Mission accomplished
The quality of light today was astounding with the earlier showers having cleared any haziness away.
Looking out to the island of Rum