Alpine interlude 8th January
08/01/13
I've finally got back to the Alps for the first time since 2006 and so glad to have made the effort.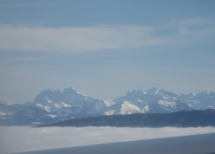 Good friend and UIAGM guide Graham Frost has taken a few days off his hectic ski-guiding schedule to indulge us in some cascade climbing.
I've never actually climbed continental ice so there was a fair amount of trepidation on my part.
We started today with a couple of climbs to see what I was capable of and I was relieved to find that arms, axes & crampons do work away from Skye too;)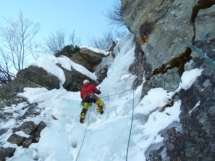 A 20 minute drive took us from Graham's house in Eveline up to Arolla and a 5 minute walk to the foot of a 65m icefall. G dismissed with the first steepening easily but I knew it was steeper than it looked when I caught him shaking out an arm.
New tools and new boots all seemed to work well for me despite the "in yer face" feeling that I'd forgotten about. Pitch 2 was nicely stepped and led to a friendly abseil ring and quick descent.
After coffee back in the village & admiring the weather forecast for the week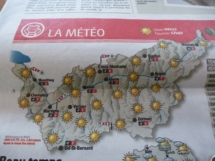 we headed for something a bit steeper and a bit longer above an avalanche tunnel.
Only grade 3 in the guidebook I won't be wanting to go much harder this week!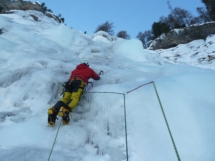 Off for some snow-shoeing and a route with a proper name tomorrow…..