More surprises on the Ridge. 2nd February
04/02/13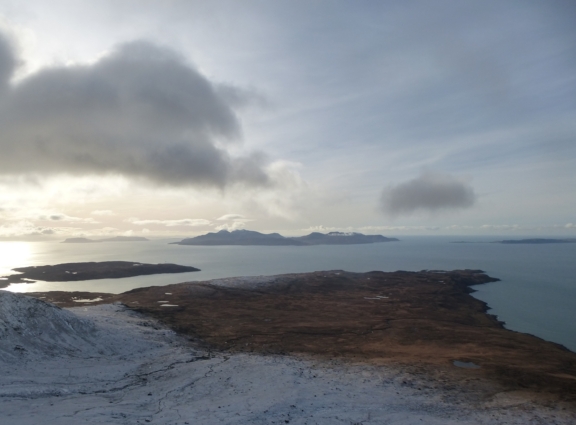 The sublime conditions I predicted nearly happened yesterday but not quite; a heap of fresh powder overnight settled into a beautiful but scary crest on top of the narrowest section of ridges.
Chris and I headed up the West ridge of Dearg with an aim to do a round of Coire Lagan. The path was as icy as the road from the start and we donned crampons below 700m. The next hour was a sublime sunlit wander over solid snowpatches that soon merged into an icy blanket.
Encountering powder surprised me but the covering was only thin and easily avoided as far as Sron Dearg. Beyond I didn't fancy the normal easy bypasses which were banked out with hard snow and a layer of powder so we roped up to tackle the narrow crest instead. Things were feeling quite intense by the time we reached the Pinn 20 minutes later.
Perfectly timed Cameron MacIvar was just appraoching the crux move on the Pinn in a bright orange jacket. There are some other excellent pics on his facebook page in the link above.
After taking a few shots Chris & I headed down surprisingly deep powder all the way to the head of the An Stac Screes before having a spot of lunch.
Traversing Mhicchoinnich was now looking seriously in doubt: would we be able to find the anchor to abseil from at the top of King's Chimney? Intensity built up again as we gained height but we hit a section of perfect neve once more  just 200m from the summit and I felt a wave of confidence. A few steps further and my optimism was dashed as the beautiful looking crest turned out to be what Chris described as a "Patagonian-style" wave-top of deep powder.
Back-tracking still required concentration but finally reaching the safety of Loch Lagan was quite a relief. The atmosphere relaxed completely as we were greeted by Angus from the Old Inn who was up with his snow-boarding mates and the Great Stone Shoot in mind. Conditions weren't suitable but it was great to see a variation on local interest in the Cuillin.
Back to more wild storms in the next few days; this seems to be turning into one of the biggest winters I've known in the Cuillin.